---
UMich Inflation Expectations Jumped In August, Sentiment Slipped
The final print for August's University of Michigan sentiment survey was expected to confirm the preliminary data's rise in confidence driven by a decline in inflation expectations.
However, instead the final print saw inflation expectations increasing intra-month and sentiment declining.
Year-ahead inflation expectations edged up from 3.4% last month to 3.5% this month (up signifcantly from the 3.3% preliminary print). Long-run inflation expectations came in at 3.0% for the third consecutive month, but up from the 2.9% preliminary print.
Source: Bloomberg
After rising sharply for the past several months, the final print for August's UMich headline sentiment data declined...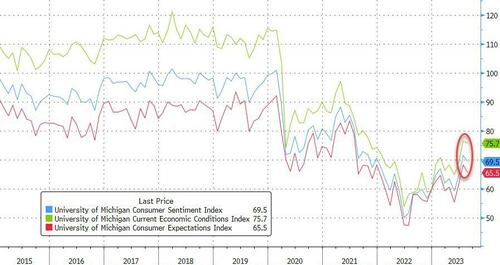 Source: Bloomberg
While buying conditions for durables and expectations over living conditions both improved, the long-run economic outlook fell back about 12% this month but remains higher than just two months ago.
Finally, UMich notes that consumers perceive that the rapid improvements in the economy from the past three months have moderated, particularly with inflation, and they are tentative about the outlook ahead.
Loading...