---
US Existing Home Sales Weakest July Since 2010
Existing home sales were expected to decline very modestly in July (-0.2% MoM) - after June's drop (the biggest since Nov '22). However, existing home sales tumbled more than expected (down 2.2% MoM), leaving sales down 16.6% YoY...
Source: Bloomberg
On a SAAR basis, that is the slowest pace of sales for July since 2010...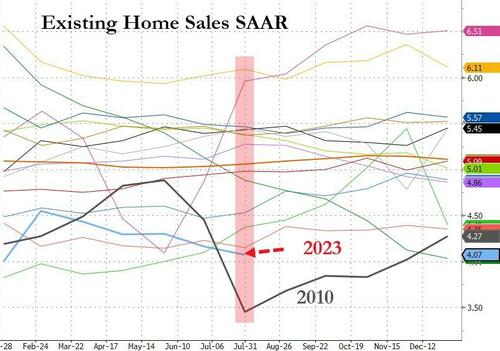 ...and is worse than at the peak/trough of the COVID lockdowns...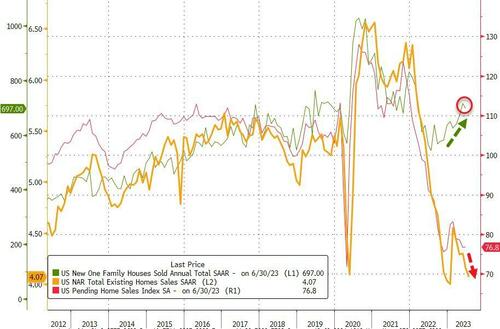 Source: Bloomberg
On the bright side, at the margin, the inventory of unsold existing homes increased 3.7% from the previous month to 1.11 million at the end of July, or the equivalent of 3.3 months' supply at the current monthly sales pace.
"Two factors are driving current sales activity – inventory availability and mortgage rates," said NAR Chief Economist Lawrence Yun.

"Unfortunately, both have been unfavorable to buyers."
As Mike Shedlock recently noted:
To boost sales, builders have passed along drops in lumber prices, reduced home sizes, reduced lot sizes, and bought down mortgage rates. But the easy fruit is off the vine.

For existing home sales, current transactions reflect a combination of mortgage rates, price, and willingness of consumers to speculate on rising home prices.

For new home sales, factor in ability and willingness of homebuilders to make homes more affordable with incentives or by building smaller homes. More incentives reduces profit.
The median existing-home price for all housing types in July was $406,700, an increase of 1.9% from July 2022 ($399,000).
"Most homeowners continue to enjoy large wealth gains from recent years with little concern about home price declines," Yun said.

"However, many renters are concerned as they're facing growing affordability challenges because of high interest rates."
At this rate, new home prices will drop below existing home prices for the first time since 2005 - when the last housing bubble peaked..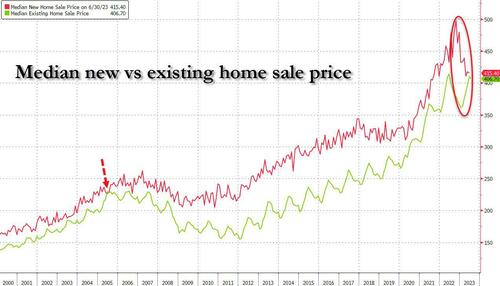 Source: Bloomberg
Prices rose in the Northeast, Midwest and South but were unchanged in the West.
Despite all the excitement of homebuilder stocks and new (over-incentivized) home sales, there remains a giant chasm between homebuyer confidence and homebuilder confidence...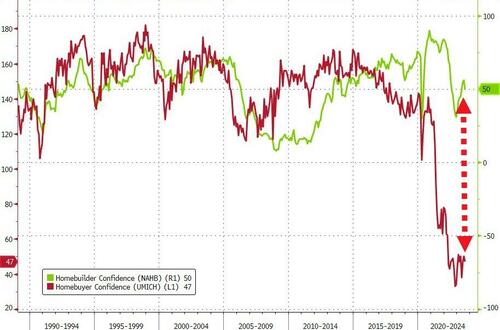 Source: Bloomberg
And if mortgage rates are anything to go by, it's about to get very real...
Source: Bloomberg
Especially as savings dry up. Is this what Powell is waiting for?
Loading...