---
US Home Prices Jumped By Most In A Year In May, Case-Shiller Data Shows
Home prices in America's 20 largest cities rose on MoM basis for the third straight month in May, according to the latest data from S&P Core Logic's Case-Shiller index. In fact, for the 3rd straight month, home prices rose more than expected (up 0.99% MoM vs 0.7% exp in May) - that is the biggest MoM rise since May 2022.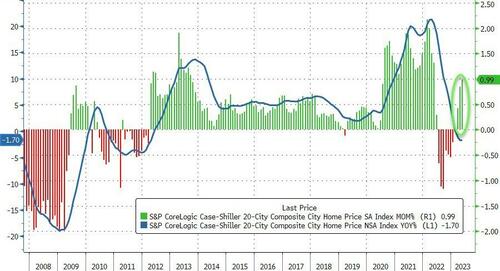 Source: Bloomberg
On a YoY basis, home prices remain lower (marginally at -1.70%) in America's 20 largest cities.
"Home prices in the U.S. began to fall after June 2022, and May's data bolster the case that the final month of the decline was January 2023," Craig J. Lazzara, managing director at S&P Dow Jones Indices, said in statement.

"Granted, the last four months' price gains could be truncated by increases in mortgage rates or by general economic weakness. But the breadth and strength of May's report are consistent with an optimistic view of future months."
Chicago, Cleveland, New York reported highest year-over-year gains among 20 cities surveyed. The West Coast continues to dominate among the cities with the largest YoY price drops...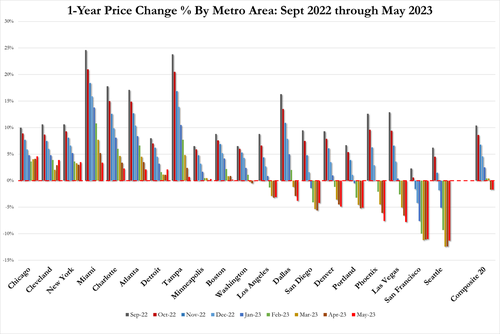 And judging by the resumption of the rise of mortgage rates since the Case-Shiller data was created, we would expect prices to also resume their decline...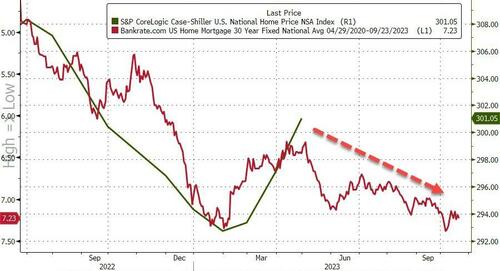 Source: Bloomberg
But, when selling volumes and inventory are so low, anything can happen. Certainly not the tamping-down of home unaffordability that The Fed would have been hoping for.
Loading...