---
US Home Prices Rose For 4th Straight Month In June, Case-Shiller Data Shows
After seeing their biggest rise in more than a year in May, home prices in America's 20 largest cities rose once again in June, up 0.92% MoM (the latest Case-Shiller data released today). That is the 4th straight monthly increase in prices, but they remain down just over 1% YoY...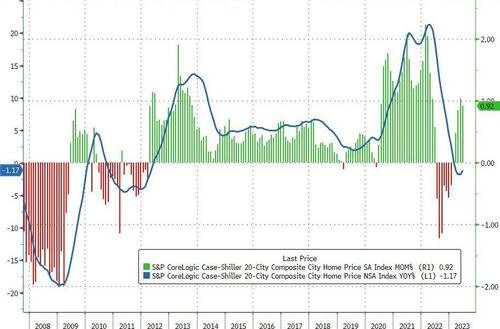 Source: Bloomberg
The Nation Home Price Index rose 0.65% MoM, but also remains down YoY (barely at -0.02%).
Chicago, Cleveland, and New York again led the way reporting the highest year-over-year gains among the 20 cities in June. On the other side of the scale, we note that Tampa just rolled negative and Miami is about to turn red YoY...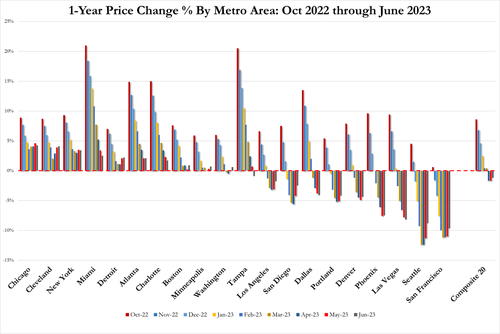 And judging by the resumption of the rise of mortgage rates since the Case-Shiller data was created, we would expect prices to also resume their decline...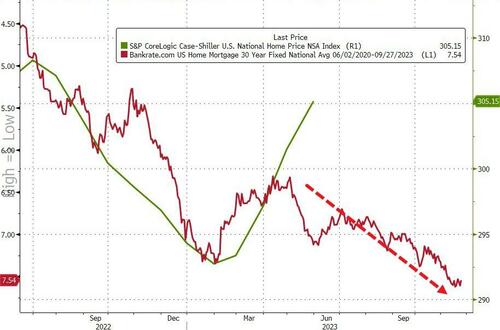 Source: Bloomberg
But, when selling volumes and inventory are so low, anything can happen. Certainly not the tamping-down of home unaffordability that The Fed would have been hoping for.
Loading...