---
US New Home Sales Unexpectedly Explode Higher In May
New home sales have been dramatically outperforming existing- and pending-home sales as unprecedentedly low inventories send buyers into the arms of incentivizing homebuilders. However, expectations were for a 1.2% MoM decline in May but instead new home sales exploded 12.2% MoM!!!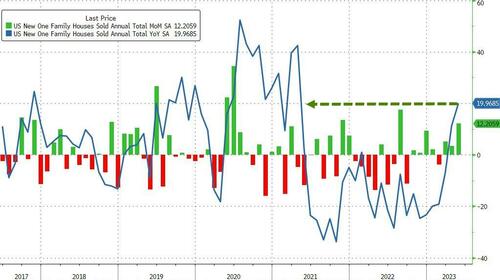 Source: Bloomberg
That is the 3rd straight month of MoM gains and sends new home sales up 20% YoY!!!
New home sale completely decoupled from existing-home sales, now at their highest since Feb 2022...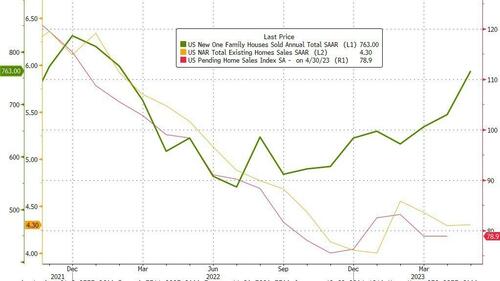 Source: Bloomberg
The median home sale price $416,300 which was an increase from last month but only after huge downward revisions for past 4 months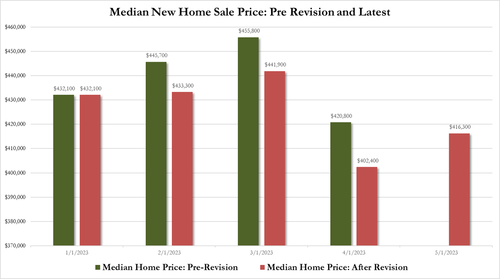 In fact, up until the prior month, median new home prices fell 19.1% in the prior 6 months, the biggest such drop ever... So is this wave of buyers BTFDing?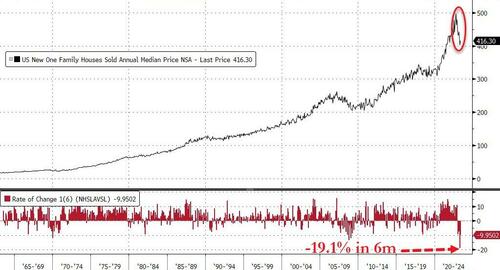 Source: Bloomberg
Housing activity has seen a resurgence this year, as anticipated by a very simple leading indicator: the change in the level of mortgage rates...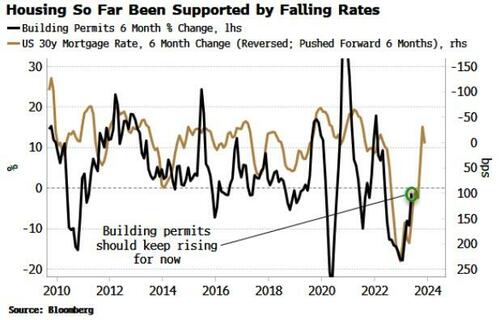 Source: Bloomberg
As Bloomberg's Simon White notes, while longer-term yields are still much higher than they were a few years ago, they have essentially gone nowhere in the last nine months. Thus the change in mortgage rates has been falling.
That's been enough to give housing and other interest-rate sensitive sectors such as autos a boost. But that impulse will soon start to fade unless yields and mortgage rates start to fall.
Loading...