---
2 Million Guns Sold In August, 49th Straight Month Of Over 1 Million Sales
Authored by Naveen Athrappully via The Epoch Times (emphasis ours),
Gun sales in the United States exceeded 2 million last month—the 49th straight month in which firearm sales crossed a million.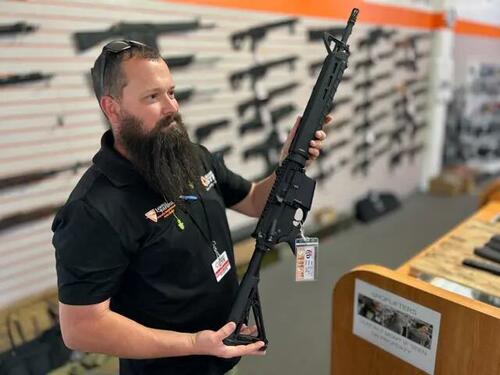 In August, 2.04 million checks were conducted through the FBI's National Instant Criminal Background Check System (NICS), according to an analysis by Guns.com. Though this is a 16.4 percent dip from the 2.45 million checks conducted in August 2022, the numbers are still higher when compared to the years before the COVID-19 pandemic of 2020, it said.
This August registered the fifth highest NICS checks for any August in the past 25 years. This was also the 49th consecutive month that gun sales crossed the 1 million mark.
Data from the National Shooting Sports Foundation (NSSF) showed around 1.1 million background checks last month, down 13 percent from the same month last year.
While NICS numbers include checks conducted for reasons like clearing concealed carry permit applications, the NSSF adjusts these numbers. As such, NSSF data is seen as a potentially truer depiction of retail gun sales.
In a statement to Guns.com, Mark Oliva, public affairs officer with the NSSF, said that the 1.1 million gun sales figure shows "the desire for lawful firearm ownership is far from over."
"Americans, literally by the millions, are investing in exercising their Second Amendment rights. This has happened every month for more than four years continuously."
"While the Biden administration proposes rules to infringe on fundamental American rights and certain governors, attorneys general and district attorneys general and district attorneys refuse to lock up criminals that prey on communities without consequence, Americans are sending a clear and unequivocal message that their personal safety, and the free exercise of their rights, is non-negotiable."
According to safety research organization Safehome, around 17.4 million guns were sold across the United States in 2022, a lower number compared to 2021 and 2020.
The organization attributed the decline to "consumers reducing their spending and the economy experiencing inflationary pressures that have led to a slowdown in discretionary expenses overall."
Gun sales saw a 64 percent increase in 2020, the biggest annual rise in two decades. The current downward trend "indicates a return to the typical sales figures seen in the years prior to 2020."
The sales boom in 2020 was influenced by the COVID-19 pandemic, due to which people spent more time in outdoor activities, Safehome said while pointing out that 2020 was also a presidential election year.
"Traditionally, election years can spark an increase in gun buying as customers may worry new leaders could change laws regarding gun ownership. There were similar smaller increases in gun sales in 2016 and 2012, both presidential election years."
In 2022, states like Wyoming, Montana, and Alaska had the highest estimated gun sales per capita. In contrast, this figure was the lowest in Iowa, Oregon, and the District of Columbia.
Biden's Gun Crackdown
While gun sales continue to exceed a million on a monthly basis, the Biden administration is proposing a rule that would essentially classify any American who sells guns as a firearms dealer, thereby tightening gun control measures in the country.
At present, individuals can engage in selling firearms without having to be a registered firearms dealer. The new rules would classify gun sales under business activities and require that individuals get a license as well as undertake background checks.
Randy Kozuch, executive director of the National Rifle Association–Institute for Legislative Action (NRA–ILA), called the move a "war on the Second Amendment."
The Gun Owners Association said the proposed rule is "virtually outlawing private firearm transactions to ensure the government gets its hands on your personal information and transaction records for their illegal gun registry."
The Biden administration had also introduced a law that would make Americans felons if caught possessing an unregistered braced firearm.
Multiple federal judges have issued preliminary orders blocking the rule from being enacted. However, these rules only apply to members of the groups who filed lawsuits and in the jurisdictions of the judges who issued the verdicts.
Guns Promote Safety
President Biden and Vice President Kamala Harris are also pushing for a nationwide ban on "assault weapons." In a statement to Fox News, the NRA criticized such attempts.
The organization pointed out that the AR-15 rifle, which which many gun control advocates refer to as an "assault weapon," is one of the most popular self-defense rifles in America.
"A testament to this is the 8-month pregnant Florida mother who, with her AR-15, defended her family from two armed intruders who brutally assaulted her husband," NRA spokesman Billy McLaughlin told the outlet.
He was referring to an incident from 2019 when a pregnant woman shot an armed intruder and sent a second intruder fleeing. "Joe and Kamala ought to speak to the many ignored and forgotten law-abiding Americans who rely on AR-15s for their safety."
"They're playing politics with human lives and are blind to the fact that their pro-criminal policies drive more people to buy guns," he said.
A CNN poll from May showed that Americans are divided on how the availability of guns affects public safety.
While 36 percent of respondents said the presence of guns would make public places less safe, 32 percent argued that allowing gun owners to carry their firearms would make public places safer.
Loading...