---
75 More Catholic Schools Nationwide Say They Are Shutting Down
Authored by Alice Giordano via The Epoch Times (emphasis ours),
At least 75 more Catholic schools across the nation have announced they are closing their doors for good, with many breaking the news to families in the past few weeks.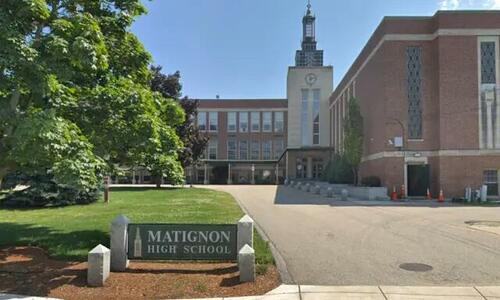 Most of the closures have been in major cities such as Philadelphia, Boston, and Cincinnati.
In New York City alone, the Catholic Archdiocese of New York closed 12 schools as of the end of the academic year, laying the blame on "shifting demographics and lower enrollment, exacerbated by the COVID-19 pandemic."
Some of the schools that are now permanently closed were well-known and had rich histories.
The Cambridge Matignon School in Cambridge, Massachusetts, a private co-ed Roman Catholic college-prep school, opened in 1945. It won 10 ice hockey state championships and was the alma mater of 19 NHL draft picks and three NFL players.
Last week, Immaculate Conception High School, an all-girls private school in Lodi, New Jersey, closed after 108 years, citing enrollment and financial challenges.
In Texas, the historic 175-year-old Incarnate Word Academy, located in the Rio Grande Valley, announced it will close at the end of the year.
"Several years of tracking diminishing enrollment and income have led to the conclusion that maintaining our school is no longer possible," Sister Annette Wagner, the school's superior general, said in a written statement.
Financial Reasons
While the schools have all cited financial reasons for the closures, there has been a variety of speculation offered by Catholics.
C.J. Doyle, Executive Director of the Catholic Action League of Massachusetts, told The Epoch Times that Catholic schools are struggling with a shift in ideology, with traditional Catholic beliefs being challenged by modern Catholic families and even Catholic school leaders.
He pointed to a recent controversy at St. Thomas Aquinas High School in Dover, New Hampshire, where parents and students protested the school's decision to not renew contracts for four teachers who were either openly gay or openly embraced LGBT ideology.
The school, which has tuition of $18,000, strongly denied that the move was in any way LGBT-related.
"While we are not able to share details regarding specific personnel decisions out of respect for privacy and confidentiality, these four non-renewals had absolutely nothing to do with LGBTQ+ identity or personal alignment or views," then-acting Principal Paul Marquis told The Boston Globe.
Around the time of the controversy, some students attended the New Hampshire Catholic school's prom as same-sex couples and kissed on stage during graduation events, some parents told The Epoch Times.
"When you have that kind of behavior at a Catholic school, it's then basically a public school with tuition," Mr. Doyle said.
A similar controversy recently rocked St. John LaLande Catholic School in Blue Springs, Missouri, when the school expelled an 11-year-old student after his parents, volunteers at the school, denounced the parish priest for removing LGBT literature from the school library and ordering the school to discontinue using a research app run by a well-known liberal media outlet.
"I don't think being blatantly homophobic is a teaching of the Catholic Church," Hollee Muller, parent of the expelled child, told The Kansas City Star.
Weeks earlier, Mr. Doyle's organization condemned one of the few surviving Catholic schools in Boston, the all-girls Fontbonne Academy, for hosting a lesbian who calls herself a "big ol' dyke" as the graduation speaker.
In a formal letter, The Catholic Action League asked the Boston Archdiocese and Boston Cardinal Sean O'Malley to also condemn the move, but Mr. Doyle said they never even acknowledged the group's concerns.
Mr. Doyle and others also suggested the church may be selling off schools to make money.
It could, in part, be to cover the costs of caring for aging clergy, the lack of new replacements, and a lack of new money coming into the church, he said.
Much Speculation
The National Catholic Reporter recently pointed out that many of the schools being shut down are in areas with high real estate values.
The Cambridge Matingnon building and grounds, located only two miles from Harvard University campus, are valued at $32 million.
When Mount Alvernia High, an all-girls school affiliated with the Missionary Franciscan Sisters of the Immaculate Conception, made the unexpected announcement it was closing, the Sisters said in a statement that it was because they had decided they were "no longer able to continue living" at the campus in the Boston area.
However, Kathleen Joyce, a former member of the school board, claimed they had not been consulted and posted on Facebook that the order of nuns had secretly voted to sell off the property to Boston College, a Catholic university located across the street from the 88-year-old school.
"Instead of notifying the Mount Alvernia Board and the school community of their unilateral decision, they covertly set out to find a buyer," Ms. Joyce, who also chairs the Boston Licensing Board, wrote. "Not surprisingly, this market research began and ended with one buyer—another Catholic organization with a significant presence in our community."
Ms. Joyce didn't respond to requests from The Epoch Times for additional comment on the issue.
The Missionary Franciscan Sisters of the Immaculate Conception declined to speak to The Epoch Times about the reasons for closing the school.
The shutdown of Catholic schools is not new. Hundreds of schools have closed down nationwide over the years.
Catholic groups have long blamed it in part on "vanishing nuns," which translated into significantly higher teacher and administration fees and, thus, higher tuition and, consequently, a drop in enrollment.
Lincoln Snyder, President and CEO of the National Catholic Education Association, which tracks population trends in Catholic schools,  pointed out to The Epoch Times that during the pandemic, Catholic schools saw a surge in enrollment, largely attributed to parents' discontent with public schools being slow to move away from remote learning.
According to the organization's figures, U.S. Catholic schools' student population grew by 65,000 between 2021 and 2022.
Mr. Snyder said he believes that many Catholic families are not leaving behind Catholic schools but instead moving to other areas where the culture aligns with their values.
He pointed out that Catholic schools in Florida have recently reported an increase in enrollment. One school that had been shut down for 14 years, St. Malachy in Tamarac, Florida, is set to re-open this fall because of the renewed demand for Catholic education in the Sunshine State, he said.
"People are moving here from all over the world, from the United States and Latin America and the Caribbean," Jim Rigg, secretary of education and superintendent of Catholic schools for the Archdiocese of Miami, said when announcing in June that the school was re-opening. "We're in growth mode." St. Malachy is located about 35 miles north of Miami and about 200 miles south of Disney World.
Earlier this year, the Archdiocese of Los Angeles also reported a rise in student enrollment in the 255 Catholic schools it oversees after years of decline.
Overall, however, the jump in Catholic school enrollment appears short-lived, with dozens of Catholic schools, including 14 in Connecticut alone, announcing at the end of the 2022 school year that they were permanently closing.
Now there is yet another round of Catholic school closures. They include St. Christopher School on Staten Island, which made the announcement in mid-June.
St. Mark Catholic School and the Good Shepherd Catholic School, both in St. Louis, also recently announced they were shutting down, as did the Wauwatosa Catholic School in Wisconsin.
Earlier this month, St. Joseph Catholic School in Cincinnati told parents it was closing, and last week, the Holy Family School in Kentucky told families it would close because of a shortage of teachers.
Loading...