---
American Eagle Sues Owners Of San Francisco Westfield Mall Over "Rampant Criminal Activity"
Authored by Travis Gillmore via The Epoch Times,
With retail theft crimes impacting its business, the company that owns clothing retailer American Eagle filed a lawsuit on Sept. 11 against the prior owners of the Westfield San Francisco Centre in Union Square for failing to uphold terms outlined in their lease agreement.
Such failures led to an increase in "rampant criminal activity," including more than 100 occurrences of what were described as "significant security incidents" between May 2022 and May 2023, according to the lawsuit.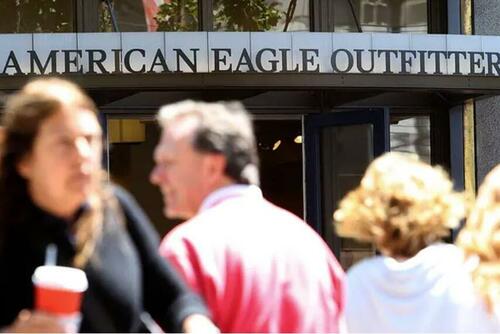 Employees were faced with repeated thefts, aggressive guests, and violence—with a machete used by an attacker in one instance—firearms brandished on multiple occasions, and assaults on staff impacting store operations, the suit alleges.
American Eagle contests that Westfield was responsible for maintaining common areas of the mall to provide for a quiet enjoyment of its store, in exchange for millions of dollars of rent paid.
Signed in 2017, the lease runs through Jan. 31, 2028—with an annual rent of approximately $2 million, in addition to a percentage of sales amounting to approximately $16 million a year.
With a street-front entrance on Market Street that the retail store closed due to increasing crime, the store is in a prime location within the mall, according to the lawsuit.
"American Eagle believed it was leasing a prime retail space with a street-front entrance in Downtown San Francisco from one of the most established and reputable retail landlords in the country," attorneys for the retailer argue in the lawsuit.

"But Westfield let the mall deteriorate into disarray, leaving American Eagle and its employees to suffer. This is not the store American Eagle paid millions of dollars for, or the store that Westfield promised."
After repeated incidents at the store, management implemented measures to mitigate the harm, including closing the street-front entrance, hiring security guards, installing security film on windows to prevent break-ins, and upgrading its security cameras—expenses incurred as a result of Westfield's failure to address criminal activity, according to the lawsuit.
Plaintiffs are seeking an unspecified amount of money—to be determined by a jury—for harm caused by the alleged negligence.
"Westfield cannot walk away from the harm that it has caused without consequence," the lawsuit reads.

"It must be held accountable for the damages caused by its failures and broken promises."
Sections of the lease, according to court documents, require Westfield to allow American Eagle to "peaceably and quietly hold and enjoy" the premises "without hindrance or interruption" and to operate and maintain the mall at "a level comparable to other regional shopping malls in the region in which the shopping center is located."
Attorneys point to discrepancies made between investments Westfield made, totaling more than $2 billion to maintain other malls in the region, and the decision made by the company in July to abandon the mall and default on its $558 million loan.
"What began as a slow decline in performance has turned to full neglect, leading to what Westfield has publicly acknowledged as 'rampant criminal activity' at and around the mall," the lawsuit said.

"This rampant criminal activity and Westfield's failure to properly maintain the common areas of the mall have stripped American Eagle of material purposes of the lease and interfered with American Eagle's quiet enjoyment of the store."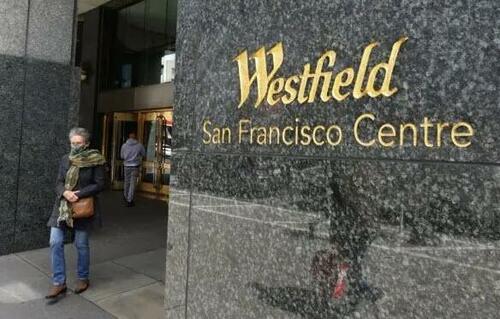 A shopper leaves the Westfield San Francisco Centre in San Francisco on April 13, 2022. (Justin Sullivan/Getty Images)
A statement from Westfield following its decision to default on the loan suggested that rising crime impacted its business, pointing to the recent departure of Nordstrom and other retailers, and defended its investments in other malls.
"Given the challenging operating conditions in downtown San Francisco, which have led to declines in sales, occupancy and foot traffic, we have made the difficult decision to begin the process to transfer management of the shopping center to our lender to allow them to appoint a receiver to operate the property going forward," the statement read.

"The unprecedented impact to the performance trends at San Francisco Centre are counter to positive increases in sales, occupancy and foot traffic across the rest of our portfolio."
In response to Westfield closing its management office in the mall earlier this year, retailers were asked to communicate emergencies through texts or phone calls, but American Eagle alleges that less than half of those complaints received a response.
"Rather than take accountability for its actions and invest in fixing its mistakes, Westfield decided to leave its tenants, the city and people of San Francisco, and investors in San Francisco real estate holding the bag," the lawsuit said.
American Eagle operates more than 1,400 stores worldwide and generated more than $1.475 billion in gross revenue in 2022, according to company data.
A request for comment from Westfield wasn't returned by press time.
Loading...