---
Arizona County Elections Director Quits, Accusing Officials Of Politicization
Authored by Caden Pearson via The Epoch Times (emphasis ours),
An Arizona county elections director resigned from her position on Tuesday after accusing officials of politicizing elections and creating a harmful work environment.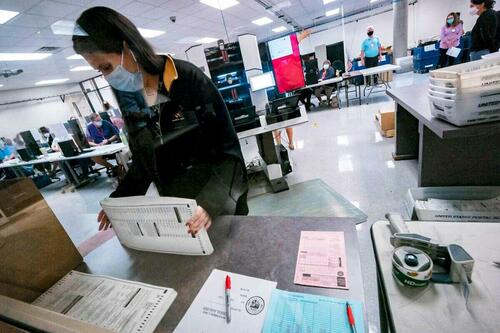 The Pinal County government announced the resignation of Elections Director Geraldine Roll, who stepped into the position to oversee the recount process after the 2022 midterm election.
In a scathing email sent on Tuesday, Roll announced her resignation, expressing her dissatisfaction with County Manager Leo Lew and the toxic work environment she claimed to experience.
"With no regrets, I quit," Roll wrote, highlighting her decision as a result of losing respect for her superiors and their failure to support her during times of attack and criticism.
"When you no longer respect those you work for, it is time to leave. I have watched as you idly stood by when I was attacked," Roll wrote in the email obtained by AZCentral. "I cannot work for an individual who does not support me. The environment fostered by your team and the Board of Supervisors is toxic."
Roll emphasized her belief that the Elections Department "should not be politicized." She further accused the county manager and the Board of Supervisors of prioritizing "irrational, extremist political party views and rhetoric" over "impartiality, common sense, and dedicated work."
"It is a far reach to see how you will deliver clean elections when you bend to a faction of the Republican party," Roll wrote in the email. "Clearly, politics are the value this administration desires in a place where politics have no place: elections administration."
Throughout her career, Roll claimed she had never faced the level of ridicule, disrespect, intimidation, and "attacks on my reputation and ethics" she had endured in recent months, since starting her role less than a year ago.
County Manager Responds
Roll's resignation comes amid ongoing scrutiny and partisan tension surrounding election administration in several counties across Arizona.
Roll signed her email, "Really, not respectfully." In further comments to Pincal Central, she claimed she did nothing wrong and clarified that she didn't resign, she quit. "I think there's a very big difference," she said.
After news of her resignation, Lew, the county manager, issued a statement thanking Roll for her service.
"I want to thank Geri for her service during very challenging times and for the improvements that she identified and began to implement in the Elections Department," he said in a statement. "Although I disagree with her assessment, she has been an impactful public servant, and I wish her the best and know that she will continue to do great things in her career."
Roll, who had been a part of Pinal County since 2013 and previously served as a deputy county attorney, had not yet overseen any elections in her role after being appointed as the elections director in Pinal County in late 2022.
During her tenure as a deputy county attorney, she provided legal counsel and guidance to various departments within the county, including the Recorder's Office and Elections Department. Additionally, Roll had also worked in the Public Fiduciary Office.
Elections Scrutiny
Roll took over as Pinal County's elections director, replacing Virginia Ross, who was transferred to the role in August after a problematic primary election. The primary saw ballot errors and ballot shortages in two dozen polling sites, resulting in the firing of the former director.
Officials in Pinal County said there was a shortage of ballots at more than 20 voting sites during the primary election in August 2022, which left some voters without the ability to cast votes. County officials attributed the problem to an "unprecedented demand for in-person ballots." The county's election agency suggested that people use an "express vote device" instead.
Pinal County Attorney Kent Volkmer and Jeffrey McClure, chair of the Board of Supervisors, issued a joint statement to FOX10 saying it was a "major screw-up," but McClure claimed he has "not seen evidence of a nefarious act." Instead, he attributed it to "mistakes made on a grand scale."
The incident drew the scrutiny of major Republican organizations, the Republican National Committee (RNC), and its chairwoman, Ronna McDaniel.
McDaniel said at the time that the RNC and Republican Party of Arizona's poll observer program had documented and reported several "failures" by Pinal County's elections administrator. This included "63,000 mail-in ballots delivered to the wrong voters and multiple Republican-heavy precinct locations running out of ballots."
"This is a comprehensive failure that disenfranchises Arizonans and exemplifies why Republican-led efforts for transparency at the ballot box are so important. Pinal County Elections Director David Frisk should resign immediately," McDaniel said.
However, during a general election recount, more errors were discovered under Ross's oversight, but she had already left the position after receiving a bonus for a seemingly smooth election.
Roll, who previously worked as a deputy county attorney in Maricopa and Graham counties, and as an assistant attorney general for Arizona, became the county's elections director.
Every member of the Board of Supervisors in Pinal County, including County Attorney Kent Volkmer, who was also included in Roll's email, belongs to the Republican Party.
Roll was a registered Republican until recently. In a phone interview with PinalCentral, Roll expressed her changed sentiments toward her Republican colleagues, saying, "I can't be associated with these people."
Loading...