---
Army Officer Court-Martialed After Refusing To Soften Findings Of Probe Of Suicides At Base
Authored by J.M.Phelps via The Epoch Times,
An Army officer was court-martialed after she refused requests to change recommendations she made that were critical of command while probing suicides at a military facility, according to her lawyer.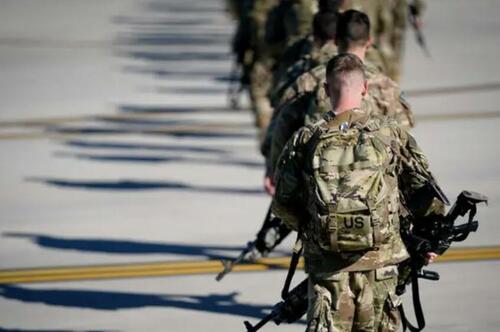 The Army brought 24 charges against Army Reservist Lt. Col. Joy Thomas, and her trial began on June 20 at North Carolina's Fort Bragg, now known as Fort Liberty. Two weeks later, she was found guilty of only one charge of disrespecting a senior officer and given a $1,000 fine.
Lt. Col. Thomas's attorney R. Davis Younts, a retired Air Force lieutenant colonel and former Judge Advocate General officer, said the charges against his client were "retaliatory" and accused her command of acting "vitriolically" when Lt. Col. Thomas was only doing what she believed was right.
Lt. Col. Thomas's career began at the U.S. Army's lowest enlisted rank. After 18 years of service, she achieved the rank of senior commissioned officer.
Problems arose while she was completing an active-duty tour at Fort Bragg. In 2018, she was tasked with three suicide investigations. A "rash" of suicides has plagued the Army installation in the past several years, and her findings and recommendations were critical of command, Mr. Younts said, adding that, "they tried to get her to change them." Five other investigating officers had reached the same conclusions.
"Command just kept trying to find someone to say something more favorable, and when she didn't, they had it out for my client," Mr. Younts said, describing her career as "absolutely stellar" and calling her "a top-notch performer" in all previous military assignments.
Lt. Col. Thomas faced court-martial for 24 charges involving allegations of desertion, absent without official leave (AWOL), and false official statements. Mr. Younts represented her at trial, which resulted in punishment for only one incident of "rolling her eyes and having a disrespectful tone," he said. While Mr. Younts considered this a natural response to "the animosity of her chain of command," he also acknowledged that "the judge needed to send a message that even on the worst day, soldiers still have to respect rank and the uniform."
Before the trial, Lt. Col.Thomas became the "black sheep" of her unit, and her command began to "do things that would have never been done to any other soldier," Mr. Younts said. A career officer with aspirations to become a general "literally put his hand in her face during a very disrespectful, angry outburst," he said. Despite having the incident witnessed by 24 soldiers, she was threatened not to file a complaint. "But she did file a complaint and that started an investigation into the colonel," he said. The Epoch Times has viewed a copy of the document. As a result, he was "flagged," according to Mr. Younts, preventing his promotion to general.
In another example, Lt. Col. Thomas was marked absent without leave for four days. This was merely an attempt to "hurt" her career, Mr. Younts said, as the entire installation was closed for inclement weather.
In a separate incident unrelated to her work assignment, she lost consciousness and suffered a concussion. "A friend contacted her command from her phone and let them know she was in the hospital," he said.
Lt. Col. Thomas ended up in the hospital for two weeks. While there, her command "counseled" her, and served her with separation papers at the hospital, as if she had abandoned her military duty, Mr. Younts said. After two weeks in the hospital, she was scheduled for further neurological evaluation with the primary care doctor on base.
"She leaves the hospital, goes to that medical appointment, and the doctor tells her to come back the next day."

She was arrested upon returning to the base the following day, an incident Mr. Younts called "shocking."

"They charged her with being AWOL."
With ongoing, apparent retaliation from her command, Lt. Col. Thomas went to the provost marshal, the police authority, at the installation. She let him know she no longer felt safe reporting to her superior officer. Mr. Younts said she felt like command was "constantly harassing her, abusing AWOL, and doing things to set her up to get her into trouble."
After being threatened by the career officer in the above-mentioned confrontation, she asked for a no-contact order through the Provost Marshall's office. Mr. Younts said, "her supervisor denied knowing that she ever requested a no-contact order." But at trial, the now-retired provost marshal testified that a complaint was filed and that he personally notified her supervisor, directly contradicting the supervisor's testimony.
A Missed Opportunity
Lt. Col. Thomas attempted to leave her current duty assignment to pursue another position in the military in the spring of 2021. Col. June Copeland, who has since retired, had hoped to hire her for "a very critical mission project," according to Mr. Younts. Not only is Col. Copeland a West Point graduate, but her three daughters also graduated from the military academy. Lt. Col. Thomas considered the opportunity to work alongside Col. Copeland to be a much-needed boost to her increasingly stressful career.
"Because Thomas' chain of command was retaliating against her, they didn't want her to leave," Mr. Younts said.

"Within 48 hours of speaking to Copeland, a flag appeared on Thomas's record."
Lt. Col. Thomas would be unable to take the position as a result. Col. Copeland later testified at trial that there was no flag on Lt. Col. Thomas' record at the time she was being considered for the position.
"All these things were—and remain—deeply concerning, as each circumstance was being used as a weapon against her," Mr. Younts said.

"Even after being charged with disrespect toward a senior officer and being ordered to pay a thousand dollar fine," Mr. Younts said, "the government still asked for a dismissal."
A dismissal is the equivalent of a dishonorable discharge for an officer, he explained.
"Had she gotten a dismissal, she would have lost the benefits she earned, [including] her retirement, her medical, and more."
Mr. Younts strongly believes the findings and the sentence were intended to send a message to command that there were significant leadership failures. According to him, Lt. Col. Thomas should have avoided court-martial altogether and received nothing more than an Article 15 from her command to discipline her for the minor offense, which would have allowed her to move to her next assignment.
He said an Article 15 would have been "an easy fix" that would have allowed Lt. Col. Thomas to "use her expertise and continue to pursue opportunities that would have been valuable to the United States Army, but her command continued to punish her instead."
"It was very, very troubling to see how personal the attacks were against Thomas," he said.
"It just gives me pause about Army leadership and makes me question how these individuals can be so concerned about their own careers and reputations at the expense of someone else."
"After calling 40 witnesses for the military and costing the government taxpayers over a million dollars, this is a case that could have been easily handled with nothing more than an Article 15," he said.
"Her command failed her on a lot of levels, and what the Army needs are more people, like Lt. Col. Thomas, who refuse to compromise their ethics and morality." Going forward, Lt. Col. Thomas hopes to retire without further incident.
Fort Liberty Public Affairs did not return a request for comment from The Epoch Times.
Loading...