---
ATF Director Says Assault Weapons Ban Now On His "Wish List"
Submitted by Gun Owners of America,
Looks like Biden's ATF director has drastically changed his views from his Senate confirmation hearing.
During a recent interview with Caroline Light, the Director of Undergraduate studies in Women, Gender and Sexuality at Harvard University, ATF Director Steve Dettelbach was asked about his gun control "Wish list."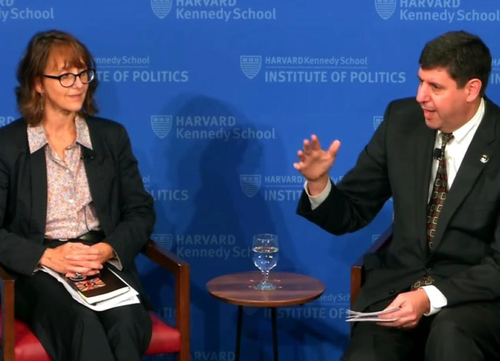 According to Harvard Magazine, ATF Director Dettelbach answered that he'd like to revive the federal prohibition on "assault weapons," which expired in 2004. 
The so-called "assault weapons" that Dettelbach refers to are commonly owned modern sporting rifles that 1 in 20 Americans own.
This is a drastic change from Dettelbach's nomination hearing, where he promised to be a fair regulator and only use the tools that Congress gave him.
These words earned him his nominations from holdouts like Senator Angus King of Maine and West Virginia Senator Joe Manchin.
Senator King was credited with torpedoing the previous ATF director nominee, David Chipman.
Chipman, a former ATF agent and veteran of the gun-control lobby, was withdrawn after his views on firearms confirmed that he would be antagonistic towards the firearms industry as a regulator.
Dettelbach was seen as a law enforcement candidate, with a background as a United States Attorney who promised to "never let politics in any way influence my action as ATF director."
It is clear that Director Dettelbach has become a gun-control advocate in the vein of David Chipman. In fact, according to the National Shooting Sports Foundation, no ATF director has ever advocated for an assault weapon ban until now.
This is unsurprising, as the Biden administration recently announced an office of gun violence prevention -- its sole purpose being to cozy up the gun control lobby with a direct link to ATF. Look no further than the Office of Gun Violence Prevention's Deputy Director, Rob Wilcox.
ICYMI📢

Last week, Biden's White House announced the new gun violence prevention office. This is just another attempt to take away your Second Amendment rights. pic.twitter.com/r1HejsNWvh

— Gun Owners of America (@GunOwners) September 30, 2023
Wilcox was the Senior Director of Federal Affairs for Michael Bloomberg's gun-control organization Everytown for Gun Safety before working directly for the White House in their newly created office.
Interesting as well in Dettelbach's interview was his attempt to characterize a GOA-backed overturning of an egregious gun control policy by the Department of Veterans Affairs as somehow related to the mass shooting in Lewiston, Maine.
Dettelbach suggested that the GOA-backed policy lowered barriers to gun ownership for those found to be mentally incompetent. This is the furthest thing from the truth.
In reality, the provision reversed a sinister policy by the VA, which added veterans to the list of prohibited persons in the National Instant Criminal Background Check System (NICS) if they used a fiduciary to manage their finances. Over 250,000 veterans were disarmed because of this policy.
ATF is currently working to implement Universal Registration Checks by executive fiat (another item on Dettelbach's wish list), and the rule is now up for comment. Click here to let ATF know that you oppose this rule by leaving a public comment.
Gun Owners of America proudly stands in opposition to ATF and Director Dettelbach in the defense of law-abiding gun owners' Second Amendment rights.
*  *  * 
We'll hold the line for you in Washington. We are No Compromise. Join the Fight Now.
Loading...