---
Indian Tribe Demands America-Hating Ice Cream Commies Ben & Jerry's Return 'Stolen' Land HQ Built On
Members of a Vermont Indian tribe are demanding that the owner of Ben & Jerry's give back 'stolen' land that the company's headquarters is built on, after the ice cream company tweeted an America-hating reminder on the Fourth of July holiday that it was "high time we recognize that the U.S. exists on stolen Indigenous land and commit to returning it."
This 4th of July, it's high time we recognize that the US exists on stolen Indigenous land and commit to returning it. Learn more and take action now: https://t.co/45smaBmORH pic.twitter.com/a6qp7LXUAE

— Ben & Jerry's (@benandjerrys) July 4, 2023
The ice cream maker further details their call to action on their website - saying that America needs to start by returning Mount Rushmore. "The faces on Mount Rushmore are the faces of men who actively worked to destroy Indigenous cultures and ways of life, to deny Indigenous people their basic rights," the post alleged.
Don Stevens, Chief of the Nulhegan Band of The Coosuk Abenaki Nation, told Newsweek that his tribe is "always interested in reclaiming the stewardship of our lands," but that the ice cream company - owned by Unilever, has yet to contact them to return the land its headquarters now occupies.
"If and when we are approached, many conversations and discussions will need to take place to determine the best path forward for all involved," said Stevens, who is a descendant of the Abenaki Nation, a confederacy of several tribes which at one time controlled an area of America that spans from northern Massachusetts to Bew Brunswick, Canada - meaning the Ben & Jerry's Burlington, VT headquarters is now sitting on the very land the company is trying to wokeshame the country into giving back.
"If you look at the [Abenaki] traditional way of being, we are place-based people. Before recognized tribes in the state, we were the ones who were in this place," Stevens said, claiming that the Abenaki see themselves as "stewards of the land."
The company's 4th of July message has sparked a nationwide boycott of the America-hating communist ice cream slingers.
@Ben&Jerry's
It's time to boycott Ben and Jerry's until they give back the land that belongs to the native Americans. This is ancestral barrial grounds. Ben and Jerry's build over the Graves of the elders of the tribe. If you want to give Reparations, give it to the Indians.#KAG pic.twitter.com/PXIzUyk0CJ

— Stephen.j.Olko (@j_olko1) July 6, 2023
Boycott Ben and Jerry's until they return the land!!!

— steve (@scanx55) July 7, 2023
BEN & JERRYS SHOULD GIVE ALL THEIR ICE CREAM FACTORIES BACK TO THE NATIVE INDIANS. IF THEY DON'T THEN THEY ARE HYPOCRITES. pic.twitter.com/6M4jsDJ9ci

— ALPHA BIG DOG (@ALPHABIGDOG2) July 5, 2023
Meanwhile, the pain gets worse for Ben and Jerry's owners, as the Epoch Times reports, Unilever stock has lost around $2 billion in market capitalization amid calls to boycott the company.
Shares of parent Unilever, the Anglo-Dutch multinational company, dropped about 0.5 percent on Friday, 0.8 percent on Thursday, and 0.5 the previous day. It's not clear if the drop was due to the calls to boycott Ben & Jerry's, which has been owned by Unilever since 2000.
"Make @benndjerrys Bud Light again," country singer-songwriter John Rich wrote in response, responding to the several-week-long boycott targeting Bud Light that has seen the beer company's year-over-year sales plummet. While Bud Light didn't attack the founding of the United States, the company was panned for producing a can of beer with transgender influencer Dylan Mulvaney's face on it.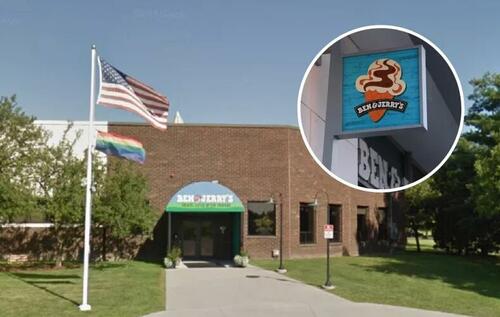 "Long overdue for the Bud Light treatment. You hate the country, fine. We won't buy your product. All good," another wrote in response. "When is Ben & Jerry's giving up their land?" Jenna Ellis, a former attorney to President Donald Trump, wrote on Twitter.
Several newspapers like the New York Post and Washington Examiner, too, called for a consumer-led boycott after the Twitter post.
"The brand backed bad-joke Occupy Wall Street, for crying out loud; it aligns with the anti-Israel BDS movement. Co-founder Ben Cohen funds groups opposed to US military aid to Ukraine," the NY Post's editorial wrote before calling for a boycott of the ice cream company. "Remember, America, you don't have to accept woke preening from corporate elites. Speak up—with your wallets," it said.
The Examiner said, "It may be fun to imagine, but, of course, Ben & Jerry's will never actually give back the land its corporate office sits on. It will simply exert pressure on others to give up their land."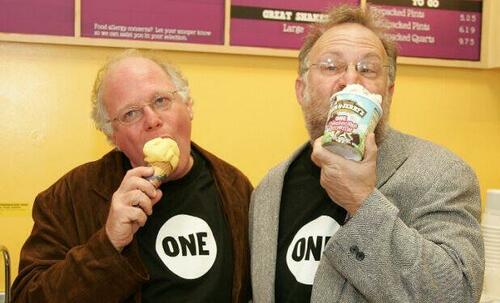 It's now Americans' "job to try and turn the tide" against the company, the paper said.
The company, however, is no stranger to controversy and boycott calls. Over the years, the founders of Ben & Jerry's have taken left-wing or anti-U.S. stances, and have also often been critical of American foreign policy efforts, including Washington's decision to provide military aid to Ukraine in the war against Russia.
Years ago, some called for a Ben & Jerry's boycott after it refused to sell its ice cream in Israel's West Bank and Gaza Strip, alleging those areas are being occupied by Israel.
In June, Ben & Jerry's announced it wouldn't pay to advertise on Twitter and claimed that "hate speech" is on the rise across the platform since Elon Musk purchased the company last year. In a blog post weeks ago, the company wrote that changes at Twitter are causing it "great concern" and that "hate speech is up dramatically while content moderation has become all but non-existent."
Loading...