---
"Something Dangerous Is Happening In America" - Biden Warns Of Trump's "Extremist Movement", Blasts Republicans' Silence
Authored by Emel Akan via The Epoch Times (emphasis ours)
President Joe Biden delivered a speech about democracy on Sept. 28 in Arizona, a key battleground state for the 2024 election. He took aim at his predecessor, President Donald Trump, and expressed concerns about a "dangerous" trend unfolding in the United States.
"As I've always been clear, democracy is not a partisan issue. It's an American issue," President Biden said.

"But there is something dangerous happening in America. There is an extremist movement that does not share the basic beliefs of our democracy. The MAGA Movement."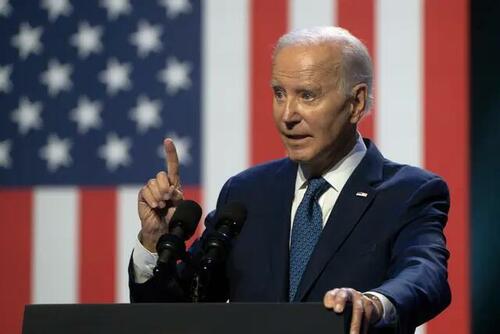 According to the White House, this is the fourth speech by the president focused on democracy.
President Biden began his speech by honoring the legacy of his late friend and colleague Sen. John McCain (R-Ariz.) and announcing the creation of the McCain Library.
Mr. McCain's family and Arizona Gov. Katie Hobbs, a Democrat, were among those in attendance during his speech in Tempe, Arizona.
"I have come to honor the McCain Institute and Library because they are home to a proud Republican who put country first," President Biden said.
"Not every Republican—not even the majority of Republicans—adhere to the extremist MAGA ideology. I know because I've been able to work with Republicans my whole career.
"But there is no question that today's Republican Party is driven and intimidated by MAGA extremists."
WATCH: Biden calls out the GOP for their 'deafening silence' after Trump's comments about Gen. Mark Milley.

"MAGA extremists across the country have made it clear where they stand. The challenge for the rest of Americans is to figure out where we stand." pic.twitter.com/u6UyJj5FaY

— MSNBC (@MSNBC) September 28, 2023
The president delivered his speech a day after the second Republican debate in California, during which the candidates displayed no signs of narrowing the gap with former President Trump, the Republican frontrunner for 2024.
On Sept. 28, the House Oversight Committee held the first hearing of its impeachment inquiry into President Biden.
It focused on President Biden's potential involvement in his son's business dealings during his tenure as vice president under President Barack Obama.
The challenges don't end there for the 46th president. President Biden faces continued low approval ratings as the majority of Americans are unhappy with his handling of the economy.
In a mid-September NBC News poll, independent voters gave President Biden a dismal 36 percent approval rating.
More than 3 in 5 Democrats and Democratic-leaning independents say they would prefer a nominee other than President Biden, according to a recent Washington Post–ABC News poll.
'Silence Is Deafening'
President Biden spoke out against the former president's recent social media post in which he accused the chairman of the Joint Chiefs of Staff, Gen. Mark Milley, of committing treason.
President Trump suggested that Gen. Milley had colluded with China, a conduct he said would have once resulted in death.
"This is an act so egregious that, in times gone by, the punishment would have been death!" President Trump wrote on Sept. 22 on his Truth Social platform.
"Although I don't believe the majority of Republicans think that, the silence is deafening," President Biden said during his speech in Arizona. "Hardly any Republican called out such hated statements."
He later urged Democrats, Republicans, and independents to stand up for democracy.
"Put our country first. We can't take democracy for granted," President Biden said.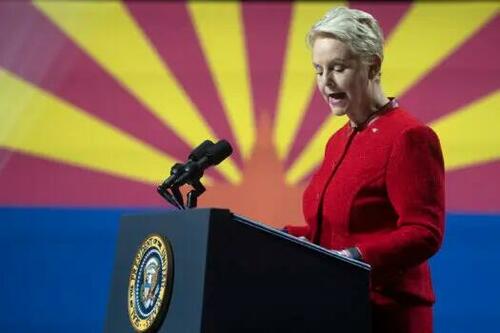 Prior to President Biden's speech, U.S. diplomat Cindy McCain, the widow of Sen. John McCain, took the stage and highlighted the friendship between her late husband and the president.
"President Biden and Mrs. Biden introduced me to my husband, and I'm so grateful for that," Ms. McCain said.
During his visit to Vietnam on Sept. 11, President Biden stopped by the John Sidney McCain III Memorial to honor his late friend and colleague, whose plane was shot down over Hanoi in 1967 during the Vietnam War.
"It was an emotional trip," President Biden said in Arizona. "As I stood there, paying my respects, I thought about how much I miss my friend."
A climate activist interrupted President Biden during his speech and urged him to take action against fossil fuels.
"I'll tell you what. If you shush up, I'll meet with you immediately after this. OK?" the president said.
Republicans criticized the president for refusing to visit the southern border.
"Today, President Biden is in Arizona, but instead of visiting the border to get a firsthand look at the crisis, he'll be at a campaign fundraiser," Sen. Katie Boyd Britt (R-Ala.) wrote on Sept. 28 on social media platform X, formerly known as Twitter.
"He can fly to his beach house on the weekends, but he can't fly less than 30 minutes to the border?"
Loading...