---
Bidenomics Rejected: Trump Ahead In Swing States, Leads Among Young Voters
Less than 13 months from the 2024 election, a new set of polls has delivered alarming news for backers of incumbent President Joe Biden, with voters in swing states and even younger voters giving the edge to former President Donald Trump. The key driver: voter rejection of Bidenomics. 
According to a Morning Consult/Bloomberg poll, Trump is up four points among voters in seven swing states: Arizona, Georgia, Michigan, Nevada, North Carolina, Pennsylvania and Wisconsin. On a state-by-state breakdown, Trump has the upper hand in five of them. He's tied with Biden in Michigan, while Biden leads in Nevada by 3.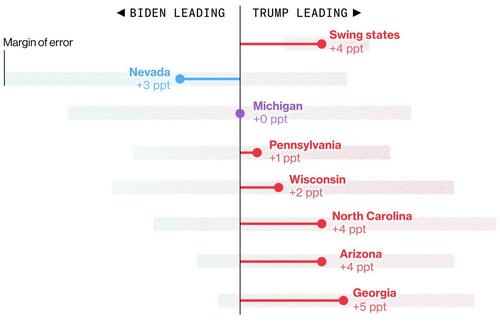 In 2020, Biden received the electoral votes of all of those states except for North Carolina, which Trump won by 1.3%. If all other states stayed in their 2020 columns, Trump would need to take four of the seven swing states to return to the White House.  
Swing-state voters say the economy outweighs any other factor in their voting decisions, and they're hugely disappointed in the Biden-era economy. 49% say Biden policies have been bad for the economy, compared to 26% who see them as a positive.  
"Almost twice as many voters in the swing states are saying that Bidenomics is bad for the economy, as opposed to good for the economy, which is a really startling fact if you're the Biden campaign," said Morning Consult pollster and vice president Caroline Bye. Bye couldn't help but reveal her own bias, declaring, "Biden is not getting any credit for work he's done on the economy." 
It's not just the economy that's dragging Biden down; swing-state voters have higher confidence in Trump in 10 out of 16 policy areas. Only where "climate change" is concerned does Biden outperform Trump by more than 10 points. Interestingly, they give a solid edge to Trump on "guns."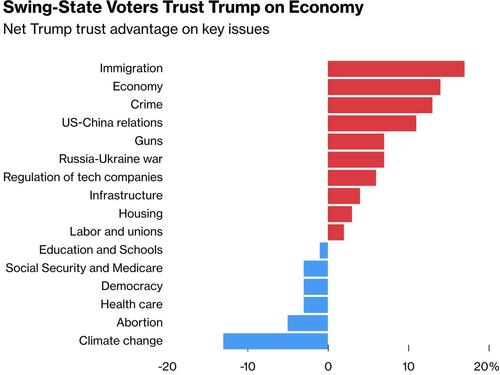 The independent campaign of Robert F. Kennedy, Jr is a wild card. The Bloomberg/Morning Consult poll found Biden leads Nevada by three points in a head-to-head matchup with Trump, but loses by three when other parties are included. On the other hand, Trump's supporters are much more likely than Biden backers to view Kennedy favorably -- by a whopping 46% to 29% margin.  
Two other polls yielded more bad omens for Biden, particularly in regard to key Democratic constituencies. An Emerson College poll found voters between 18 and 29 favor Trump by 2.3%, while CNBC's All-America Economic Survey found sagging support for Biden among young people, blacks and Latinos. 
Democratic pollster Jay Campbell called those results "very troubling" for Biden. Noting that those three constituencies are among the hardest hit by economic conditions, he said, "You start to think that maybe they've run out of patience, and it's starting to show through in their decreasing regard for the president."
The CNBC survey found Biden's disapproval rating at a personal-worst 58%, driven by a 63% disapproval rating on his handling of the economy -- another low for this presidency. Respondents favored Trump in the 2024 contest by a 43% to 38% margin. 
At PredictIt, the online, real-money prediction market where shares betting on the right outcome pay $1, speculators are still favoring Biden. However, the gap between the Biden and Trump contracts has narrowed from 18 cents on Aug 18 -- in the wake of Trump's indictment in Georgia -- to just 3 cents on Thursday.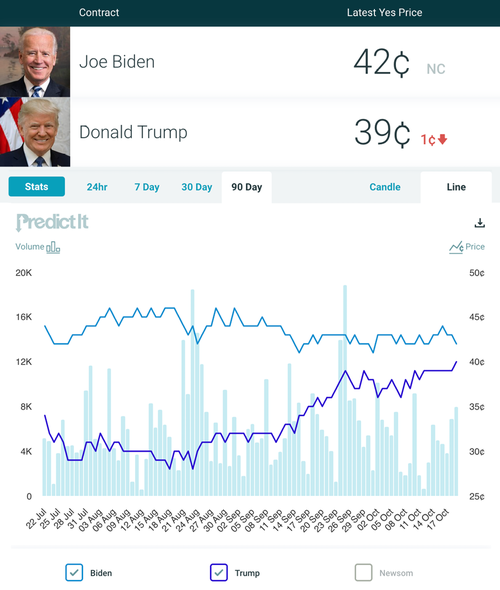 Loading...