---
Bud Light Giving LGBTQ Organization $200,000 Donation
Authored by Naveen Athrappully via The Epoch Times (emphasis ours),
Bud Light has announced that it intends to donate money to a cause supporting LGBTQ business owners—a decision coming at a time when the company's sales are getting hammered from customers opposing a transgender agenda.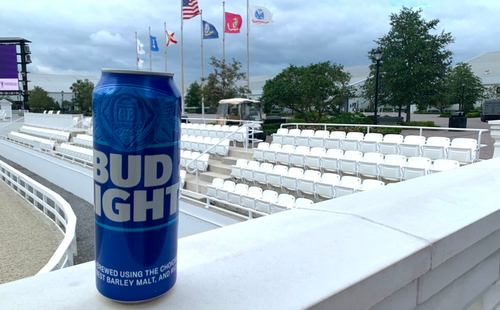 Bud Light will donate $200,000 to the National LGBT Chamber of Commerce (NGLCC) in support of the organization's "Communities of Color Initiative" (CoCi), which aims to "support the growth and success of minority LGBTQ+ owned businesses," the company said in a press release on May 30. Bud Light will also support NGLCC's CoCi Biz Pitch program, in which the winning LGBTQ business owner will receive $5,000.
The contribution comes after the popular beer brand recently triggered large-scale controversy due to using a transgender influencer, Dylan Mulvaney, in one of its campaigns last month. The promotion attracted intense criticism, with multiple conservative celebrities calling for boycotting the brand, which has driven down the parent company Anheuser Busch's stock price by 18.19 percent, with $23.87 billion lost in market valuation between April 3 and May 30.
"Bud Light was brewed to be an 'Easy to Drink, Easy to Enjoy' beer for everyone 21-plus, and that still holds true today," said Anheuser-Busch. "We look forward to extending our work with the NGLCC to continue making a positive impact on the LGBTQ+ businesses that play a critical role in bringing people everywhere, together."
Over the past two decades, Anheuser-Busch has contributed over $13 million to local and national nonprofit organizations committed to advocating for LGBTQ.
Crashing Sales
According to data analyzed by Newsweek, in the first four weeks of Bud Light's controversy until April 29, the beer company's sales dropped by 17.2 percent and volumes fell by 21.4 percent compared to the year-ago period. In the four weeks ended May 20, sales revenue dropped by 24.3 percent.
Dave Williams, vice president for analytics and insights at Bump Williams Consulting, pointed out that the sales results of Bud Light "raises questions about the potential long-term implications." The rate of sales decline "has been a bit steeper" in May than in April, he admitted.
"The absolute magnitude could still creep up if those percentage drops are going up against bigger holiday/summer weeks in the [year-ago] time period," Williams said. "One thing is for sure, the rate of decline has not gotten any better just yet."
A couple of weeks back, former Anheuser-Busch executive Anson Frericks told Fox News that the Bud Light boycott wasn't going to end anytime soon.
"Consumers feel like they're having an impact. And every single week, these sales numbers are being reported, and they're getting worse and worse every single week," he said.
"So, I see this continuing to drag on until Bud Light makes a comment about what they stand for and what customers they're going to serve."
Sponsoring Events
Bud Light is also continuing to promote LGBTQ events amid the Mulvaney backlash. The "Bud Light Pride River Parade & Celebration" is scheduled for June 10 in San Antonio, Texas.
"The Bud Light Pride River Parade was created by Visit San Antonio to promote the city's inclusion, encouragement, and support of the LGBTQ+ community to live openly with equal rights," the event states.
The Chicago Pride Fest, which will feature a Youth Pride Space for teens among other events, is scheduled for June 17–18. It mentions Cutwater Spirit as a presenter—a brand owned by Anheuser-Busch.
The Pride St. Louis event scheduled for June 24–25 lists Bud Light as a corporate sponsor. More than 300,000 people are expected to take part in the event.
Meanwhile, Senator Ted Cruz (R-Texas) has called on the national trade association Beer Institute to investigate "Anheuser-Busch's recent and ongoing marketing partnership with Dylan Mulvaney."
"The Beer Institute must examine whether your company (Anheuser-Busch) violated the Beer Institute's Advertising/Marketing Code and Buying Guidelines prohibiting marketing to individuals younger than the legal drinking age," the letter said.
Evidence suggests that "Dylan Mulvaney's audience skews significantly younger than the legal drinking age and violates the Beer Institute's Advertising/Marketing Code and Buying Guidelines."
Loading...