---
Cabinet 'Reset': Britain's Home Secretary Fired, Shamed Globalist David Cameron Returns To Gov't
British Prime Minister Rishi Sunak sacked Home Secretary Suella Braverman following a turbulent relationship, exacerbated over the weekend with her inflammatory comments about pro-Palestinian demonstrations in central London. Sunak then announced further reshuffling by appointing former minister prime David Cameron as Foreign Secretary after a seven-year leave of absence from politics. 
According to The Telegraph, Braverman was not surprised to receive a call from Sunak on Monday morning, ending her 12-month tenure as Home Secretary. Sources said she had an idea the phone call was coming on Sunday after a "series of controversies over her outspoken criticism of police bias in tackling the pro-Palestinian protests and street vagrancy." 
In an op-ed in the Times of London newspaper - published ahead of a massive pro-Palestinian demonstration on Saturday, she called protesters "hate marchers" and criticized police for applying "double standards" in the way they manage protests. 
Helicopter footage from London today.

Hundreds of thousands of people out on the streets. This is the biggest protest in decades.

Something big is happening. pic.twitter.com/fuZWpkX5IY

— Alan MacLeod (@AlanRMacLeod) November 11, 2023
🇬🇧‼️ "Around 300,000 people gathered for pro Palestine protests in central London" — CNN pic.twitter.com/GLblsT0clH

— Lord Bebo (@MyLordBebo) November 12, 2023
"Right-wing and nationalist protestors who engage in aggression are rightly met with a stern response, yet pro-Palestinian mobs displaying almost identical behavior are largely ignored, even when clearly breaking the law. I have spoken to serving and former police officers who have noted this double standard," Braverman wrote.
As for Palestinian marches, she added: "We have seen with our own eyes that terrorists have been valorized, Israel has been demonized as Nazis, and Jews have been threatened with further massacres."
Even though her remarks were applauded by conservatives, liberal corporate media had a meltdown: BBC News spoke with Neil Basu, the former head of counter-terrorism policing in the UK, who said her comments "are potentially divisive is a very dangerous thing to do… no home secretary we've served under would have done the same thing."
Sunak's sweeping cabinet reshuffle followed Cameron's appointment as Britain's foreign secretary. He served as prime minister from 2010-16 and triggered the Brexit referendum 2016, where he voted to stay in the bloc. 
Cameron is also viewed as pro-China, trying to set up a $1 billion investment between the two countries. He's also seen as a 'Davos' man...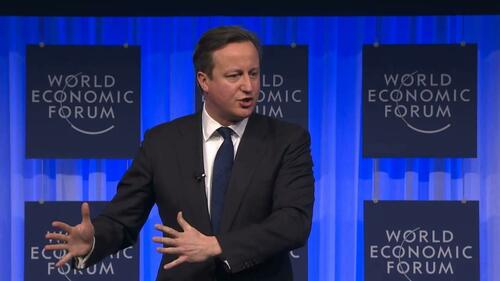 In a statement this morning, he said, "We are facing a daunting set of international challenges, including the war in Ukraine and the crisis in the Middle East. At this time of profound global change, it has rarely been more important for this country to stand by our allies, strengthen our partnerships and make sure our voice is heard." 
He noted, "Britain is a truly international country. Our people live all over the world and our businesses trade in every corner of the globe. Working to help ensure stability and security on the global stage is both essential and squarely in our national interest. International security is vital for our domestic security." 
The Prime Minister has asked me to serve as his Foreign Secretary and I have gladly accepted.

We are facing a daunting set of international challenges, including the war in Ukraine and the crisis in the Middle East. At this time of profound global change, it has rarely been more…

— David Cameron (@David_Cameron) November 13, 2023
And being a Davos man/pro-China, this might be indicative that Cameron has limited to no intentions to support Israel. 
Meanwhile, The Times of Isreal reported over the weekend that Israel was pushing former British prime minister Tony Blair as humanitarian coordinator for the Gaza Strip. 
"A few weeks ago, Rishi Sunak said David Cameron was part of a failed status quo, now he's bringing him back as his life raft," said Pat McFadden, Labour's campaign chief.
McFadden continued, "This puts to bed the prime minister's laughable claim to offer change from 13 years of Tory failure."
Loading...