---
Catholic School System Asks Students To Use Biological Pronouns And Names
Authored by Naveen Athrappully via The Epoch Times (emphasis ours),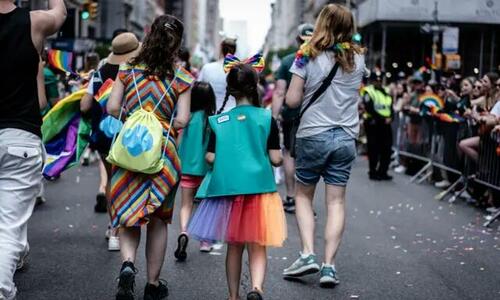 A Catholic school system in Massachusetts under the Diocese of Worcester is asking students to behave in accordance with their sex, including while using pronouns and names.
"All students are expected to conduct themselves at school in a manner consistent with their biological sex," the Diocese said in an Aug. 15 announcement. "School practice shall consider the gender of all students as being consistent with their biological sex, including, but not limited to, the following: participation in school athletics; school-sponsored dances; dress and uniform policies; the use of changing facilities, showers, locker rooms, and bathrooms; titles, names, and pronouns; and official school documents."
Official documents, including school records, transcripts, and diplomas shall reflect the student's biological sex as determined at the time of their birth and enrollment.
The new policy prohibits students from engaging in advocacy, celebration, or expression of same-sex attraction in ways that cause "confusion or distraction" to the function of the school like classes, events, and other activities.
It also prohibits bullying, harassment, threats, or acts of violence against students on the basis of their perceived sexual orientation or gender identity.
"While some schools had policies in place, others did not. Individual situations were arising which underscored a need for a single policy which clearly states Church teaching and provides consistent application of that teaching across all our schools," said David Perda, superintendent of Catholic Schools for the diocese.
The new policy, titled "Catholic Education and the Human Person," was approved by Bishop Robert McManus in late June and was sent to all Catholic schools to include them in school handbooks this fall. The Diocese is located roughly 45 miles west of Boston.
Some Schools Not Implementing New Rules
The Diocese of Worcester's new policy is expected to affect 21 Catholic schools in Worcester, with over 5,000 students coming under the purview. However, some schools have indicated that they may not adopt the new guidelines.
In an Aug. 11 letter to Bishop McManus, Xaverian Brothers General Superior Brother Daniel Skala and Sisters of Notre Dame de Namur Sister Patty Chappell said that the boards of trustees of their religious orders had reviewed the policy, according to Patch.
The boards have decided not to implement the new policies in student handbooks at the two schools the orders sponsor—the all-girls Notre Dame Academy in Worcester and all-boys St. John's in Shrewsbury.
"We support our respective boards' recent determination to uphold their established practices, guided by the principles of our Church and Religious Orders, instead of incorporating the [new policies] into their handbooks," the letter stated.
Schools under the Diocese of Worcester that do not follow the new policy on gender ideology could face punishment.
Last year, Bishop McManus stripped the affiliation of Nativity School in Worcester, asking that it stop identifying itself as a Catholic school after the institution refused to take down LGBT and Black Lives Matter flags.
Bishop McManus had also prohibited the school from performing Mass ceremonies.
Pope Mixes Messaging
The Diocese of Worcester's new policy is based on various Biblical sources and references the Catechism of the Catholic Church as well as the teachings of Pope Francis.
Pope Francis has "repeatedly stressed the importance of a proper understanding of our sexuality, warning of the challenge posed by 'the various forms of an ideology of gender that denies the difference and reciprocity in nature of a man and a woman and envisages a society without sexual difference,'" the policy states.
"As Pope Francis notes, we must always respect the sacred dignity of each individual person, but that does not mean the Church must accept the confused notions of secular gender ideology."
Though the policy cites Pope Francis while dismissing gender ideology, the Pope has given mixed messages regarding the issue over the past years.
Back in 2013 when asked about the sexual orientation of priests, the Pope replied, "If someone is gay and he searches for the Lord and has good will, who am I to judge?" according to AP.
In 2015, Pope Francis criticized gender ideologies, comparing such theories to nuclear weapons and genetic manipulation.
In 2021, Pope Francis came under criticism from the gay community after the Vatican stated that the church cannot bless same-sex unions. In an interview with AP in January this year, the Pope said homosexuality was "not a crime," but that it is a "sin."
The Diocese of Worcester's decision to ban preferred pronouns comes as several institutions are imposing pronoun use and punishing people who do not comply with such measures. Teachers have been expelled from schools for not using such pronouns due to their religious beliefs.
In a recent interview with The Washington Examiner, Tyson Langhofer, a senior counsel at advocacy group Alliance Defending Freedom (ADF), suggested that as the issue of pronoun use becomes widespread, SCOTUS may have to intervene.
"I do believe that the Supreme Court is going to have to weigh in on this if schools continue adopting these policies, which it appears that they're doing," he said.
"This issue is very [common] … And I think it's because there's a lot of misinformation out there from outside advocacy organizations, which are pressuring schools, telling them what they can and can't do."
Loading...