---
"Children Are Not Social Experiments": Oklahoma Ban On Sex Changes For Minors Upheld By Federal District Court
Authored by Steven Kovac via The Epoch Times (emphasis ours),
U.S. District Court Judge John F. Heil has ruled that an Oklahoma state law banning sex-change procedures on children was constitutional and therefore could be enforced.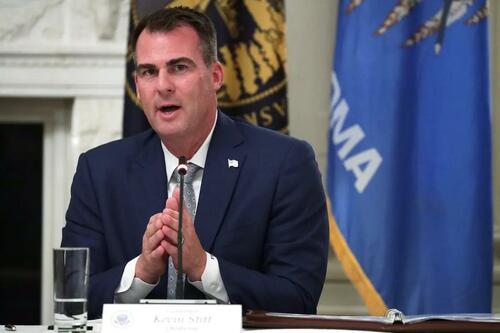 The ruling on Oct. 5, 2023, came as a result of a motion for injunctive relief to restrain the state from implementing the law.
Five young people identifying as transgender and in some degree of transition, their parents or legal guardians, and a health care provider are the plaintiffs in the case.
The defendant is Oklahoma Attorney General Gentner Drummond, a Republican.
In an email to The Epoch Times, Mr. Gentner's press secretary, Leslie Berger, stated: "The Attorney General's Office continues to fulfill its duty to defend Senate Bill 613, and has won a ruling that results in full enforcement of that law."
The lawsuit was filed on May 2, 2023, the day after the Republican-controlled Oklahoma State Legislature resoundingly passed Senate Bill 613 enacting the ban.
Governor Kevin Stitt, a Republican, signed the bill into law just hours after it passed. Then, the state agreed to hold off on implementation until the court ruled on the motion.
The court decided that a child's parents do not have the right to obtain medical services to change the sex of their minor son or daughter, as the plaintiffs contended.
However, in the ruling, there is a recognition of the longstanding legal acknowledgment that Americans have the right to refuse medical treatment.
The statute does not keep Oklahomans who are 18 years old and over from obtaining such procedures.
Judge Heil, a Trump appointee, wrote that there is a distinction between adults who are ready to make life-altering decisions and "minors, who, at least in the eyes of the legislature, are not.
"Indeed, courts have upheld restrictions designed to protect and prevent minors from engaging in behaviors that are far less risky than the procedures banned in SB 613," he wrote.
Judge Heil cited precedent that recognized a balance between "the truth that parents generally know what is best for their children," and the reality that state governments have an abiding interest in protecting public health, preserving and promoting the welfare of children, and keeping the medical profession ethical and honest.
"In the case before this court, plaintiffs have not demonstrated a fundamental right for parents to choose for their children to use puberty blockers, cross-sex hormones, and surgeries for the purpose of effectuating a gender transition," wrote the judge.
He quoted from a supporting case, which reads in part: "Absent a fundamental right, the state may regulate an interest pursuant to a validly enacted state law or regulation rationally related to a legitimate state interest."
A Sincere Disagreement
The ruling acknowledged that some people believe that obtaining a sex change operation is a demonstration of compassion for a child, while other people believe that saving a minor child from undergoing a sex change procedure is an act of compassion.
Judge Heil wrote that, because the entire concept is relatively new to society, and that definitive medical evidence is still being acquired, it would not be wise for the judiciary to enjoin the democratically elected legislature from enforcing a duly passed law addressing the subject "without a clear warrant in the Constitution."
The ruling also stated that the plaintiffs failed to meet the necessary standards to prove any discrimination on account of sex and could prove no 14th Amendment due process violations.
"It is well to remember that the most deeply rooted tradition in this country is that we look to democracy to answer pioneering public policy questions, meaning that federal courts must resist the temptation to invoke unenumerated guarantees to 'substitute' their views for those of legislatures," reads one of the supporting precedents cited by Judge Heil.
Under the new law, a health care provider "shall not knowingly provide gender transition procedures to any child," under possible penalty of license revocation and felony prosecution.
According to the statute, gender transition procedures are medical or surgical services performed for the purpose of "attempting to affirm the minor's perception of his or her gender or biological sex, if that perception is inconsistent with the minor's biological sex."
The outlawed gender transition procedures include surgeries that alter or remove physical or anatomical characteristics or features that are typical for the individual's biological sex, as well as the prescribing of puberty blockers, cross-sex hormones, "or other drugs to suppress or delay normal puberty or to promote the development of feminizing or masculinizing features consistent with the opposite biological sex."
Exceptions to the ban allow a minor currently taking cross-sex hormones to be gradually weaned off the drugs.
It also exempts children in need of treatment for the onset of puberty before the rest of the body is ready, along with those suffering from other physical problems related to genitalia.
According to a study by Liberty Counsel, a national, non-profit, religious liberty law firm that advocates for Christian values, 22 states have passed legislation protecting children from sex change practices.
In a recent press release, Liberty Counsel founder and chairman Mat Staver said of the Oklahoma decision: "The District Court has justly decided that Oklahoma is free to protect children from these harmful procedures that have devastated many young lives.
"Children are not social experiments and state legislatures have considerable discretion to protect them."
Loading...