---
Children's Hospital 'Health Hero' Award Given To Trans Democrat Pushing Child Sex Changes
The Children's Minnesota hospital system awarded state Rep. Leigh Finke an award last week after authoring a bill designed to promote child sex changes, the Daily Caller reports.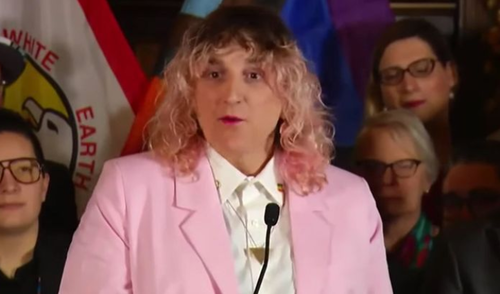 Finke, a transgender individual, authored Minnesota's HF146, the so-called "trans refuge" bill, which would prevent the enforcement of out-of-state laws that would remove a child from parents who cross state lines to administer transgender medical interventions, such as hormones or puberty blockers.
"The law protects access to gender affirming care for Minnesotans and for those traveling to Minnesota from other states," said Children's Minnesota in a statement.
The legislation was signed into law on April 27 by Gov. Tim Walz (D).
Finke was also the author of a bill that would strip anti-pedophile language from the state's existing anti-discrimination law. The law currently excludes sexual attraction to children from its list of legally protected sexual orientations, but Finke's bill would remove language specifying that exclusion, which activists have argued could lead to pedophilia being interpreted as a protected sexual orientation.

Republican state Rep. Harry Niska later proposed an amendment to the bill that would clarify that pedophilia is not a protected class, which was adopted unanimously. -Daily Caller
We are pleased to announce that Rep. @leighfinke is this year's recipient of the Children's Health Hero award. Children's Minnesota presents the award annually to legislators who champion child health issues at the Minnesota Capitol.https://t.co/lkzQHUjrDq

— Children's Minnesota (@childrensmn) May 24, 2023
According to Children's Minnesota, it's "the only health system in the state that cares exclusively for children" via two hospitals and 25 other facilities for primary care.
Meanwhile, similar "trans refuge" legislation has been passed in California, after states like Utah and Florida passed legislation to restrict sex change procedures on children.
"I am extremely honored to be presented the Health Hero Award from Children's Minnesota. At a time when young children are exploring who they are, and where they fit in society, we need to advocate and fight for their right to discover those identities with dignity and compassion," said Rep. Finke.
Or maybe wait till they're 18, when society deems people to be adults capable of making major decisions for themselves?
Loading...