---
Convicted US Olympics Gymnastics Pedo Stabbed In Florida Prison
Former gymnastics doctor for the US Olympics, Larry Nassar, has been stabbed multiple times during an altercation with another inmate in a federal prison in Florida.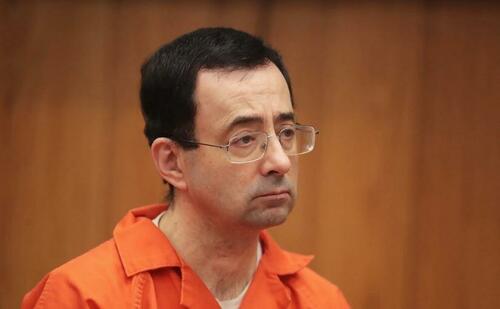 According to the Associated Press, the attack happened Sunday at the United States Penitentiary Coleman in Florida. Nassar was in stable condition Monday, according to two people familiar with the matter.
Joe Rojas, a prison union leader, told NBC News that Nassar was stabbed twice in both the neck and back, and another six times in the chest.
Nassar is serving decades in prison for convictions in state and federal courts. He admitted sexually assaulting athletes when he worked at Michigan State University and USA Gymnastics, which trains Olympians. Separately, Nassar pleaded guilty to possessing child pornography.

During victim impact statements in 2018, several athletes testified that over the course of Nassar's more than two decades of sexual abuse they had told adults what was happening, including coaches and athletic trainers, but that it went unreported. -Associated Press
Over 100 women, including Olympic gold medalist Simone Biles, sued the federal government for more than $1 billion over the FBI's failure to stop Nassar when the agency became aware of allegations against him in 2015. He was arrested over a year later by Michigan State University police.
The college - which was also accused of failing to stop Nassar, agreed to pay $500 million to some 300 women and girls who were victimized. USA Gymnastics and the US Olympic and Paralympic Committee settled for $380 million.
Last month the Michigan Supreme Court tossed Nassar's final appeal, after the former doctor's attorneys argued he was treated unfairly in 2018 and deserved a new hearing, citing an incident during the original trial in which the judge called him a "monster" who would "wither" in prison like the wicked witch in "The Wizard of Oz."
"I just signed your death warrant," said Ingham County Judge Rosemarie Aquilina said when handing down the 40-year sentence.
While the state Supreme Court said it had concerns over the judge's conduct, the court noted that Aquilina still adhered to the sentencing arrangement worked out between parties in the case.
"We decline to expend additional judicial resources and further subject the victims in this case to additional trauma where the questions at hand present nothing more than an academic exercise," said the court.
Loading...