---
Could A Farage-BoJo Alliance Succeeed In Derailing The British Political Establishment?
Authored by Thomas Brooke via Remix News,
Nigel Farage has spoken to a number of individuals in Boris Johnson's close circle about a possible political alliance with the former U.K. prime minister in a bid to shake up the Westminster status quo and defend the legacy of Brexit.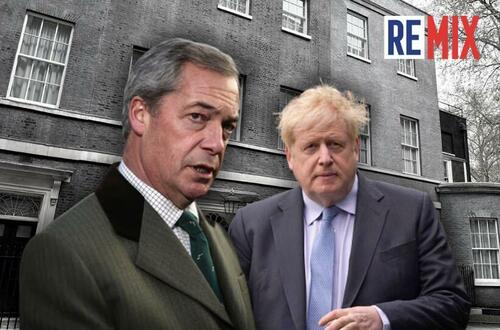 Speaking to GB News on Sunday, the former political leader turned conservative commentator described a "very big opening" now emerging in British politics. Farage claimed "the gap between Westminster and the country is now bigger than it was 10 years ago" when his U.K. Independence Party (UKIP) mounted electoral pressure on a Conservative party led by David Cameron.
"I think the sense of broken Britain, the sense the health service doesn't work anymore, that people's kids and grandkids can't even get onto the housing ladder. I think these things are very real. So, there's an enormous opportunity there," he told the broadcaster.
The gap between Westminster and the country is now even bigger than it was 10 years ago. We must defend the Brexit legacy. pic.twitter.com/vwZRNZov6j

— Nigel Farage (@Nigel_Farage) June 11, 2023
Asked directly about a potential partnership with Boris Johnson, Farage said: "I disagree with Boris Johnson fundamentally on many of his metro, liberal views. But if anyone can turn on a sixpence and say they now believe in something completely different, it's Boris Johnson."
He explained that despite their political differences, "on the biggest constitutional question we will face in our lifetimes, namely Brexit, Boris was on the same side as myself and others."
Farage revealed he had heard murmurs of discontent from "major conservative donors and supporters" who have vowed "never to support the (Conservative) party again." He said that Boris Johnson's media presence and personality could be hugely effective at galvanizing huge swathes of a disenchanted electorate whose only options at the next election are the beleaguered governing Conservatives or the Labour party, two parties Farage believes are one and the same.
"He's very good at dominating news. He does have personality. He does make people smile. And if he wants to defend his Brexit legacy, well I want to defend my Brexit legacy, too," Farage told viewers.
"So would there be a possibility of a new coming together on the center-right? It would be Boris Johnson, there would be other MPs that would join in with this as well," he hinted.
Asked whether conversations had taken place between himself and Johnson regarding such a project, Farage replied: "Not with him directly, no. But I have discussed it with people very close to him, and around him."
Farage has been a perennial thorn in the side of the Conservative party, willingly adopting the role of chief disruptor on the British right. He has sought to keep the Tory party — which has had a tendency this century to roam towards a centrist, liberal agenda when unchallenged — in check via his leadership of UKIP, which was instrumental in delivering the Brexit referendum, and later on the pop-up Brexit Party which stormed to victory in the last-ever European parliamentary elections in Britain.
Boris Johnson took matters into his own hands late on Friday evening, opting to resign from parliament rather than be further subjected to what he described as a "witch-hunt" investigation into allegations he misled parliament over the media-fueled Partygate scandal during the coronavirus pandemic.
Johnson's resignation marked the end of an illustrious political career spanning three decades, which saw him serve two terms as mayor of London and a stint in the Foreign Office, before becoming leader of the Conservative party and storming to a historic 80-seat majority in the 2019 general election.
It's the end of his political career for now, at least. But with reports the former Conservative leader is beyond furious at being forced out of Westminster — much to the delight of his former Chancellor and current Prime Minister Rishi Sunak — who could rule out a Churchillian return to office on the backs of millions of disillusioned Conservative voters? Especially as these voters are increasingly unhappy with the governing party's refusal to curb immigration, seize the opportunities in the wake of Brexit, and help small businesses.
One existing vehicle that could be mobilized is Reform U.K., a political party founded by Nigel Farage and born out of the ashes of the Brexit Party. Still in its infancy and a relatively unknown entity, the party could be utilized to spark a political backlash against Westminster in a general election that can be held no later than winter next year.
And with dozens of right-leaning Conservative MPs predicted to lose their seats to Sir Keir Starmer's Labour party based on current polling, many will feel they have little to lose by rolling the dice and defecting to a new movement capable of igniting the country.
Farage believes that at least Conservative MPs in "double figures" would join any new credible alliance, and Boris Johnson would add that gravitas and vigor required to appeal to a wider electorate.
"I think it needs to be more than just me, you know? You can have one person leading a party into a European election or something like that. A general election, you've got to have a range of talents," Farage added.
Polling conducted last November suggested a new Farage-led political party could attract over a quarter of U.K. voters — more than enough for a seismic shake-up of British politics. With Boris Johnson on board, that ceiling rises further.
Loading...