---
COVID-19 Vagus Nerve Inflammation May Lead To Dysautonomia: New Study
Authored by Megan Redshaw via The Epoch Times (emphasis ours),
New data may provide answers for those experiencing persistent symptoms long after their bout with COVID-19 has ended. These may include fatigue, lightheadedness, brain fog, cognitive issues, gastrointestinal problems, heart palpitations, shortness of breath, or an inability to tolerate upright postures.
A July 15 study published in Acta Neuropathologica suggests that SARS-CoV-2 infection may damage the nerves of the autonomic nervous system (ANS), causing an inflammatory response that can later lead to dysautonomia observed in long COVID patients.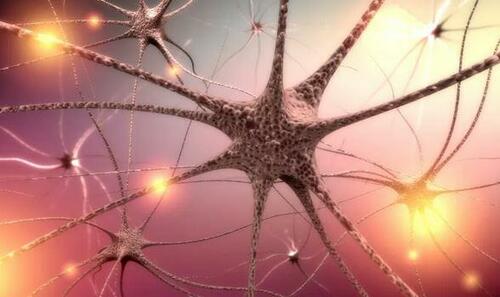 Study Findings
Using several methods, researchers at the University Medical Center Hamburg-Eppendorf in Germany performed a microscopic analysis of the vagus nerves in 27 deceased patients with COVID-19 and five controls who died of other causes, without COVID-19.
The vagus nerve is a vital component of the ANS that regulates critical functions such as digestion, respiratory and heart rate, and immune response. Vagus nerve signaling to the brainstem also controls the "sickness behavior response," where the brain mounts flu-like symptoms including nausea, fatigue, pain, and other chronic symptoms in response to inflammation.
The researchers detected SARS-CoV-2 RNA in vagus nerve samples obtained from deceased patients with severe COVID-19 showing direct infection of the nerve was accompanied by inflammatory cell infiltration composed mostly of monocytes—a type of white blood cell that finds and destroys germs and eliminates infected cells. Their analysis revealed a "strong enrichment of genes regulating antiviral responses and interferon signaling," supporting the idea that vagus nerve inflammation is a common phenomenon with COVID-19.
The researchers also analyzed 23 vagus nerve samples of deceased COVID-19 patients grouped into low, intermediate, and high SARS-CoV-2 RNA viral load to determine if the virus was directly detectable in the vagus nerve and if the viral load correlated with vagus nerve dysfunction. Results showed the virus was present in the vagus nerve and also determined there was a direct correlation between SARS-CoV-2 viral RNA load and dysfunction of the central nervous system.
Researchers then screened a cohort of 323 patients admitted to the emergency room between Feb. 13, 2020, and Aug. 15, 2022, categorized by whether they had mild, moderate, severe, critical, or lethal COVID-19. They found that the respiratory rate increased in survivors but decreased in non-survivors of critical COVID-19. These results suggest SARS-CoV-2 induces vagus nerve inflammation followed by autonomic dysfunction (respiratory rate decrease), which "contributes to critical disease courses and might contribute to dysautonomia observed in long COVID."
Responding to the study, microbiologist Amy Proal of PolyBio Research Foundation wrote on X, "Because the vagus nerve is an essential component of the #autonomic nervous system and regulates body functions such as heart rate, digestion, and respiratory rate, direct infection of the nerve by SARS-CoV-2 may contribute to related symptoms." She added, "The findings beg the question: Could persistent SARS-CoV-2 infection of the vagus nerve contribute to dysautonomia in #LongCovid?"
What is Dysautonomia?
Nearly 1 in 5 people in the United States continue to experience unexplained symptoms of long COVID after their infection ends, with as many as 66 percent of patients suffering from moderate to severe dysfunction of the ANS known as dysautonomia.
Dysautonomia is a disorder of the ANS, a part of the central nervous system that controls vital involuntary functions such as breathing, heart rate, blood pressure, digestion, skin and body temperature regulation, salivating, hormonal and bladder function, and sexual function. The ANS also plays a role in the acute "fight or flight" stress response and sends messages to and from internal organs.
Dysautonomia causes the ANS—which consists of the sympathetic, parasympathetic, and enteric nervous systems—to malfunction, either through an inability to perform its tasks or by causing too much activity, resulting in high blood pressure or a rapid heart rate. The condition can be confined to the arms and legs or spread throughout the entire body. It can be severe or mild, and may be reversible or worsen over time.
Postural orthostatic tachycardia syndrome (POTS) is a common form of dysautonomia that has increased since the COVID-19 pandemic began and has been reported by those with long COVID and in those following COVID-19 vaccination.
Symptoms of POTS include but are not limited to lightheadedness, difficulty thinking or concentrating, severe and long-lasting fatigue, intolerance to exercise, blurred vision, low blood pressure, heart palpitations, tremors, and nausea.
Since the rollout of COVID-19 vaccines, 801 cases of POTS were reported to the Vaccine Adverse Events Reporting System as of July 28. This includes 597 cases attributed to Pfizer and 171 cases to Moderna.
Treatments for Dysautonomia
Therapeutic treatment options for autonomic dysfunction in the medical community are aimed at symptom management and avoiding triggers using pharmaceutical drugs and nonpharmacologic measures.
Read more here...
Loading...