---
Data Analyst Defends 2020 Georgia Election Rolls Challenges
Authored by Dan Berger via The Epoch Times (emphasis ours),
One of the individuals who created the data to challenge thousands of voters during Georgia's controversial 2020 election and subsequent runoff testified to the pains taken to ensure the lists were fair.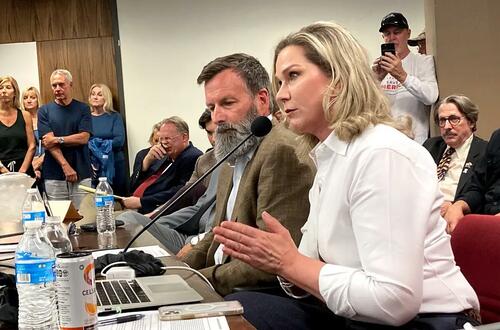 Derek Somerville said he and data analysis partner Mark Davis used multiple databases and levels of comparison to identify Georgia voters who didn't live where they were registered to vote and then to exclude many who were, in fact, legal voters.
They are two of six individuals named, along with the True The Vote organization, in a federal lawsuit alleging that their work intimidated minority voters and was a violation of the 1965 Voting Rights Act.
They are being sued by Fair Fight, an organization founded by two-time Democratic gubernatorial candidate Stacey Abrams to fight voter suppression. Fair Fight seeks to stop True The Vote and the co-defendants from any election integrity work in Georgia. Their non-jury trial in Gainesville, in Georgia's Northern District, before Judge Steve Jones, began on Oct. 26.
Mr. Somerville returned to the witness stand on Nov. 3 after testifying the previous day. He testified that he and Mr. Davis compared state-published voter rolls, absentee ballot rolls, post office change of address records, and geospatial data.
They first created a list of 364,000 voters who had moved from where they were registered to vote. They then used that and other data to "funnel" it down to 39,000 voters for whom there was "probable cause" to believe they were no longer entitled to vote where they were voting.
He described some of the "funnels" they used to exclude people from the probable cause list. Those who move within 30 days of an election may vote at their old address. They went back 18 months, but no more, because federal law requires states to review and purge their rolls every two years, and that's done after general elections.
Military service members and their families, moving from base to base, may be entitled to vote from a home address elsewhere, as are college students in dorms or apartments away from their family homes.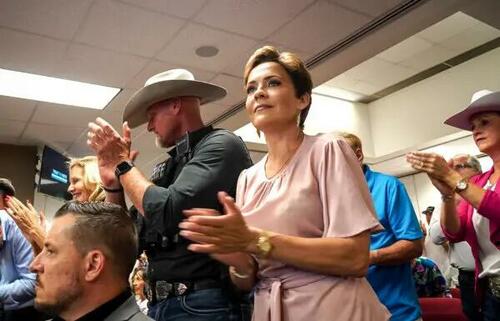 They used mapping data to locate and then eliminate thousands of people in those categories, he testified. He gave Atlanta's Morehouse College, a historically black university and the alma mater of Martin Luther King, as one location where they performed that exclusion.
They also used the mapping data to exclude those who moved within the same county, which had less effect on their voter eligibility.
Those on the final "probable cause" list weren't intended to be automatically disqualified from voting, he said. That would be up to their county board of elections, which would need to review and investigate a case before making that determination, he said.
And, he said, in most cases being notified of a challenge to their voting status wouldn't keep them from going to the polls because, in most counties, they were only told of the challenge if they showed up to vote.
Mr. Somerville said his work was non-partisan, not examining the data for party registration, race, or gender, and only doing so after the fact to ensure their work had been accurate. It was, he said.
The defendants' lawyers said in a trial brief that black voters represent about 29 percent of Georgia voters but only 27 percent of those on the list, showing there was no discriminatory intent.
One of their lawyers, Michael Wynne of Houston, told The Epoch Times that Mr. Davis had been studying the issue for 30 years, going back to the last century, and that Mr. Somerville shared the interest. Their work was of interest primarily to computer and statistics buffs until the closely fought election of Nov. 3, 2020, made it a hot issue.
Mr. Somerville said he had never heard of True The Vote until Dec. 15, 2020, when he was contacted by co-defendant Ron Johnson about the organization and then had dinner the same night with True The Vote co-founder Catherine Engelbrecht. That was only three weeks before the Jan. 5, 2021 runoff in which both of Georgia's U.S. Senate seats were in play for control of the chamber. True The Vote sought to empower private citizens, who by law in Georgia can challenge voter registrations, to do so.
And part of his interest in the issue, Mr. Somerville said, was to counter some of the more far-fetched election conspiracy theories purporting to show why then-President Donald Trump was running more than 11,000 votes behind Democratic nominee Joe Biden in Georgia's tally.
Their techniques, using public data and modern statistical analysis tools, gave those interested a more concrete and rational way to consider election results, he said. And he hoped that it would restore confidence in the system among those so disillusioned they hesitated to vote in the runoff.
Both he and Ms. Engelbrecht have testified that state governments are years behind in their techniques for keeping their data up to date.
Both have used the word "nerds" on the stand to describe themselves and each other: those who love data, computers, and what you can do with them.
"We were relatively obsessive about it," Mr. Somerville testified under direct examination by one of the defense attorneys, Cameron Powell of Houston.
Their geeky demeanor on the stand belies the intensity of what transpired three years ago.
Now-President Biden's narrow lead in Georgia of 11,779 votes sparked recounts and not only then-President Trump's repeated charges of electoral fraud, but his second impeachment over his efforts to overturn the state's count and his pressuring of Secretary of State Brad Raffensperger in a lengthy telephone call alleging many irregularities in the process and how they affected the count:
"So, what are we going to do here, folks? I only need 11,000 votes. Fellas, I need 11,000 votes. Give me a break. You know, we have that in spades already." And "Look Brad. I got to get … I have to find 12,000 votes and I have them times a lot. And therefore, I won the state." And, "You will find you will be at 11,779 within minutes, because Fulton County is totally corrupt."
The impeachment failed, but President Trump currently faces criminal conspiracy charges in Fulton County over the matter. Among 18 co-defendants are some who have pled guilty, making them available to testify against the former president.
The turmoil also led to the Jan. 6, 2021 breach of the Capitol, which Democrats and others have sought to label an "insurrection."
A year ago, Ms. Engelbrecht was in jail, where she and True The Vote's co-founder Gregg Phillips spent a week for contempt of federal court in Texas over their refusal to identify a whistleblower giving them information in a different elections case.
The trial involves a lot of fine points of federal law, including the 1965 Voting Rights Act, which makes voter intimidation easier to prove, and the 1993 National Voter Registration Act, which directs states to update voter rolls regularly.
The defense has sought to show that the defendants—True The Vote and the individual defendants—didn't communicate with challenged voters or seek to intimidate them. After the plaintiffs rested their case in the morning, the defense moved to dismiss the case, saying the plaintiffs hadn't supported the allegations they'd made.
At the very least, defense attorney Jake Evans of Atlanta argued to Judge Jones, four of the six co-defendants, including Mr. Somerville, Mr. Davis, Ron Johnson, and James Cooper, should be dropped from the lawsuit because little testimony had born upon them and their connection to the case was so tangential.
Judge Jones, appointed to the federal bench in 2010 by President Barack Obama, questioned plaintiffs' attorneys, including Christina Ashley Ford and Uzoma Nkwonta, both of Washington, D.C., sharply over the four co-defendants but ended up declining to dismiss them from the lawsuit.
Loading...