---
Defund Police Backfires: Democrat Congressman Carjacked At Gunpoint In DC As Crime Chaos Spreads
Late Monday night, Rep. Henry Cuellar, Democrat of Texas, was carjacked in the Navy Yard neighborhood, about a mile from the United States Capitol Complex, according to CBS News.  
"As Congressman Cuellar was parking his car this evening, three armed assailants approached the Congressman and stole his vehicle," Cuellar's chief of staff, Jacob Hochberg, said in a statement.
Hochberg continued, "Luckily, Cuellar was not harmed and is working with local law enforcement."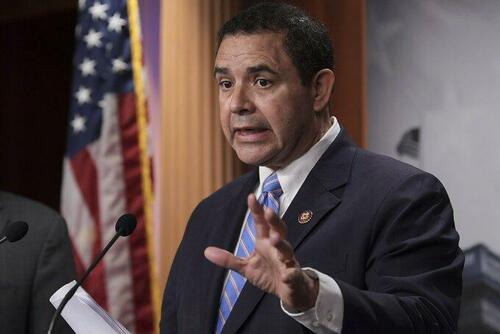 Metropolitan Police said the carjacking occurred around 2130 ET near New Jersey Avenue and K Street in a redeveloped area that includes residential housing and a Marriott hotel. 
Bloomberg noted, "Dozens of lawmakers, Republicans and Democrats alike, live in the apartment and condominium buildings within the block of Monday night's attack." 
An aide to Cuellar said police recovered the car, but no arrests have been made. Police say they're looking for three male suspects wearing all black. 
The carjacking comes after a chaotic weekend across the nation's capital as failed progressive policies continued to transform city streets into a third-world-like country.  
Weeks ago, DC Mayor Muriel Bowser, a former supporter of the 'defund the police' movement, requested increased policing due to a murder crisis. 
"What I can say is this: To me, numbers are just numbers. When we lose one person — whether it's one or 200 — that's too many," Bowser said at a press conference in late September. 
Of course, Bowser, like many Democrat mayors, blames firearms as the issue, deflecting any possibility her disastrous social justice reforms only embolden criminals - while punishing law-abiding taxpayers across the imploding metro area. 
Directly north of DC lies another crime-ridden liberal metro: Baltimore City. 
... and then there's this. 
Democrat Rep. Henry Cuellar who was the victim of a carjacking tonight previously voted against an amendment to a spending bill which would have taken out language that made it easier to defund police. Democrats unleashed this crime wave. pic.twitter.com/8LurOKuqIR

— Robby Starbuck (@robbystarbuck) October 3, 2023
Glad to hear Congressman Henry Cuellar is safe. I hope he learns from this carjacking experience and uses it to push his party to reject Soros prosectors, reject the no bail lunacy, reject defund police stupidity and embrace law and order. America needs a SERIOUS crime crackdown!

— Robby Starbuck (@robbystarbuck) October 3, 2023
It's time for law-abiding taxpayers to demand radical leftists who run many major cities to reinstate law and order. 
Loading...