---
Dershowitz: 'No Way' Case Against Trump In Fulton County Can Be Successful
Authored by Jan Jekielek and Bill Pan via The Epoch Times (emphasis ours),
There isn't anything for former President Donald Trump to worry about with a potential lawsuit coming from a Georgia district attorney, although he might have more serious trouble with some of his other cases, said Harvard Law professor Alan Dershowitz.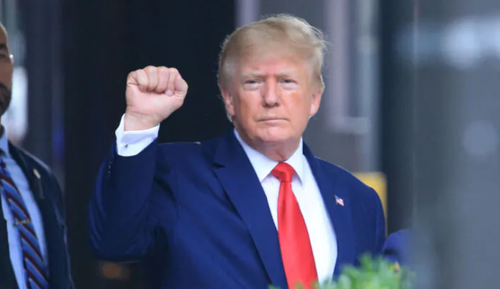 Speaking to EpochTV's "American Thought Leaders" program on May 8, Dershowitz was asked about the $250 million civil fraud lawsuit brought by New York's Democrat Attorney General Letitia James, who accuses Trump and three of his children of overvaluing the family's real estate assets by billions of dollars. This case, according to Dershowitz, will likely be resolved by settlement.
"That's a civil case and it will be resolved civilly, probably by some kind of a settlement." he told host Jan Jekielek. "I don't think [Trump] has anything to worry about with that, except time."
The interview will premiere on Saturday May 13 on EpochTV.
Trump doesn't have to worry about the investigations launched in Georgia and Washington either, Dershowitz said.
One case is being pursued from Georgia's Fulton County, where District Attorney Fani Willis has been investigating whether Trump and his associates illegally meddled the 2020 presidential election. Willis, a Democrat, announced last month that she plans to formally unveil the charging decisions between July 11 and Sept. 1.
"There's no way he can be prosecuted successfully there," Dershowitz said of the Fulton County investigation, referring to a conversation between Trump and Georgia Secretary of State Brad Raffensperger, a fellow Republican, on Jan. 2, 2021. "What he said on the recorded tape was, 'I need to FIND 11,000 votes.' He didn't say 'invent' or 'concoct.'"
"He said 'find,' which means that they're there, and you just have to look hard to see if you can find them," the law professor continued. "I think that's a complete defense there."
Dershowitz told Jakielek that the same logic can be applied to a potential DOJ lawsuit against Trump over his role in the breach of the U.S. Capitol on Jan. 6, 2021.
The Justice Department has been conducting a sprawling investigation into Trump's actions around the events of Jan. 6. Attorney General Merrick Garland has since left open the possibility that Trump could be prosecuted in connection with "inciting" what Democrats on the House Jan. 6 Committee claimed was an "insurrection."
"There's a complete defense to the Jan. 6 investigation that's occurring in Washington. Because in his speech, he said explicitly that he wanted the people to go to the Capitol, to exercise their First Amendment right, to protest 'peacefully and patriotically," Dershowitz explained. "That's a perfectly constitutionally protected speech."
Loading...