---
DeSantis About To Lose Biggest Donor To "Ass Kicker" Trump
Ron DeSantis is coming up short in his attempts to bring his plummeting ratings to heel (notwithstanding a slight uptick over the past week).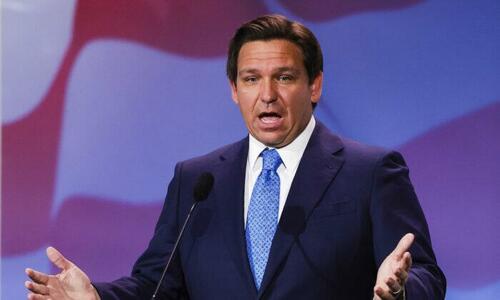 In the latest blow to the Florida governor, his biggest donor, Nevada real estate investor Robert Bigelow, says he's considering switching his support to Donald Trump. Bigelow notably gave more than $20mm to the DeSantis campaign earlier this year, the largest donation to any 2024 candidate, FT reports.
"I've got to look at who would probably be the strongest commander, with the most experience . . . And that's only one guy," Bigelow told the outlet. "Who would you want as a commander? I'd want somebody that would be a hell of an ass kicker if he needed to be," he continued.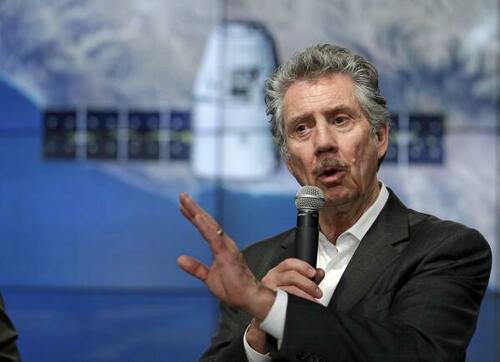 "On the face of it, you lean toward Trump."
Bigelow criticized Trump for running a weak campaign, and that Hamas's October attack on Israel showed that the US needs a "streetwise" leader like the former president.
He also thinks Trump will wipe the floor with DeSantis during GOP primaries.
"I think Trump is too strong," he said. "I think Trump has the momentum, the inertia, to beat him."
Bigelow likened Trump to a "bull," and DeSantis to "dinner."
The comments come just ahead of the Republican party's third primary debate, in Miami, where the candidates will try to gain some momentum in their attempts to catch frontrunner Trump, who will not attend.

 Recent polls of likely Republican voters put the former president about 30 points ahead of his rivals in the early 2024 primary contests. DeSantis and former UN ambassador Nikki Haley are fighting for second place. -FT
It's not looking great for Ron, despite notching a slight gain following the endorsement of Iowa governor Kim Reynolds. Trump, meanwhile, has only widened his lead despite facing an array of felony charges.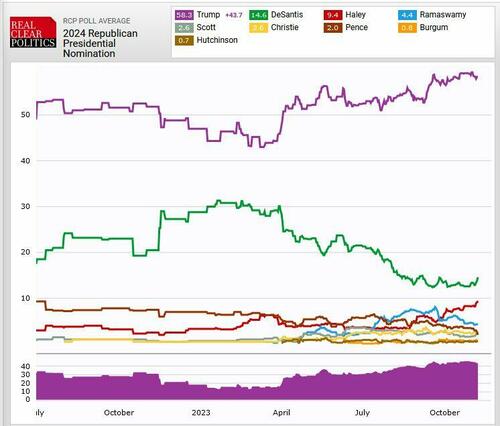 Bigelow had initially warmed to DeSantis for his response to the pandemic, saying the state "epitomized the land of the free."
After seeing DeSantis speak in Las Vegas in March, Bigelow invited the governor for lunch - where he wrote DeSantis' campaign a $20,000,500 check after hearing someone else might chip in $20 million.
"I am not going to be number two," he said. "You've got to have a sense of humor."
Bigelow began to sour on DeSantis after the Florida governor signed a bill in April banning abortion past six weeks of pregnancy.
"Six weeks, she just found out she's pregnant, the odds are," said Bigelow. "It's a sham. It's make-believe. It's condescending."
Then, after voicing his opposition, DeSantis ghosted him. Instead, his wife Casey called him two weeks later.
"Not having him bothering to call me for an explanation taught me that he's more of a user of people, actually, and that I didn't matter enough for him to pick up the phone."
DeSantis had also become "way too focused on conservatism", while Trump was more socially moderate, Bigelow said. DeSantis was also less willing to engage in the rough and tumble of US election politics, he added.

"If he's going to be in the gutter and you want to beat him, you better be willing and ready and able to go in the gutter too," said Bigelow, referring to the former president. "You better be able to kill — and that's not who Ron is."

Asked for comment, a DeSantis spokesperson referred to the governor's comment to NBC in August: "If I had a nickel for every naysayer I've had in my life, I'd be a very, very wealthy man." -FT
Except this isn't just a naysayer. This is your biggest donor, Ron.
Loading...