---
DeSantis Offers Illinois Cops $5,000 To 'Make The Smart Move To Florida'
Florida Gov. Ron DeSantis has launched a new program for disenfranchised cops in Illinois.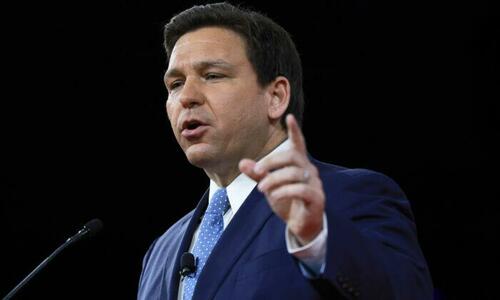 Move to Florida, and score a $5,000 signing bonus for relocating to the Sunshine State as part of its law enforcement recruitment bonus program signed into law by DeSantis last year.
To promote the program, DeSantis has taken out billboards in Illinois which read: "Citizenship Matters. Law Enforcement Matters," and "Make the Smart Move to Florida!"
We are launching law enforcement recruitment billboards in Chicago, where crime rates are soaring and officers are unappreciated.

While dozens of Illinois officers have already relocated to Florida, we look forward to welcoming many more with open arms and a $5,000 bonus. pic.twitter.com/kpVBOW3nLW

— Ron DeSantis (@GovRonDeSantis) September 14, 2023
DeSantis cited an Illinois law taking effect next year which will allow some illegal migrants to become cops, as well as the blue state's elimination of a cash bail system.
"Florida strongly supports law enforcement and has consistently enacted commonsense criminal justice policies to keep our communities safe," said DeSantis.
"We stand behind our citizen officers, and we give them the tools to succeed professionally and personally. Other states deputize noncitizens, enact policies that favor criminals over victims and work to overtly or covertly defund the police, but not in Florida. I look forward to welcoming the Illinois men and women in blue to the law-and-order state."
The Illinois bill to let non-citizens join the police "provides that an individual who is not a citizen but is legally authorized to work in the United States under federal law is authorized to apply for the position of police officer, subject to all requirements and limitations, other than citizenship, to which other applicants are subject."
Meanwhile, Illinois will end cash bail after Jan. 1, after the bill survived a legal challenge from both sheriffs and prosecutors who said it was unconstitutional, according to Fox News.
According to the report, more than 2,700 new law enforcement recruits have signed up under the recruitment drive, including 750 from 48 states. Of those, 230 are from California, New York and Pennsylvania, while 37 are from Illinois.
"Anybody who's interested in coming down" is welcome, DeSantis told a crowd in Chicago, "If you want to be part of our law enforcement community, just know that the door is open."
Loading...