---
In Desperate Hail Mary, House Dems Launch 'Discharge Petition' To Force Debt-Ceiling Vote
A summary of where we're at, via News Squawk:
US President Biden said they had a good, productive meeting on the debt ceiling and there is still more work to do, while he made it clear to House Speaker McCarthy that they will talk regularly over the next several days. Biden is confident they will continue to make progress on avoiding default and said that defaulting on debt is not an option, while he also noted it is disappointing Republicans refuse to consider raising revenue, according to Reuters.
White House said President Biden directed staff to meet daily on outstanding issues and said he would like to check in with leaders later this week by phone and meet with them upon return from overseas. Biden also emphasised that while more work remains on a range of difficult issues, he is optimistic that there is a path to a budget agreement, according to Reuters.
President Biden will no longer visit Australia or Papua New Guinea and will return to the US on Sunday to focus on the debt ceiling talks, according to NBC.
US House Speaker McCarthy said they have set the stage to carry on conversations in debt talks and that President Biden agreed to appoint a couple of people from the administration to negotiate directly with his team. McCarthy also said there is a lot of work to do in a short amount of time and that they are still very far apart but added it is possible to get a deal by the end of the week and it is not that difficult to reach an agreement. However, McCarthy later said he is not more optimistic about getting a deal by the end of the week.
US Senate Majority Leader Schumer said the debt meeting was good and productive, while he added that they all agreed a default is a horrible option, according to Reuters.
US Senate Republican Leader McConnell earlier told Senate Republicans there had not been much progress on debt ceilings talks with POTUS and other leaders.
House Democrats are to reportedly begin collecting signatures for effort to raise debt ceiling, according to WSJ.
Punchbowl on the US debt limit, says "Initial discussions began Tuesday night, with full-scale negotiations set to kick off this morning, we're told", "Sources close to the talks expect any debt-limit boost to run well into 2025."
*  *  *
House Democrats plan to collect signatures on Wednesday for a 'discharge petition,' a long-shot parliamentary maneuver designed to circumvent House Republican leadership and force a vote on the debt ceiling, the Wall Street Journal reports.
The top-ranking Democrat on the House Budget Committee, Brendan Doyle (D-PA), says he plans to initiate the petition in the well of the House when the chamber begins session at 10 a.m., where he'll be the first to sign.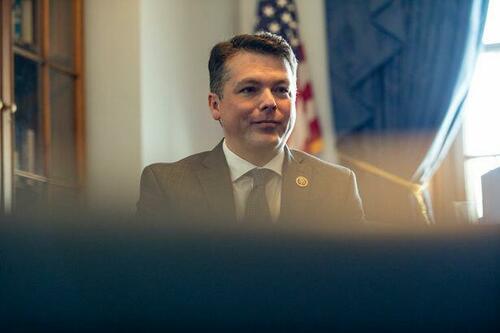 "We only have two weeks to go until we may hit the x-date," he said, referring to the anticipated default date. "We must raise the debt ceiling now and avoid economic catastrophe."
Early Wednesday, House Minority Leader Hakeem Jeffries (D-NY) sent a "Dear Colleague" letter backing Doyle's effort, claiming that the "urgency of the moment" justifies pursuing all legislative options in the event that negotiations fall through.,
"It is imperative that Members make every effort to sign the discharge petition today, which will be available at the Clerk's desk on the House Floor beginning at 10 a.m.," reads the letter.
The move comes as the White House is negotiating with House Speaker Kevin McCarthy (R., Calif.) over possible spending cuts to pair with a debt-ceiling increase. Talks currently center on potential spending caps in coming years, as well as rescinding unspent Covid-19 funds and toughening work requirements for federal benefit programs. The White House said Tuesday that President Biden would curtail a planned overseas trip to get him back to Washington sooner.

The Treasury Department reiterated this week that the U.S. could become unable to pay its bills on time as soon as June 1 if Congress doesn't raise the debt limit. -WSJ
In order to move a bill to the floor by discharge position, Doyle will need at least 218 House members to sign - however since Republicans control the house 222-213, at least five GOP representatives must sign on. 
The petition is structured so that Democrats can fill in the text of the bill later, with Boyle saying that Democrats want to keep their options open for now.
"I've always said a discharge petition is not a high probability move. But at this point, we must try whatever it takes," said Boyle. "I urge my Republican colleagues, especially those who like to call themselves moderate at election time, to join us and ensure America pays its bills."
Treasury Secretary Janet Yellen warned on Monday that "time is running out" to avert an economic catastrophe, and that default could see financial markets "break" with worldwide panic that triggers margin calls, bank runs and fire sales.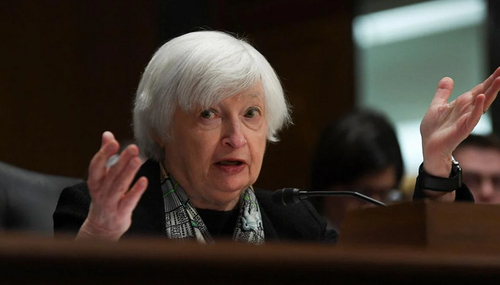 "We are already seeing the impacts of brinksmanship: investors have become more reluctant to hold government debt that matures in early June," Yellen said in remarks prepared for delivery to a banking conference on Tuesday, Bloomberg reports. "The impasse has already increased the debt burden to American taxpayers."
Meanwhile, President Biden is shortening his trip to Asia for the G7 meeting in order to return early to continue debt limit negotiations with Republicans.
The White House had emphasized how Biden's attendance at a summit of the Group of Seven major industrial countries in Japan this week would shore up optimism that the U.S. is able to resolve its differences at home. The president had next planned to travel to Australia for a "Quad" meeting on May 24, with China's provocative actions in the region expected to be front and center in meetings with the leaders of Australia, India and Japan. -NBC
Biden will also cancel a trop to Papua New Guinea, where he was planning to stop on his way to Sydney to discuss regional security, as well as economic and climate support, whatever that means
Loading...