---
Disgraced FTX Founder Sam Bankman-Fried Tries To Dismiss Most Criminal Charges
FTX founder Sam Bankman-Fried asked a federal court in Manhattan Monday to dismiss 10 out of 13 criminal charges against him linked to the collapse of the failed crypto exchange. SBF has pleaded not guilty to fraud, conspiracy, campaign finance law violations and money laundering.
In a Monday filing, SBF's lawyers argued that the US government had issued the original indictment against their client on Dec. 9 in a "classic rush to judgement" less than a month after the firm's bankruptcy, and that several of the charges failed to properly state a crime.
"Rather than wait for traditional civil and regulatory processes following their ordinary course to address the situation, the government jumped in with both feet, improperly seeking to turn these civil and regulatory issues into federal crimes," his lawyers wrote.
According to the letter, a campaign finance charge must be dismissed because it wasn't included in the surrender warrant signed by the Bahamian government for his extradition.
SBF's lawyers also attack the DOJ for bringing new charges against their client that alleged criminal conduct far beyond the Original Indictment and which are improperly brought."
"Even if they are considered, the charges should be dismissed as legally flawed," they added.
After Mr. Bankman-Fried properly consented to a simplified extradition procedure, the Bahamian government agreed to release him to U.S. authorities and issued a warrant of surrender specifying that he be tried on seven of the eight counts in the Original Indictment––but not the count relating to alleged campaign finance violations. Despite this clear direction from the Bahamian government, the Government now seeks to have Mr. Bankman-Fried tried on that charge as well.
The other charges they are attempting to have dismissed include those related to the unlicensed transmitting of money, bribery and bank fraud.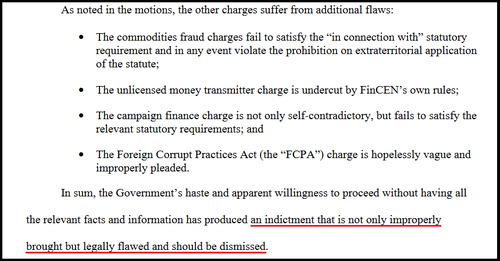 "The market crash took down many of the major players in this sector, not just FTX," wrote the attorneys, noting that the broad market rout in 2022 hit many other cryptocurrency exchanges.
SBF's trial is set for Oct 2. His right-hand(job) woman, former Alameda CEO Caroline Ellison and FTX co-founder Gary Wang both pleaded guilty in December to various federal wire fraud and conspiracy charges.
Loading...