---
DOJ Launches 'All Hands On Deck' Initiative Cracking Down On San Francisco Open Drug Market
Authored by Lear Zhou via The Epoch Times,
A comprehensive response to the open air drug market in San Francisco, coordinated with joint federal, state, and local law enforcement was launched last week, announced Ismail J. Ramsey, the U.S. Attorney of California Northern District of California in a press conference.
"'All Hands on Deck' was designed to change the basic cost/benefit analysis for fentanyl dealers," said Mr. Ramsey.

"Together with all our federal, state, and local partners, my office is using targeted wiretaps, arrests, and searches throughout the Bay Area to stem the flow of drugs and dealers coming into San Francisco from nearby counties."
With the new strategy Mr. Ramsey revealed, not only drug suppliers but even low-level street fentanyl dealers arrested by local law enforcement may also face federal charges, if they're picked up on a random day once a week.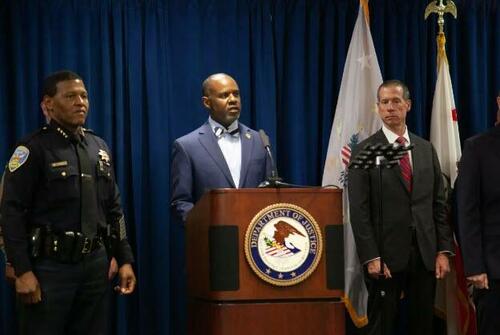 U.S. Attorney of California Northern District of California, Ismail J. Ramsey speaks at the 'All Hands on Deck' initiative to crack down on San Francisco's open drug market. He is joined by SFPD Chief Bill Scott (L) and FBI special agent Robert K. Tripp (R) on Nov 2 in San Francisco, Calif. (Lear Zhou/The Epoch Times)
In the last four months, more than 30 suspects have been charged with federal crimes. Meanwhile, nearly 50 kilos of fentanyl and 12 kilos of methamphetamine have been removed from the streets in Tenderloin, nearly double or a 169 percent increase compared with the amount seized in the same period last year, said Mr. Ramsey.
From Feb. 12, 2020 to Feb. 12, 2023, there were 218 fatal overdoses in San Francisco, many of them due to fentanyl. There were another 8,974 non-fatal overdoses, and a map showed that hot zones of violent crimes overlapped with the locations where drug issues were dominant.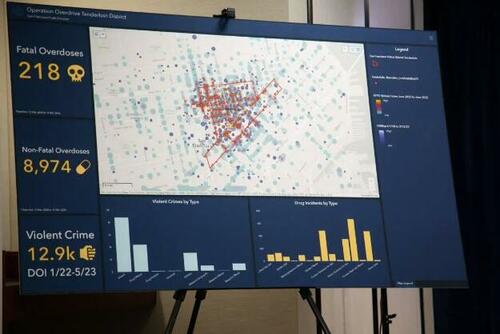 Map shown at the "All Hands on Deck" initiative to crack down on San Francisco open drug market at 450 Golden Gave Ave on Nov. 2 (Lear Zhou/The Epoch Times)
"It is no secret that parts of this great city are infamously known for an open air drug market where substance use and crime have exploded," said DEA Special Agent in Charge Brian Clark of the San Francisco field division.

"That is due in large part to tolerance for drug trafficking, permissive attitudes, fast profits, and a lack of penalties, [which] has been an open invitation for organized crime to come in and operate in San Francisco."
The Drug Enforcement Administration (DEA) has identified two primary organizations responsible for flooding San Francisco communities with fentanyl: the Sinaloa and Holy School cartels, according to Mr. Clark.
"These criminal enterprises rely on a global supply chain from chemical companies in China who supply the cartels with precursor chemicals, which are then manufactured in Mexico for distribution throughout the United States," Mr. Clark added.
The Sinaloa Cartel is primarily responsible for manufacturing and drug trafficking in the Tenderloin district and is primarily controlled by Honduran organizations whose members commute into San Francisco to peddle their poison. Dealers have often lived together in East Bay Area homes and purchased drugs from their network, according to Mr. Clark.
This information was gathered with months of covert operations throughout the Tenderloin, Mr. Clark said.
"We've seen numerous firearms, a variety of drugs, and over 1.6 million lethal doses of fentanyl," he said.
This operation has resulted in the arrest of more than 70 individuals in the past 90 days, many of whom are Honduran nationalists, Mr. Clark said.
San Francisco Mayor London Breed thanked multiple agencies at state and federal levels for their help. Ms. Breed said these have been "of significant importance to us here in San Francisco."
"Our local law enforcement agencies ... they have been working really hard to help combat this problem in the best way that they could based on many of our local laws, which in some ways provide a number of various limitations," Ms. Breed said.

"Well, this is happening, and it is here to stay. We are not letting up; even as APEC approaches, we are not letting up after APEC goes away from San Francisco."
San Francisco District Attorney Brooke Jenkins said, "One of the challenges that my office has faced is having some of our judges take this issue seriously."
Prosecutors in the San Francisco DA's office have filed almost 300 motions to detail drug dealers being charged, but only approximately 30 of those were granted, Ms. Jenkins said.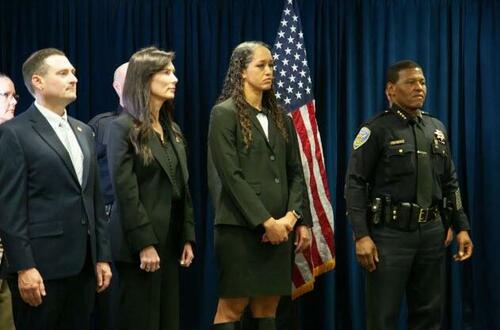 From left to right: U.S. Secret Service Special Agent in Charge Shawn Bradstreet, ATF special agent Jennifer Cicolani, San Francisco DA Brooke Jenkins and SFPD Chief Bill Scott at the 'All Hands on Deck' initiative at the federal building at 450 Golden Gate Avenue in San Francisco on Nov 2 (Lear Zhou/The Epoch Times)
"We cannot allow our courthouses to be revolving doors for the people who are killing vulnerable San Franciscans and who are tormenting our neighborhoods and our children. The need for federal assistance in this effort was clear," she added.
Police Chief William Scott had a message for drug dealers: "So if you think you're going to outlast us, you're wrong. If you think you've got to adapt and are smarter, you're wrong. If you think we're going to go away and let you continue to kill people in our city in record numbers, you're wrong."
"Fentanyl is the leading cause of death for adults in the United States between 18 and 49, and the entire Justice Department under the direction of Attorney General Garland is committed to focus our efforts to try to address the scourge," Mr. Ramsey said.
Loading...