---
DOJ 'Violating Its Own Internal Policies' With Hunter Biden Wrist-Slap
Joe Biden's DOJ violated its own internal policies to hand Hunter Biden a sweetheart plea deal for tax crime and gun charges, according to former US Attorney Brett Tolman.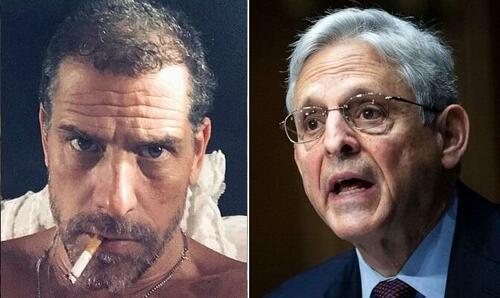 Putting aside for one second the fact that the DOJ completely ignored the body of evidence on Hunter's laptop which, at minimum, reveals several FARA violations (more on that later), Tolman noted in a Tuesday Twitter thread that the DOJ failed to follow its own guidance in its handling of the Hunter situation, and are "ignoring decades of policy and precedent to seek felonies not misdemeanors and seek sentences within the guideline range."
They are ignoring decades of policy and precedent to seek felonies not misdemeanors and seek sentences within the guideline range. The diversion agreement on the felony is offensive to everyone not politically connected who sought diversions and were literally laughed at by DOJ.

— Brett L. Tolman (@tolmanbrett) June 20, 2023
Continued (emphasis ours):
Thousands of people have been prosecuted under Project Safe Neighborhoods by DOJ. They brag about getting nearly 5 years of prison time on average for their gun cases. If they followed policy, Hunter would be looking at a minimum of 5 years in federal prison. But he's a Biden.
Take a look at 18 USC  924(c) charges. Easy to prove given Hunter was distributed/dealing drugs with a firearm in his possession. Such charges were brought against thousands in inner cities across the country for last 20 years. Mandatory minimum sentences for all. Except Hunter.
Since Hunter "brandished" his firearm during the commission of a drug crime, he would be looking at a mand min of 7 years in fed prison. DOJ could also add on top mand min possession of child pornography if any of the girls were underage, plus on top of that years for tax evasion.
Still digesting all of this but the tax evasion being viewed as misdemeanor is perhaps the most shocking. If DOJ treated this consistently they would "source" the money and they would see the movement of monies and they would clearly bring money laundering and conspiracy if others received the money or the funds went  into shell companies then you may have a large conspiracy and sophisticated means to hide the illegal monies and movement. This would be 100 percent consistent with all other cases involving such schemes and would mean years in prison.
One can't truly appreciate how shocking this is by DOJ unless you have watched closely what DOJ has done over the past 30 years. This is the the most blatant hypocrisy that screams to the level of injustice many have suffered at the hand of DOJ pounding average Joe defendants.
Everyone can now see what so many have observed growing, the politics of prosecuting. When absolute power is given with no accountability or transparency, then consistency and fairness become obsolete.
*  *  *
Of course, as The Federalist puts perfectly - this whole thing has been a completely smokescreen in order to help the Biden family politically.
Hunter's lawyers are scrambling to declare "the five-year investigation" into their client as "resolved." Corporate media like NBC News, similarly, claimed the DOJ's "resolution suggests that prosecutors did not find cause to file charges related to Hunter Biden's dealings with foreign entities or other wrongdoing."

Nothing could be further from the truth. Just like when it strategically timed its political arrest of a Republican congressman to coincide with a GOP press conference detailing evidence of Biden corruption, the DOJ is working overtime to ensure that Hunter serves as a distraction from the bigger Biden problem. -The Federalist
What's more, Hunter's tax crimes were slow-walked by US Attorney David Weiss because, as Politico described, "the investigation would become a months-long campaign issue" that would have hurt Joe Biden's chances in the 2020 US election.
Interested in the backgrounds of the corrupt DOJ attorneys behind the garbage Hunter Biden plea deal? This is one of them. https://t.co/ztZQdzdq2r

— Sean Davis (@seanmdav) June 20, 2023
As IRS whistleblower Gary Shapeley told CBS News; "There were multiple steps that were slow-walked — were just completely not done — at the direction of the Department of Justice," adding "These deviations from the process seemed to always benefit the subject."
A carefully orchestrated plea deal between the DOJ and Hunter means the younger Biden will only face probation — not jail time — for the two misdemeanor tax charges he plans to plead guilty to. A felony gun charge like the one Hunter received holds a maximum of 10 years in jail and a $250,000 fine. The younger Biden, however, will successfully avoid prosecution for his firearm falsehood so long as he forsakes his drug-plagued lifestyle for 24 months and never owns a gun again. -The Federalist
The federalist also points out the Ashcroft memo cited above by Tolman, which instructs federal prosecutors to pursue the "most serious, readily provable offenses."
And... this guy picks up where I left off: FARA! https://t.co/1SDmx8xDdw

— Yossi Gestetner (@YossiGestetner) June 20, 2023
In short:
Perfect pic.twitter.com/6jZkLcL6gK

— Benny Johnson (@bennyjohnson) June 20, 2023
Loading...