---
"Don't Be Intimidated" By The Censors - Tucker Carlson Urges Americans To Fight Back By 'Telling The Truth'
In a brief clip of him speaking in Utica, MI, Tucker Carlson expresses his deep concern over widespread acceptance of dishonesty in public life, lamenting, "what's true? The true things are the things that you can't say."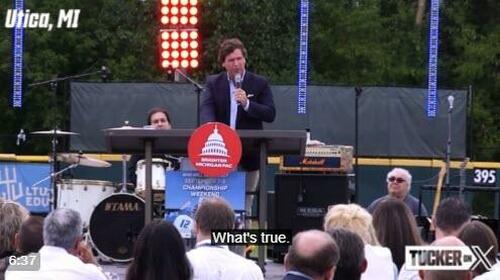 The former Fox News man rages at the lack of penalties for public figures who lie or display incompetence; contrasting this with the societal backlash against those who aim to speak their own truths, suggesting that in today's society, "the only penalty is for noting what's true."
"Every society penalizes something..." In America, "it's telling the truth."
Drawing a parallel with foreign (banana republic) governments, Carlson recounts a recent experience in Buenos Aires that exposed the government's dishonesty about the Argentine peso's exchange rate. He emphasizes, "so the government lies about the value of its own currencies," reflecting on the economic lies and falsehoods and manipulations (think non-farm payrolls jobs data revised lower every month this year for instance) of the US government.
Further into the speech, he points out the pattern of backlash he believes truth-tellers face, noting, "first they'll tell you you're hurting someone's feelings... then they call you insane... the third thing they do is just criminalize telling the truth."
He raises concerns about the role of significant U.S. institutions like the FBI and CIA, alleging they are partisan, and mentions, "when federal employees... take an aggressive position on the side of one political party, you can't have a fair election."
Lastly, he touches upon the 2020 U.S. presidential election, suggesting potential irregularities and fraud, blasting tech oligarchs' influence in silencing the truth-sayers.
"If some oligarchs... spent nearly half a billion dollars to control the mechanics of the Bolivian election in 2020, we would say it's not a legitimate election."
Tucker closes by encouraging Americans to stand up against the censors: "don't let them," he exclaims, urging listeners "don't be intimidated, your children's future depends on your bravery."
Watch the full speech below:
Question their lies and they'll call you a liar. Ignore it and keep going. pic.twitter.com/THURI2ddkN

— Tucker Carlson (@TuckerCarlson) September 22, 2023
Loading...