---
Dr. Jay Bhattacharya: Biden Admin's Push For Everyone To Get New COVID Vaccine Is 'Irresponsible'
Authored by Nathan Worcester and Jan Jekielek via The Epoch Times (emphasis ours),
President Joe Biden's comments that all Americans will "likely" be advised to get a new COVID vaccine as new variants spread through the country are "irresponsible," according to Stanford University Professor of Medicine Dr. Jay Bhattacharya.
"I signed off this morning on a proposal we have to present to the Congress, a request for additional funding for a new vaccine—that is necessary, that works," Mr. Biden told reporters in South Lake Tahoe, California, on Aug. 25.
"And tentatively, not decided finally yet, tentatively it is recommended—it is likely to be recommended—that everybody get it, no matter whether they got it before," he added.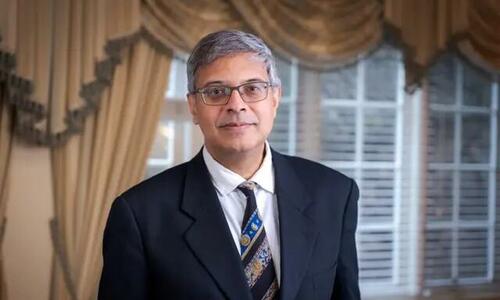 Since early July, COVID-19 hospitalizations have been on the rise domestically, with three new variants of the disease spreading across the country. The uptick has resulted in some businesses, schools, and hospitals reinstating mask mandates.
Multiple drug companies, including Pfizer, Novavax, and Moderna, have introduced new vaccines they say will be effective against the EG.5, or ERIS, variant of COVID-19.
"It never occurred to me that an American president would be the number one spokesperson for a pharmaceutical company, but here we are," Dr. Bhattacharya told The Epoch Times.
"It's irresponsible to make this kind of public health advice for the entire American public in the absence of excellent randomized trial evidence, which has not been produced by the pharmaceutical companies," he added.
"The FDA [Food and Drug Administration] never asked for them to produce them," Dr. Bhattacharya said, referring to vaccines targeting the new COVID variants.
The Standard professor said that authorities are incorrectly treating COVID booster shots " just like the flu vaccine, that you just update it from year to year."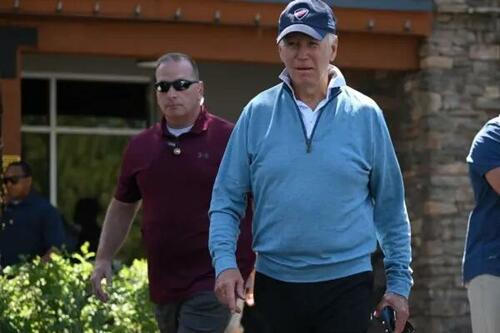 But, in contrast with the COVID-19 injections, for flu vaccines "there's a long track record where the safety record of the vaccine is understood," Dr. Bhattacharya said.
"Not requiring randomized trial evidence for updating the vaccine is irresponsible. It's using a different mechanism than the flu vaccine. You can't extend the experience you have with the flu vaccine to this vaccine," he said.
The professor also picked up on President Biden's comment that everyone will likely be advised to take the new vaccine "no matter whether they got it before."
"Here where they're saying is, essentially like it's amnesty—We're all going to be treated as if we're unvaccinated with regard to this vaccine," Dr. Bhattacharya said.
According to CNBC, Centers for Disease Control and Prevention (CDC) officials told reporters Thursday that the vaccines are expected to become available to the public in mid-September, though they are still pending approval from the FDA.
An independent CDC advisory committee is scheduled to meet on Sept. 12 to vote on recommended guidelines for eligibility for the new COVID-19 jabs.
During the press briefing, CDC and FDA officials advised that both agencies intended to urge Americans to get an updated COVID-19 shot, as well as the flu shot and the recently approved RSV (respiratory syncytial virus) vaccine produced by GlaxoSmithKline.
"Vaccination is going to continue to be key this year because immunity wanes and because the COVID-19 virus continues to change," a CDC official said.
Dr. Paul Marik of the Front Line COVID-19 Critical Care was scathing in his response to the president's announcement.
"It's insanity," he told The Epoch Times.
"I think the vaccines have failed, and this is untested," he added.
"Making a new vaccine against a new variant which is untested makes no sense," Dr. Marik continued, saying that he "can't see any group of patients who would benefit from a vaccine."
"We need to know more information," he added.
Samantha Flom contributed to this report. 
Loading...