---
Anheuser-Busch Responds After Dylan Mulvaney Throws Tantrum
Anheuser-Busch has responded after Dylan Mulvaney, the transgender influencer whose ditzy female persona was featured in a Bud Light ad campaign which destroyed the brand, bashed the beer company for abandoning him in his time of need.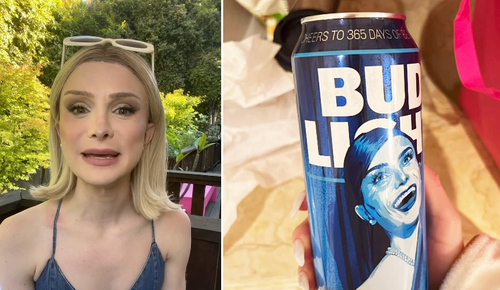 "One thing I will not tolerate people saying about me is that I don't like beer because I love beer and I always have," Mulvaney said in a new Instagram video, adding that the initial partnership sparked more "bullying and more transphobia" than he could have ever imagined.
"I should've made this video months ago but I didn't," said Mulvaney. "And I was scared, and I was scared of more backlash, and I felt personally guilty for what transpired, so I patiently waited for things to get better. But surprise, they didn't. And I was waiting for the brand to reach out to me, but they never did."
"And for months now, I've been scared to leave my house, I have been ridiculed in public, I've been followed, and I have felt a loneliness that I wouldn't wish on anyone," the influencer continued. "And I'm not telling you this because I want your pity, I am telling you this because this is my experience from a very privileged perspective, know that it is much, much worse for other trans people."
Mulvaney then transitioned into a rant about Bud Light not being supportive enough.
"For a company to hire a trans person and then not publicly stand by them is worse in my opinion than not hiring a trans person at all, because it gives customers permission to be as transphobic and hateful as they want," he continued, adding that it will have "serious and grave consequences" for the LGBTQ community.
Watch:
In response, the beermaker told the Daily Beast that it's "committed to the programs and partnerships we have forged over decades with organizations across a number of communities, including those in the LGBTQ+ community." 
So, another robotic, 'approved-by-legal' focus group response.
As Breitbart notes;
Corporations have been put into a difficult corner amid backlash over massive Pride Month campaigns, especially in markets directed at children. A recent report from CNBC showed that companies will have to make difficult decisions in the years ahead. As Breitbart News reported, Bud Light has been a floundering brand since it partnered with Mulvaney and has been replaced by Modelo as America's number-one beer. Anson Frericks, who previously served as president of sales and distribution at Anheuser-Busch, said that some corporations need to have a better understanding of their audience.
"Anheuser-Busch has lost sight of who its customer is. A brand like Bud Light is a brand that has never been political, but now they're being shunned by customers on the right, who see this partnership as a very politicized position they've taken, and also customers on the left who don't feel supported amid the backlash," said Frericks.
Earlier this week Anheuser Busch CEO Brendan Whitworth gave a robotic, non-committal answer when asked if his company would continue the relationship with Mulvaney, to which he told CBS Mornings;
"It's been a challenging few weeks. I think the conversation surrounding Bud Light has moved away from beer, and the conversation has become divisive. And Bud Light really doesn't belong there. Bud Light should be all about bringing people together. And there's an impact on the business, and I think that's publicly covered on Bud Light specifically."
Watch:
.@AnheuserBusch CEO Brendan Whitworth says his company has begun sending financial assistance wholesalers, who he says have been impacted by the recent controversy surrounding a Bud Light promotion with Dylan Mulvaney. pic.twitter.com/fpEzyBWuFW

— CBS Mornings (@CBSMornings) June 28, 2023
Loading...