---
"Election Interference!" Trump Slams NY Attorney General Over 'Targeted' Prosecution
Former President Donald Trump took to Truth Social on Friday to accuse New York Attorney General Leticia James of election interference.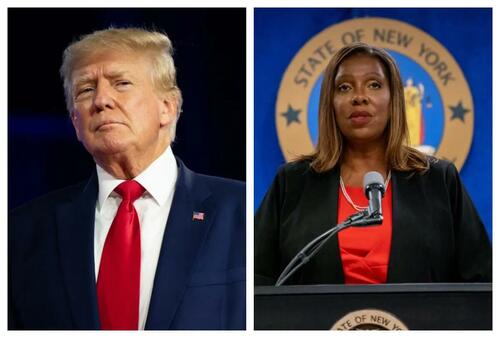 "In the NYS A.G. Letitia James case, I was targeted, given no jury, no extensions, no commercial division, no constitutional rights, no anything! The Democrat judge hates Trump with a passion," he wrote - only in all caps that we won't burn your eyes out with.
"The thing I have is a great case based on phenomenal numbers that show a net worth of billions of dollars more than she viciously & falsely claimed, very little debt, big cash, a powerful disclaimer clause, paid off loans, no defaults, 'happy' banks, great assets. I was defamed by NYS—election interference!"
James is suing Trump and two of his children in a multimillion-dollar lawsuit which claims he falsely inflated the value of his properties to obtain more favorable loans. She's seeking to bar Trump and family from doing business or engaging in real estate acquisitions in New York for five years.
James is also seeking to bar Trump and his children from serving in any high-level executive roles in any company in New York.
Oh, and she wants $250 million in penalties too.
On Wednesday, James asked a judge to render a summary judgement on one of the seven claims brought against Trump, arguing that an "overwhelming amount of evidence" proves that Trump committed fraud and submitted false statements to bankers - inflating his wealth between $812 million and $2.2 billion each year.
"While this is just the tip of a much larger iceberg of deception Plaintiff is prepared to expose at trial–which would result in carving off billions more from Mr. Trump's net worth–it is more than sufficient to permit this Court to rule as a matter of law that each SFC from 2011 to 2021 was false or misleading," reads the filing.
As the Epoch Times notes, also on Wednesday, Trump's lawyers released, in a court filing, the nearly 500-page transcript of a seven-hour-long interview the former president gave when he was deposed for the case in April.
In the hours-long deposition, the former president was questioned about the management and dealings of the Trump Organization, where he detailed the value of several of his properties.
"I never got a default notice. I paid interest every quarter, every month even before it was due, if it came on a holiday," he said, testifying that the banks and lawyers they worked with had profited and were satisfied with the deals.
He told the prosecutors that his "brand" value increased during the years he was president, but he purposely refrained from doing any deals, not because it would have been illegal, but because he felt it was unethical, adding that he took his example from George Washington who kept two desks, separating business and state matters.
President Trump's lawyers asked for the case to be dismissed, arguing that the statute of limitations have run out and that the prosecution had not brought forth proof of harm.
"The undisputed record further establishes his companies timely paid hundreds of millions of dollars in interest to their lenders and never defaulted on a loan or even been late on a loan payment during the entire 15+ year time period the NYAG has sought to scrutinize in this action," they wrote, arguing there was no intent to defraud lenders or insurers.
President Trump, who declared his intention to run for office last November, has maintained that he has done nothing wrong in the several cases brought against him, decrying the legal actions as election interference.
Several court dates are expected to interfere with his campaign schedule, with another civil case in New York brought against him by writer E. Jean Carroll over accusations of defamation beginning Jan. 15, 2024, the same day as the Iowa Republican caucus.
Loading...