---
'Election Variant': Citizens Push Back Against Mask Mandates
Authored by Naveen Athrappully via The Epoch Times (emphasis ours),
Americans are raising their voices against mask mandates reintroduced by some institutions amid reports of rising COVID-19 cases—with some people calling recent infections an "election variant."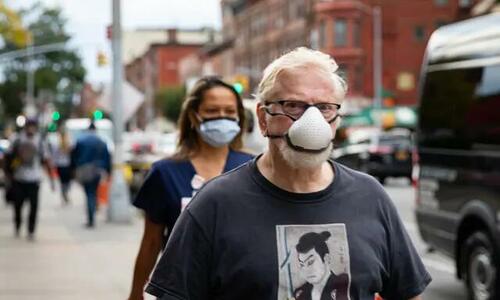 On Aug. 20, Morris Brown College announced in an Instagram post that the institution has reinstated its COVID-19 mask mandate "effective immediately" due to reports of infections among students in the Atlanta University Center. All students and employees are mandated to wear face masks for a 14-day period, with students required to observe physical distancing.
Hollywood studio Lionsgate has sent a memo asking employees to wear masks after some of its workers were infected with COVID-19.
"Employees must wear a medical grade face covering (surgical mask, KN95 or N95) when indoors except when alone in an office with the door closed, actively eating, actively drinking at their desk or workstation, or if they are the only individual present in a large open workspace," Sommer McElroy, of Lionsgate, wrote in the memo.
Primary care provider Kaiser Permanente is now requiring staff, patients, and visitors at its Santa Rosa facilities to wear face masks.
Last week, Upstate Medical's two hospitals in New York reimposed mandatory masking following reports of an uptick in COVID-19 infections.
Many people have begun pushing back against mandates and questioned the timing of the rise in COVID infections—with 2024 elections nearing.
"And just like that, the election variant emerges," author George Papadopoulos said in an Aug. 23 post on X.
"I see the election time variant of COVID is about to drop. Mail in ballots to EVERYONE! Lol. America no longer has free and fair elections. We are no different than 3rd world countries in this regard," conservative political commentator Candace Owens said in an Aug. 23 X post.
"I hear that the Covid-19 Election Variant may be coming back. I Will Not Comply," Republican Kari Lake said in an Aug. 23 post on X.
The use of "election variant" comes in the context of the 2020 election—during the COVID pandemic—when many states expanded voting procedures, including mail-in ballots, to accommodate lockdown restrictions.
"In the 2020 election, 69 percent of voters nationwide cast their ballot non-traditionally—by mail and/or before Election Day," according to the U.S. Census Bureau.
A Pew Research survey from November 2020 showed that Democrats benefited greatly from mail-in ballots. While 32 percent of Trump supporters voted through absentee or mail-in ballots, this was much higher in the case of Joe Biden, as 58 percent of his supporters used mail-in ballots.
Meanwhile, some Hollywood celebs have started promoting mask-wearing.
"COVID is on the rise. SO MANY friends now are really sick. BE MINDFUL. WEAR A MASK if required or even if you feel unwell and are out in public spaces," Oscar winner Jamie Lee Curtis said in an Aug. 22 Instagram post showing an image of the actress with a mask.
Clinical psychologist Dr. Jordan B. Peterson responded to Curtis' mask promotion by stating, "Enough medical fascism."
"Stay at home if you're scared. But leave the rest of us the hell alone," he said in an Aug. 23 post on X.
Rising Infection Numbers
According to data from the U.S. Centers for Disease Control and Prevention (CDC), there has been an uptick in COVID-19 hospitalization in recent weeks. As of the week ending Aug. 12, there were 12,613 admissions, which is double the 6,313 admissions for the week ending June 24.
However, the current increase in hospitalizations is far lower compared to the previous two years, suggesting that COVID-19 infections popping out this time may not be as severe as in the past.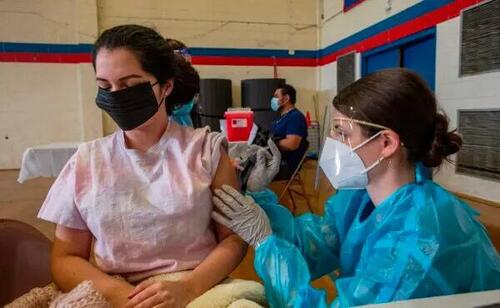 In 2022, the week ending Aug. 13 had registered 41,113 hospitalizations, which is more than three times what it was on Aug. 12, 2023. For the week ending Aug. 14, 2021, hospitalization numbers were at 77,625.
The COVID-NET laboratory-confirmed COVID-19 hospitalization overall rate per 100,000 people was at 1.7 for the week ending Aug. 12, far lower than 9.2 in the same period last year.
The current concerns regarding COVID-19 have been triggered due to a newly discovered variant called BA.2.86. The World Health Organization (WHO) said that the new strain is a "variant under monitoring."
In an Aug. 23 update, the CDC said that at least two cases of BA.2.86 infections have been identified in the United States. Existing medications for COVID-19 "appear to be effective with this variant," it said. CDC believes that an updated vaccine "will be effective at reducing severe disease and hospitalization."
"At this point, there is no evidence that this variant is causing more severe illness," the agency stated.
Government COVID-19 Testing Orders
Multiple departments under the federal government have placed orders for COVID-19 equipment, according to media executive Steve Bannon's podcast website.
The Department of Defense (DoD) has given a $1.5 million order to Hologic Sales and Service for COVID-19 testing services, the website said, citing data from USA Spending. The contract is set to begin in October and end in May 2024.
The Department of Veterans Affairs (VA) has placed a $2 million contract with Abbott Molecular Inc. for COVID-19 testing, with the contract set to begin on Sept. 22. It has also signed a $1.3 million contract with Biofire Diagnostic for testing.
Back in April, the Biden administration announced that it was spending $5 billion to develop more COVID-19 vaccines and treatments. However, the announcement did not mention masking or social distancing.
Masking has been a highly politicized issue ever since the pandemic began years ago, with some questioning whether the government had the authority to institute mask mandates.
In 2022, the U.S. Supreme Court ruled that the White House does not have the authority to enforce vaccine or masking mandates on companies with 100 or more employees.
Last year, the court ruled that the U.S. Transportation Security Administration (TSA) has the power to impose mask mandates on planes, trains, and other transportation options.
In an Aug. 22 post on X, physician David McCune criticized incidents of mandatory masking at institutions. "If they will go back to the utterly failed practice of forced masking at the mere hint of new cases, it means, among other things, they have utter disregard for the human right to contact with other humans."
"Faces [matter]. And the freedom to show yours shall not be abridged," Mr. McCune said. He was responding to Morris Brown College's masking requirement for students and employees.
Though mask-wearing is pushed as a way to combat the COVID-19 pandemic, many experts have countered such suggestions.
In an interview with The Epoch Times, Yoav Yehezkelli, a specialist in internal medicine and medical management, pointed out that "all the studies done in the world until 2020 showed that there is no justification" for wearing masks to prevent the spread and infection of a respiratory virus.
In 2020, after the pandemic, recommendations for wearing masks suddenly changed "without having any new professional support to confirm that it does indeed have effectiveness against respiratory infection."
A review of mask use studies published in January this year found that the use of face masks is not effective in reducing the spread of respiratory viruses.
Loading...