---
Elon Musk Blasts Scottish Leader As "A Blatant Racist"
Authored by Steve Watson via Summit News,
Twitter/X owner Elon Musk has labelled the Scottish First Minister "a blatant racist", leaving the comment on a video of a speech Humza Yousaf made in Parliament complaining about the number of white people in prominent positions.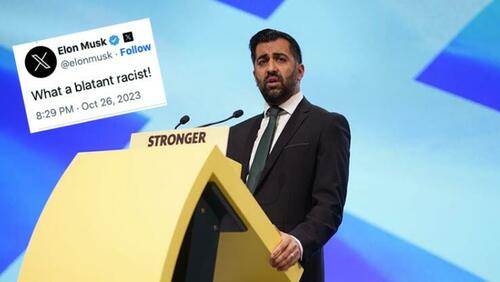 In the video, which is a few years old, Yousaf, now the leader of the country, states "most senior positions in Scotland are filled almost exclusively by people who are white" going on to give examples like the Lord Justice Clerk, Solicitor General, and other senior political figures, claiming it is "not good enough."
Elsewhere in the speech Yousaf, claimed that "we have to accept the reality and the evidence that is in front of us, that Scotland has a problem of structural racism."
What a blatant racist!

— Elon Musk (@elonmusk) October 26, 2023
Demographically, Scotland is 96% white, so it isn't surprising that senior positions are occupied predominantly by white people.
Scotland's new leader appears to have an issue with white people, despite Scotland being 96 per cent white. https://t.co/x8sUkEx0pl

— Paul Joseph Watson (@PrisonPlanet) March 27, 2023
While many agreed with Musk, some accused him of being the racist:
Elon, I say this with the greatest of respect, but fuck the fuck off.
Your reaction is completely wrong. You've been baited by a racist.
The hatred towards Humza for being brown is astonishing. Sort your shit out.

Freedom of speech is one thing, but you're spreading a lie. https://t.co/LKC7MoajuX

— Mikey Stewart 🏴󠁧󠁢󠁳󠁣󠁴󠁿 (@MikeyTheBuddie) October 26, 2023
In his previous position as Justice Secretary, Yousaf pushed for a hate crime bill that would have seen even private conversations subject to prosecution should they be reported and deemed to be 'offensive':
Finally, we note that Yousaf tried to have the last word... on X... it did not go well...
this bloke is meant to be running Scotland but has the time to tweet out shit like this? Embarrassing really. https://t.co/7sDwHQ48mG

— Jerome 🏴󠁧󠁢󠁥󠁮󠁧󠁿 (@JeromeH8sWoke) October 27, 2023
*  *  *
Brand new merch now available! Get it at https://www.pjwshop.com/
In the age of mass Silicon Valley censorship It is crucial that we stay in touch. We need you to sign up for our free newsletter here. Support my sponsor – Summit Vitamins – super charge your health and well being.
Also, we urgently need your financial support here.
Loading...