---
Everybody Hates Ronna: Dismal GOP Election Results Prompt Calls To Oust RNC Chairwoman
Last night the GOP lost several races that should have been layups - from Glenn Youngkin's failed bid to capture control of the Virginia legislature, to Daniel Cameron's Gubernatorial loss in deep-red Kentucky.
The demoralizing loss left many on social media and elsewhere calling for the ouster of GOP Party Chairwoman Ronna McDaniel, who oversaw a losing streak stretching back to the 2018 midterms.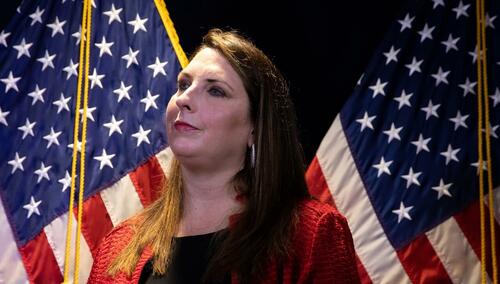 "What, exactly, does Ronna McDaniel do, besides lose?" asked former Trump administration official Monica Crowley on X. "The only thing she SHOULD do is RESIGN. Effective immediately."
What, exactly, does Ronna McDaniel do, besides lose?

The only thing she SHOULD do is RESIGN.

Effective immediately.

— Monica Crowley (@MonicaCrowley) November 8, 2023
"FIRE RINO RONNA MCDANIEL NOW!" tweeted Florida congressional candidate Anthony Sabatini, an Army veteran, adding "Ronna McDaniel will go down as the worst RNC Chair in history."
FIRE RINO RONNA MCDANIEL NOW!

— Anthony Sabatini (@AnthonySabatini) November 8, 2023
McDaniel has also come under fire for picking NBC to host Wednesday night's GOP debate.
Journalist John Solomon called for McDaniel to resign following the GOP's dismal performance, telling former Trump strategist Steve Bannon:
"Republicans keep giving Ronna McDaniel a promotion. They keep moving her on. They keep hiring her for another season."

Donald Trump has to make -- I think, if he wants to win -- all the people I've talked to in the last 12 hours -- by the way, a lot of people saw this train wreck coming two days ago. They saw the early voting totals weren't really where they needed to be. They were worried about get out the vote. They were getting killed in the messaging. But, if your manager keeps losing World Series, usually, at least George Steinbrenner, in this Donald Trump-era of New York, he'd fire the manager. They keep keeping Ronna McDaniel despite all of the problems that are there."
🚨 Steve Bannon and John Solomon are calling for Ronna Romney McDaniel to resign after the GOP's performance in elections last night

pic.twitter.com/yAHjk2Kv3c

— Benny Johnson (@bennyjohnson) November 8, 2023
As Solomon's Just the News notes, it doesn't stop there:
Whether McDaniel survives her full term will depend in large part on whether Donald Trump, leading the 2024 GOP presidential race handily in the polls, turns on her.

Trump in January supported McDaniel over conservative lawyer Harmeet Dhillon for a third term as RNC chair even after a disappointing 2022 election in which the GOP underperformed and failed to capture the U.S. Senate and barely won the U.S. House despite polls showing Republicans with a huge before-election advantage.

Since taking charge in 2017, McDaniel has been a master fundraiser, but her team lost control of the U.S. House in 2018, the White House and Senate in 2020 and underperformed in the 2022 and 2023 races, with a few exceptions.

Last month, Republican Jeff Landry won the Louisiana governorship by winning a majority in the open primary to reclaim the state mansion after eight years of Democrat rule. A Republican won a key race Tuesday in Long Island for the first time in two decades while Gov. Tate Reeves in Mississippi survived a tougher than expected challenge from a distant cousin of Elvis Presley.
The common denominator in Tuesday's losses - abortion, which you may recall Trump mentioned as a key sticking point that Republicans were going to need to compromise over.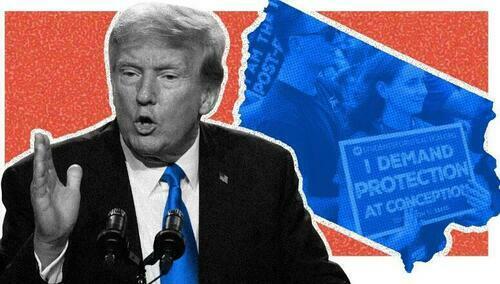 Even deep-red Ohio supports abortion rights by a margin of 55%, according to the report. Abortion also factored in for Pennsylvania's election, where a Democrat judge landed a seat on the state's Supreme Court ahead of the 2024 election.
"We can't win until we solve the political problem of abortion," wrote conservative activist Terry Schilling. "That means 15 week limits, with exceptions. And candidates have to run ads to counter Dem attacks. There's no other way."
"We can't save lives, if we can't win elections," said Rep. Nancy Mace (R-SC), who added "If pro-life Republicans want to actually save lives, they have to learn to LISTEN TO WOMEN and talk about abortion AND contraception. Roe repeal changed the playing field and the conversation, and too many are stuck in the policies and arguments of the past."
"We need to talk about common sense abortion restrictions, while also promoting expanded access to contraception including over the counter. We need to make sure exceptions for rape and incest are included in EVERY law we pass. And we need to constantly remind voters they don't agree with the Left's actual position of abortion until birth," Mace added.
Loading...