---
Experts Reveal 'Major Shortcomings' With FDA Analysis Of Safety Outcomes In COVID-19 Vaccinated Recipients
Authored by Megan Redshaw J.D. via The Epoch Times (emphasis ours),
The U.S. government's safety surveillance system monitoring COVID-19 vaccine adverse events is "woefully inadequate" and may be missing safety signals, according to researchers who say the U.S. Food and Drug Administration (FDA) made multiple decisions to ensure its first published analysis only identified known safety signals.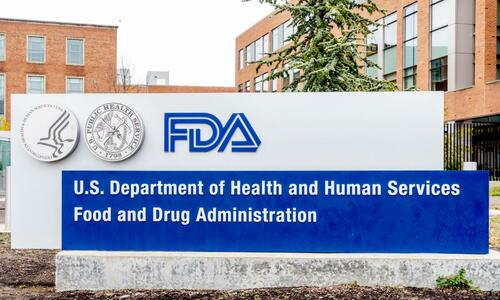 In a peer-reviewed letter published June 16 in the journal Vaccine, a team of experts revealed "major shortcomings" with the FDA's near real-time surveillance study assessing outcomes in U.S. COVID-19 vaccine recipients.
Dr. Joseph Fraiman, an emergency room physician associated with the Baromedical Research Institute in New Orleans, and his co-authors raise serious concerns about whether the surveillance system is fit for its purpose and how the FDA performed its analysis.
"The FDA has repeatedly stated that it is conducting intensive, historically unprecedented monitoring of COVID-19 vaccine safety and that the only serious harms associated with mRNA COVID-19 vaccines are anaphylaxis, myocarditis, and pericarditis," the researchers said in an email to The Epoch Times. "However, in our letter, we detail why the U.S. government's safety surveillance system is woefully inadequate and, as a result, potentially missing safety signals."
In its first-ever surveillance analysis published Oct. 26, 2022, in Vaccine, the FDA assessed 17 adverse outcomes following COVID-19 vaccination with Pfizer, Moderna, and Johnson & Johnson's vaccines and concluded 15 outcomes did not meet the threshold for a statistical signal.
The FDA based its analysis on medical and pharmacy claims data of 16 million vaccinated individuals aged 12 to 64 from Optum, HealthCore, and CVS Health using their Biologics Effectiveness and Safety (BEST) System—an active post-marketing surveillance program to ensure the safety and effectiveness of biologic products, including vaccines.
The FDA concluded myocarditis and pericarditis met the requirements to trigger an early detection safety signal for Pfizer's COVID-19 vaccine in two of three large commercial insurance databases assessed, while anaphylaxis met the statistical threshold for Pfizer and Moderna vaccines in all three databases.
The agency did not detect any other adverse outcomes, including those previously acknowledged. Their results, the FDA said, were "consistent with published literature."
FDA Analysis 'Not Sensitive Enough' to Detect Safety Signals
In the letter to the editor, researchers said the FDA only identified COVID-19 vaccine safety signals for already established adverse events, and the analysis was not sensitive enough to detect safety signals for some known adverse events, such as myocarditis.
Myocarditis is inflammation of the heart muscle that can lead to cardiac arrhythmia and death. The heart condition is a recognized side effect of the mRNA COVID-19 vaccines, according to previous research and medical examiners. Yet the FDA did not detect myocarditis for Moderna's COVID-19 vaccine in any data source and only detected it with Pfizer's vaccine in two of three sources.
"This raises serious concerns about whether the surveillance system is fit for its purpose," the researchers wrote. "Another major concern is the FDA's approach towards false positives."
The study also "failed to identify a single new positive despite running several hundred different analyses," suggesting the system is "too strongly weighted toward avoiding false positives and will too easily miss true positives," they added. "The FDA made multiple decisions to ensure their surveillance did not identify false positives at the expense of sacrificing the ability to identify true positives."
According to the letter, safety surveillance systems should be optimized for high sensitivity—erring on the side of caution—to ensure real safety problems are not missed. A highly sensitive approach will result in some false positives, but upon further study, can quickly be identified as a true positive or false positive.
"In contrast, because fewer associations are identified at the surveillance stage, fewer associations will result in further study, and more true associations will be missed," the researchers wrote.
FDA Used Test Margin to Minimize Risks and Reduce Harms
Experts also raised concerns the FDA used a test margin for its analysis for each adverse event of special interest based on "expert guidance to avoid minimal risk increases that were 'unlikely to be clinically relevant.'" Yet the agency did not provide details concerning how or which experts determined whether a risk was "minimal" or "unlikely" to be clinically relevant.
"Given a vaccine administered to billions, we are concerned that even minimal risk increases would imply harm to thousands, or perhaps millions, of younger people, many of whom may be at low risk of serious complications from coronavirus infection," they wrote.
Loading...