---
FDA Approved 65% Of New Drugs In 2022 Based On A Single Study
Authored by Megan Redshaw JD via The Epoch Times (emphasis ours),
The 21st Century Cures Act (Cures Act), signed into law in December 2016, was created to help accelerate medical product development and "bring new innovations and advances" to patients quicker and more efficiently. Yet some researchers suggest the law is being used to bypass the once rigorous and evidenced-based standards for new drug approvals, allowing novel drugs to flood the market without adequate data and public transparency.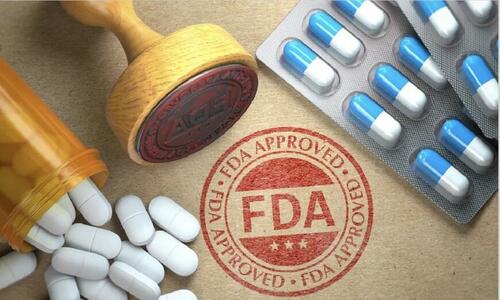 According to a research letter published on August 8 in the Journal of the American Medical Association Network Open (JAMA), 24 of the 37 drugs approved in 2022 by the U.S. Food and Drug Administration (FDA) were based on a single study, with only four drugs having more than three studies to support their approval.
"I'm not surprised," David Gortler, a pharmacologist, pharmacist, and FDA reform advocate at the Ethics and Public Policy Center, told The Epoch Times in an email. As a former senior advisor to the FDA commissioner, Mr. Gortler said he saw the agency grant expedited approval to a medication called aducanumab—used to treat Alzheimer's disease "based on zero positive studies."
"They did the same with other monoclonal antibodies for Alzheimer's disease," Mr. Gortler said.
According to the research letter, most of the 413 studies evaluating the 37 drugs approved in 2022 were sponsored by the industry—meaning they were manufactured, funded, and analyzed by the company producing the product, seeking FDA approval, and standing to benefit financially from the drug.
Of the studies available for analysis, only 25 percent of study results have been made publicly available, with the results of six percent of those studies published after the FDA had already approved the drug for use.
Furthermore, researchers found that only 55 percent of studies evaluating drugs in 2022 consisted of randomized clinical trials—the "gold standard" of evidence-based medicine—despite the FDA justifying most approvals based on randomized clinical trial data.
For comparison, only 20 percent of medical products in 2016 were approved based on a single study, and 55 percent were approved based on three or more studies, whereas 65 percent of drugs in 2022 were approved based on a single study, with only 11 percent having three or more studies.
"We believe consumers deserve access to the full range of evidence for the drugs they are considering, not just from the selected studies released to the public," the authors wrote.
The researchers say their results "highlight a trend toward less rigorous standards for novel drug approvals that has evolved over the past few decades" and are consistent with other reports showing a widespread decrease in the number of trials used for drug approvals.
"The authors point to the deterioration of the quality and rigor of the regulatory review and approval of new drugs over time," Sasha Latypova told The Epoch Times in an email. Ms. Latypova is a retired pharmaceutical industry executive with 25 years of experience in pharmaceutical research and development and co-founder of several organizations that work with pharmaceutical companies to design, execute, collect data, and submit clinical trial data to the FDA.
Ms. Latypova says this trend began with a "fast track" designation implemented in 1988 that increased the number of special regulatory programs available by the FDA and decreased the evidentiary requirements for approval. In the 2000s, Ms. Latypova said many blockbuster drugs became generic medicines, which started a "patent cliff" where industry investments began to focus on narrower niches in an effort to get patent exclusivity—which is more profitable for a pharmaceutical company.
"For example, approvals receiving an 'orphan' designation or what is considered rare disease increased to over 50% percent," Ms. Latypova said. "These products are sometimes approved on as little as a single observational study with fewer than 20 subjects, however, once approved, the drug's price increased one million to three million dollars per treatment and was fully covered by the taxpayer and private insurance—driving the costs of premiums."
Thus, the "regulatory requirements are minimal, but the profits are outsized," she added.
FDA Cures Act Made It Easier for Pharma and Regulatory Agencies to Cut Corners
The FDA, on its website, states the intent of the Cures Act (pdf) passed by Congress in December 2016  was to "incorporate the perspectives of patients into the development of drugs, biological products, and devices in FDA's decision-making process" and enhance its ability to "modernize clinical trial designs," including the use of "real world evidence" to speed up the development and review of novel medical products, including emergency and preparedness response countermeasures used to justify rapid authorization of COVID-19 vaccines.
Read more here...
Loading...