---
FDA 'Clarifies' That Ivermectin Remains Unapproved For COVID-19 But Docs Can Prescribe
Authored by Aldgra Fredly via The Epoch Times (emphasis ours),
The U.S. Food and Drug Administration (FDA) on Aug. 17 clarified that it had not authorized or approved the use of ivermectin in preventing or treating COVID-19.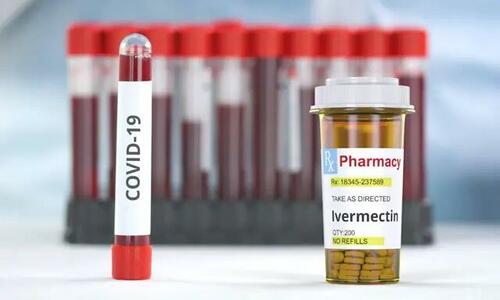 Ivermectin is an FDA-approved antiparasitic drug that is used to treat neglected tropical diseases, including parasitic worm infections (helminthiases), onchocerciasis (or river blindness), and scabies.
The FDA stated that while it had approved ivermectin for certain uses in humans and animals, it had not issued any statement affirming the safety or effectiveness of the drug for treating COVID-19.
"We've seen lots of chatter about ivermectin in the last week. Some of what you're seeing in videos and social media posts isn't true," the FDA stated on X, formerly known as Twitter.
Doctors in the United States, though, are able to and regularly prescribe approved drugs for purposes for which they are not approved.
"Health care professionals generally may choose to prescribe an approved human drug for an unapproved use when they judge that the unapproved use is medically appropriate for an individual patient," the FDA said.
The FDA pointed cited the National Institutes of Health COVID-19 treatment guidelines, which recommend against using ivermectin for COVID-19 treatment due to a purported lack of evidence supporting its effectiveness. Some studies have found that ivermectin is effective against COVID-19.
The agency was responding after some people, including Sen. Ron Johnson's (R-Wis.), claimed that the FDA has "quietly approved" the use of ivermectin for COVID-19.
"The doctors I've been dealing with and talking to for years now, they believe that probably hundreds of thousands of Americans lost their lives because they were denied early treatment and they were denied because the FDA sabotaged, for example, ivermectin," Mr. Johnson told FOX News on Aug. 11.
"We are going down a very dangerous path, but it's a path that is being laid out and planned by an elite group of people that want to take total control over our lives, and that's what they're doing bit by bit," he added.
Ashley Cheung Honold, a Department of Justice lawyer representing the FDA, had said during recent oral arguments in a legal case that the FDA "explicitly recognizes that doctors do have the authority to prescribe ivermectin to treat COVID."
The government was defending the FDA's repeated exhortations to people to not take ivermectin for COVID-19, including a post that said "Stop it."
The case was brought by three doctors who allege the FDA unlawfully interfered with their practice of medicine with the statements. A federal judge dismissed the case in 2022, prompting an appeal.
Ms. Honold said the FDA's statements "don't prohibit doctors from prescribing ivermectin to treat COVID or for any other purpose." She said the agency advised people to consult their health care providers and that they could take medicine if the provider prescribed it.
"FDA is clearly acknowledging that doctors have the authority to prescribe human ivermectin to treat COVID. So they are not interfering with the authority of doctors to prescribe drugs or to practice medicine," she said.
Study On Ivermectin's Effectiveness
According to a new peer-reviewed ecological study, a natural experiment occurred when the government of Peru authorized ivermectin for use during the COVID-19 pandemic resulting in evidence of the drug's effectiveness and ability to reduce excess deaths.
The paper's results, published Aug. 8 in Cureus, found a 74 percent reduction in excess deaths in 10 states with the most intensive ivermectin use over a 30-day period following peak deaths during the pandemic.
When analyzing data across 25 states in Peru, researchers found these reductions in excess deaths correlated closely to ivermectin use during four months in 2020.
When ivermectin was available without restriction, there was a fourteenfold reduction in nationwide excess deaths. Once access to ivermectin was restricted by the government, a thirteenfold increase in excess deaths was observed in the two months following the limitation of its use. The findings align with summary data from the World Health Organization for the same time period in Peru.
Zachary Stieber and Megan Redshaw contributed to this report.
Loading...