---
Federal Judge Sides With Christian Activist Banned By University For Calling Transgender Student 'Male'
Authored by Bill Pan via The Epoch Times (emphasis ours),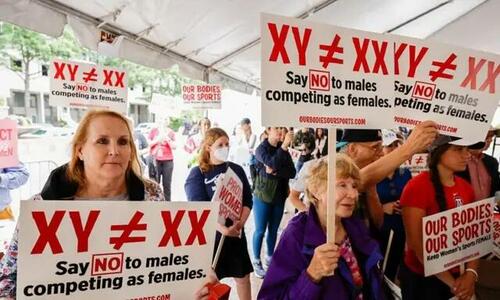 A federal judge has blocked the University of Wyoming (UW) from censoring a Christian activist who openly called a female-identifying transgender student "male."
In a preliminary injunction issued on Aug. 18, the U.S. District Court in Wyoming sided with Todd Schmidt, an elder at Laramie Faith Community Church, ordering the university to not ban him from tabling on campus while the case proceeds.
On Dec. 2 2022, Mr. Schmidt set up a table in the UW student union with a sign that read, "God created male and female and Artemis Langford is a male." Mr. Langford is a transgender student who joined the Kappa Kappa Gamma sorority earlier that year, prompting members to sue the national Greek organization for admitting a biological male into the all-female group.
When asked by a UW administrator to remove the student's name from his sign, Mr. Schmidt initially refused but complied after they threatened to call the police on him. He continued to debate with students passing by for the remainder of that day.
"I'm just trying to tell the truth and bring people to God. That's all there is. There are not any more genders than that. Biology teaches everybody about that," Mr. Schmidt said, reported the student newspaper Branding Iron, where Mr. Langford is a reporter.
The incident ultimately led to the university placing a one-year sanction on Mr. Schmidt. While he is still allowed in other areas of campus, he could no longer reserve a table in the UW student union until the spring of 2024.
In a campus-wide message sent on Dec. 5, UW officials said Mr. Schmidt "violated the university policy prohibiting discrimination and harassment," noting that "a line was crossed when a student was harassed by name."
Mr. Schmidt, on the other hand, argued that the area serves as a public forum and that his message was not harassment but First Amendment-protected speech.
U.S. Senior District Judge Nancy Freudenthal disagreed with the university, saying that the inclusion of the student's name was necessary for the Christian activist to fully express his opinion.
"Schmidt's speech was expressive, with the intent to convey a particular message," the judge wrote. "Schmidt mentions Artemis Langford by name, but that is unavoidable, as the debate revolves around the propriety of a particular biological male participating in an activity—joining a sorority—traditionally reserved for biological females."
The judge further recognized that the church elder's action was not harassment or discrimination but a genuine "debate about gender identity, a matter of public importance."
"Schmidt does not misgender Langford to denigrate her, but to debate a public issue," she wrote.
"This is particularly true on college campuses because they are the 'marketplace of ideas.' While elementary and public schools prioritize the inculcation of social values, universities seek to encourage inquiry and the challenging of a priori assumptions," Judge Freudenthal added. "Therefore, this Court finds that Schmidt's speech is protected free expression and not harassment or discriminatory conduct."
In response to the ruling, the university said in a statement that although it is disappointed, it will comply with the terms of the preliminary injunction while weighing on whether to keep defending its policy in court.
"The university believed its one-year suspension ... was appropriate and lawful, especially considering his prior misconduct and the university's legal obligations," the statement read.
"Providing a forum for free expression and the airing of diverse views is a foundational principle for UW. However, the university must also prioritize protection of its students from unlawful harassment and discrimination," it argued.
"The university will continue to take lawful steps to protect the safety of students, employees and members of the public."
Sorority Sisters Lawsuit
In a separate lawsuit, seven sorority sisters from the UW chapter of Kappa Kappa Gamma claimed that the organization violated its own rules by admitting Mr. Langford last September.
The women are seeking damages from the national sorority and the revoking of Mr. Langford's membership.
According to the complaint, while Mr. Langford does not live in the Kappa house, he spends time there frequently in areas reserved for women, watching the female members as they walk into the bathroom with only a towel on or spending hours sitting on a couch "staring at them without talking."
"Some Plaintiffs sought to live in Kappa's single-sex environment because of religious or moral beliefs that young, unmarried women should not live with young, unmarried men," the lawsuit stated, adding that one of the plaintiffs is "a victim of sexual assault who wanted a safe place to interact with other college students without the presence of men."
In June, Kappa Kappa Gamma filed a motion to dismiss the lawsuit, denouncing it as a "frivolous" attempt to remove Mr. Langford for "political purposes."
"Kappa defines its membership in its position statement adopted in 2015 as individuals who identify as women," the motion read. "Plaintiffs cannot identify any bylaw, standing rule, or policy that prohibits Kappa from taking this position, and the term is unquestionably open to multiple interpretations."
Loading...