---
Feds Say They Uncovered Prostitution Ring Serving Politicians, Military Officers, And Tech Execs
Authored by Ryan Morgan via The Epoch Times,
The U.S. Attorney's Office for the District of Massachusetts has announced the arrests of two men and one woman suspected of operating a multi-state prostitution ring whose alleged client list includes elected officials, military officers, and executives at technology and pharmaceutical firms.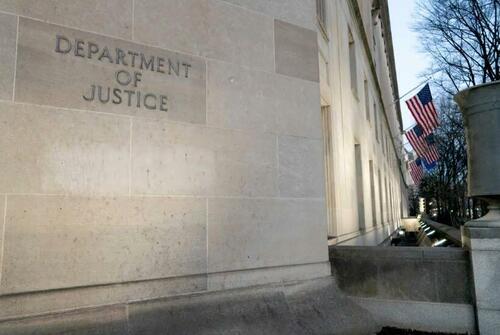 On Wednesday, acting U.S. Attorney Joshua Levy announced the arrests of Han Lee, a 41-year-old woman from Cambridge, Massachusetts; James Lee, a 68-year-old man from Torrance, California; and Junmyung Lee, a 30-year-old man from Dedham, Massachusetts, on suspicion of operating multiple brothels in Massachusetts and Virginia.
Federal investigators allege these three individuals operated a pair of websites that advertised professional photography appointments at high-end apartments rented by the three defendants. Investigators believe these photography sessions provided a front service, and the designated properties provided a controlled location at which women hired by the three defendants could transact the illicit sex services.
Mr. Levy's office claims it has identified "a wide array of buyers" of this alleged prostitution ring's services. Mr. Levy did not name any of the suspected clients in a Wednesday press briefing, but a Nov. 6 affidavit described a list that includes elected politicians, professors, lawyers, doctors, accountants, scientists, and executives for technology and pharmaceutical companies, along with other business executives. Boston-based Department of Homeland Security Agent Zachary A. Mitlitsky, who swore on behalf of the affidavit, said the client list also includes military officers and government contractors who possess security clearances.
Mr. Mitlitsky stressed in the affidavit that the professions he identified did not provide an exhaustive list of this prostitution ring's clientele and that potentially hundreds of clients may yet be identified.
"Pick a profession, they're probably represented in this case," Mr. Levy told CNN.
The arrests of the three suspected brothel operators followed a multiyear investigation that involved the DHS and multiple local Massachusetts police departments. Prosecutors also received assistance from the U.S. Postal Service and the Department of Justice's Criminal Division.
According to Mr. Mitlitsky's affidavit, law enforcement officers were able to interview 20 of the suspected clients during a multiyear investigation, and these clients described arranging meetings at various locations for commercial sex services. The suspected meet-up points included several locations in Dedham, Cambridge and Watertown, Massachusetts. Investigators identified two more suspected brothel locations in Fairfax and Tyson, Virginia, both located a short distance from Washington.
Mr. Mitlitsky said he wasn't refusing to identify the suspected clients to protect their anonymity but rather because the investigation into this prostitution ring is "active and ongoing."
Prosecutors say the three accused brothel operators charged clients anywhere from $350 to upwards of $600 per hour depending on the sex services they were selling. These three defendants allegedly concealed the proceeds of the illicit services using money orders in values under the amount that would typically trigger reporting and identification requirements.
"There were several instances in which the total amount of money orders purchased on a single day (when combining transactions at different agent locations) did exceed $3,000, and sometimes even exceeded $10,000, thus indicating an intent to structure the money order purchases to conceal or disguise the activity," Mr. Mitlitsky said in the Nov. 6 affidavit.
On May 26, 2023, alone, investigators identified 19 money orders purchased that day for a total of $12,200. They believe these money orders were used to cover rent payments on four suspected brothel locations rented by the defendants.
The three defendants are charged with conspiracy to coerce and entice others to travel to engage in illegal sexual activity. If convicted, they each face up to 20 years in prison, three years of supervised release, and a fine of up to $250,000.
Why does this keep happening! https://t.co/Iw5lbtNxHS

— Jack Poso 🇺🇸 (@JackPosobiec) November 9, 2023
Loading...