---
'Flash-Mob' Daytime Burglaries Strike Southern California Stores
Authored by Jill McLaughlin via The Epoch Times (emphasis ours),
A second daytime "flash-mob" burglary in Los Angeles County over the weekend that cost a luxury department $300,000 may be related to a similar burglary four days earlier in Glendale, according to the Los Angeles Police Department.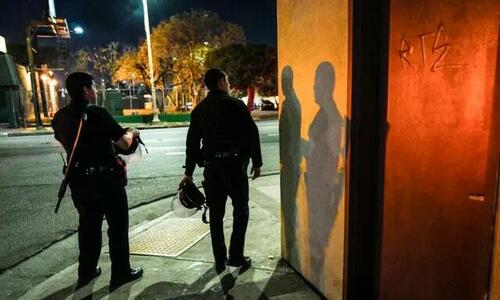 At about 4 p.m. Aug. 12, more than 30 suspects wearing hoodies and ski masks, some carrying knives, swarmed the Nordstrom department store located in the Westfield Topanga Mall in Canoga Park, and stole about $300,000 worth of merchandise before running out of the store and entering several vehicles, according to police.
The incident is similar to another flash-mob theft that occurred Aug. 8 at a Glendale shopping center about 45 minutes away.
"We're working with law enforcement partners throughout the county, to assist each other," Los Angeles Police Department spokesman Sgt. Bruce Borihanh told The Epoch Times. "Maybe they're the same [suspects] or maybe they're not."
A viral video of the Nordstrom burglary shows members of the group running around the store grabbing clothing, handbags, and other items. Investigators are looking at surveillance video to see if they can identify license plates on the cars, Borihanh said.
The incident lasted about two minutes, according to Mr. Borihanh.
"They targeted handbags and high-end stuff they know they can sell," he said.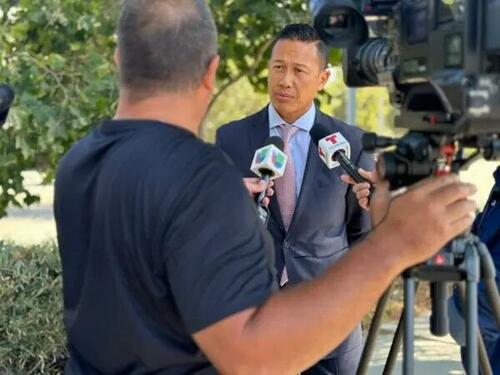 One of the store's security guards was sprayed with bear spray—which is similar to pepper spray—during the burglary. He was treated at the scene and recovered, according to police.
An LAPD officer was deployed at the mall Monday, but an increased presence is not planned.
Instead, LAPD is collaborating with retailers, security, and other law enforcement to prevent future incidents, according to Mr. Borihanh.
"The LAPD doesn't have the manpower to patrol the mall," he said.
Los Angeles Mayor Karen Bass called the incident "unacceptable," in a statement released Saturday.
"Those who committed these acts and acts like it in the neighboring areas must be held accountable. The Los Angeles Police Department will continue to work to not only find those responsible for this incident but to prevent these attacks on retailers from happening in the future," she said.
'I'm Helpless': Mall Security Guard
Mall security guard Kevin Johnson was working at the time of the burglary and saw the aftermath of what happened, he said.
"They're hooligans," Mr. Johnson told The Epoch Times.
Theft regularly occurs at the mall, and he said he expects it to happen again.
Mr. Johnson does not carry a firearm and said he is not allowed to confront suspected thieves.
"If I see you stealing. I can't even do anything. I can't touch you. I can't try to stop you. I'm helpless," he said.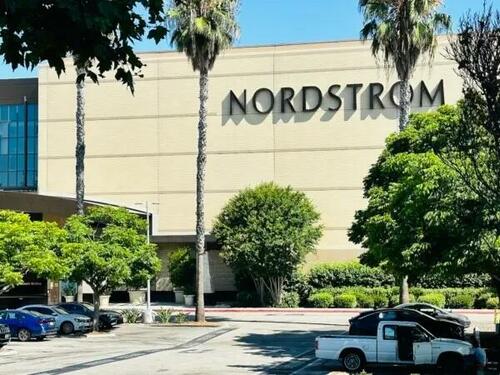 This was the second time the Nordstrom location was targeted by organized crime in the past two years. In 2021, the store was burglarized the day before Thanksgiving by five people. The thieves stole several expensive handbags before fleeing in a car. Similar to last week's event, the security guard was also sprayed with a chemical by the suspects, according to news reports.
The LAPD is working with the Glendale Police Department to see if the same suspects were involved in the burglary in that city four days earlier.
The Glendale theft also occurred during daylight hours—just before 5 p.m.—when at least 30 suspects entered a Yves Saint Laurent store at The Americana at Brand shopping center.
The suspects stole clothing and other merchandise before fleeing on foot and in numerous cars. The estimated loss was also about $300,000, according to the Glendale Police Department.
The owner of the shopping center, Rick Caruso—who ran for Los Angeles mayor in 2022 and lost—has offered a reward of $50,000 for information leading to the arrest and conviction of the suspects, according to a Glendale Police Department press release.
"This type of criminal activity will not be tolerated in Glendale," Glendale Police Chief Manny Cid said in the release. "Expect an elevated police presence in and around the downtown Glendale corridor."
Further south in Irvine, California, police are looking for three suspects who were seen on store video walking into the Jewels by Alan store near Jamboree Road and Michelson Drive at 12:20 p.m. July 31. The thieves smashed several display cases before walking out with about $900,000 worth of jewelry.
No suspects have been arrested in that incident, Irvine Police Department spokeswoman Karie Davies told The Epoch Times.
California Crime Policy in Spotlight
The recent incidents were caught on video and have been widely circulated on social media, attracting nationwide attention.
Florida Attorney General Ashley Moody blamed California's crime policies for the thefts.
"A mob of thieves brazenly stole up to $100K from a California Nordstrom in a smash-and-grab rampage. These criminals are emboldened by the state's lax criminal justice policies," Moody posted on X, formerly Twitter. "In Florida, organized retail theft is NOT tolerated – we're fighting back with FORCE, … combating organized retail theft rings."
The increase in flash mob-style retail crime comes on the heels of Los Angeles County's reinstatement of a zero-cash bail system. In May, as a result of a lawsuit, a judge ordered the county to return to its policy of requiring no bail for suspects charged with most non-violent felonies or misdemeanors.
Although the county and city are awaiting a final ruling in the case, the judge's temporary halt of the cash-bail system has already caused property crime to increase, according to local law enforcement.
LAPD Chief Michel Moore and Los Angeles County Sheriff Robert Luna testified in the lawsuit Aug. 7 about how the zero-cash bail was affecting their departments.
"I do believe that bail acts as a general deterrence," Chief Moore testified. "It creates consequences. You face a risk of being incarcerated as a punishment."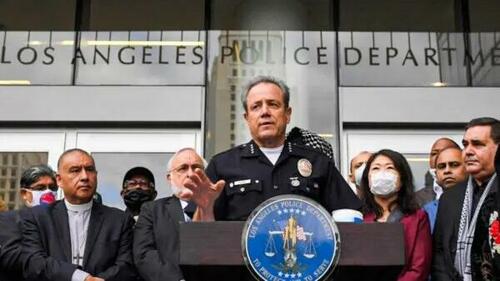 He said he did not agree, as the plaintiffs in the case have argued, that cash bail creates a "two-tier system."
Chief Moore told reporters after the court hearing that 76 people released on the zero-bail system since May have been arrested again for another crime, and the city had since seen a 4-percent rise in car theft.
Criminals who offend again and again need to be held accountable, the sheriff also told the judge.
"We're not saying that zero bail is completely out," Sheriff Luna said. "We're saying if you have a repeat offender, someone who is a habitual criminal, they have to be held accountable—even for a stack of lower-level crimes."
According to the sheriff, in the past 10 weeks since the county's zero-cash bail was reinstated by the court, his department had arrested 1,573 people, 226 of whom were released and then arrested again for a different crime—a 14.3-percent recidivism rate.
In other action statewide, California lawmakers are close to prohibiting businesses from asking employees to confront shoplifters or active shooters. Senate Bill 553 has already passed the state Senate and has sailed through two committees in the Assembly on its way to a final vote.
Loading...