---
Food Stamp Program Losing $1 Billion Every Month To Alleged Fraud, Errors: Sen. Ernst
Authored by Katabella Roberts via The Epoch Times (emphasis ours),
The U.S. food stamp program is losing around $1 billion a month owing to alleged fraud and errors, Sen. Joni Ernst (R-Iowa) has warned.
The lawmaker issued the warning in a Sept. 26 press release announcing new legislation aimed at combating the alleged billions of dollars in monthly losses from the United States Department of Agriculture's Supplemental Nutrition Assistance Program (SNAP), which allows low-income families with benefit cards to buy basic food items at approved grocery stores.
Known as the "Snap Back Inaccurate SNAP Payments Act," the legislation would slash spending by nearly $1 billion a month by ensuring all errors—regardless of the amount—be counted.
The bill also directs state governments to stop handing out benefits to individuals who are not eligible, requires states to pay back what they owe, and directs states to recollect SNAP overpayments, ensuring that each household only receives exactly what they are eligible for.
Additionally, the legislation will hold states accountable for payment error rates to incentivize better management of funds, and improve the accuracy of SNAP payment error rates by requiring all errors to be reported.
The number of Americans enrolled in the SNAP program increased from 35.7 million in 2019 to 41.2 million in 2022, according to data released earlier this year by the U.S. Department of Agriculture.
Meanwhile, SNAP costs rose from $60.3 billion in 2019, the last year before the COVID-19 pandemic, to a record-setting $119.5 billion in 2022.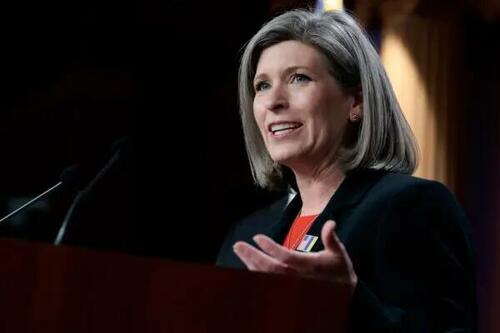 States Must 'Pay the Piper'
However, Ms. Ernst said seven states—Florida, Virginia, Wisconsin, Texas, Louisiana, Alaska, and Mississippi—have "intentionally manipulated" the amount of SNAP payments they were making to residents and ultimately pocketed $60 million.
The Justice Department has since settled those allegations of improper manipulation of the SNAP program with various state agencies across those seven states and recovered more than $60 million in connection with its investigation.
"Families across the country are going hungry while bureaucrats are jumping the line to gobble up SNAP dollars, either as a meal ticket to beef up state budgets or a self-serve buffet of benefits for themselves or others who do not qualify," the senator said in Tuesday's statement. "I'm snapping back! It's time for states at fault to pay the piper and eat the costs of their taxpayer waste. Instead of overserving bureaucrats, let's end the waste and set a place at the table for hungry families," Ms. Ernst added.
The Iowa Republican noted that the majority of errors from the food stamp program are owing to "overpayments" or benefits paid to recipients who are not actually eligible to receive them.
In June, the Department of Agriculture (USDA) reported that states had an overpayment error rate of 9.84 percent.
In 2022, there were approximately $11.2 billion in overpayments reported, however the exact number is unknown because the USDA excludes errors totaling $54 or less.
Speaking to The Washington Times, Ms. Ernst said the state of Maryland is one of the worst offenders, paying out benefits to more than 86,000 residents who did not qualify for the SNAP program. Despite the error, the state has "no plans" to try and get the money back, she said, with officials citing the COVID-19 pandemic, according to the senator.
Benefit Fraud Cases on the Rise
In recent years, an increasing number of fraud cases relating to the food stamp program and other federal programs, particularly in the form of organized schemes run by those actually running such programs, have also been prosecuted across the United States.
They include in Delaware, where seven people employed by the Department of Health and Social Services and were responsible for issuing Electronic Benefit Transfer cards stole nearly $1 million in federal food benefits, and in Florida, where two owners of a convenience store allegedly ran a huge food stamp scam amounting to around $88,000.
Just last week, a Romanian national was sentenced to 24 months in federal prison and ordered to pay $2,980 in restitution after pleading guilty to swiping Los Angeles County food and assistance payments from legitimate beneficiaries.
Fraud and errors relating to food assistance programs are not the only problems.
The SNAP abuse is part of approximately $3 trillion in improper payments made by federal agencies since 2004, according to Adam Andrzejewski, founder and CEO of watchdog Open the Books, which is more than the entire annual GDP of France.
Among the "worst offenders" are the departments of Health and Human Services, Treasury, Labor, and Education; and the Small Business Administration (SBA), according to Open the Books, although the latter agency has insisted that its accuracy rates are "high."
"This is the definition of a dinner-table issue. Senator Ernst has identified a kind of improper payment that strikes right at the heart of an American's life – their need to feed themselves and their families nutritious foods," Mr. Andrzejewski said in a statement. "While we've demonstrated that fraud runs rampant across government, stealing right from our plates is an especially pernicious way to make your ill-gotten gains."
Loading...