---
Former Leader Of Scotland Arrested In Party Financing Probe
Nicola Sturgeon - the former leader of Scotland - has been arrested as part of the police investigation into her political party's finances.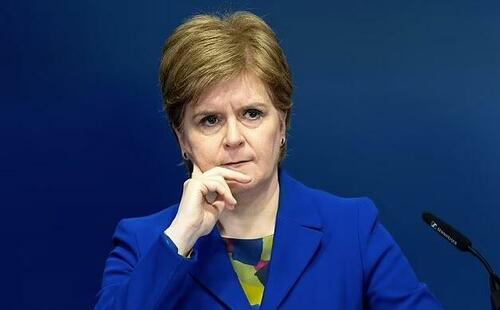 The former first minister is being held in custody as she is quizzed by detectives.
"A 52-year-old woman has today, ​Sunday, 11 June, 2023, been arrested as a suspect in connection with the ongoing investigation into the funding and finances of the Scottish National Party. The woman is in custody and is being questioned by Police Scotland detectives," Scotland police said.
A spokesman for Ms Sturgeon confirmed she was cooperating with the investigation. He said:
"Nicola Sturgeon has today, Sunday 11 June, by arrangement with Police Scotland, attended an interview where she was to be arrested and questioned in relation to Operation Branchform.

"Nicola has consistently said she would cooperate with the investigation if asked and continues to do so."
As The Daily Mail reports, her arrest comes after the arrest of her husband, Peter Murrell - the SNP's former chief executive - in April, just prior to a two-day police search of the couple's Glasgow home; and the party's former treasury Colin Beattie.
How we got here...
May 2021 – Douglas Chapman resigns from his role as SNP treasurer, saying he had not been given enough information to do his job

July 2021 – Police Scotland confirm they are investigating after seven complaints were made around donations to the SNP. This followed allegations that £600,000 raised for campaigning towards Scottish independence was diverted elsewhere.

August 2021 – As the party's annual accounts are published, new SNP treasurer Colin Beattie acknowledges 'concern' about transparency over independence-related appeals that had raised more than £600,000.

December 2022 – It emerges that Peter Murrell, the SNP chief executive, had loaned the party £100,000 in June 2021.

February 2023 – Nicola Sturgeon suddenly announces her resignation. She says this was not in relation to short-term pressures but because she knew in her 'head and heart' that the time was right to go.

March 2023 – Amid the SNP leadership contest to replace Ms Sturgeon, her husband Mr Murrell announces he is stepping down as the party's chief executive amid a row over the party's membership numbers.

5 April 2023 – Mr Murrell is arrested and is released without charge, pending further investigation, the same day.

9 April 2023 – A luxury camper van is seized by police investigating the SNP's finances, thought to be worth around £110,000.

18 April 2023 – Mr Beattie is arrested and interviewed by police. He subsequently quits as SNP treasurer.

May 2023 – The SNP appoint AMS Accountant Group as their new auditors. Their previous auditors Johnston Carmichael stood down in September 2022.

11 June 2023 – Nicola Sturgeon  is arrested. She 'voluntarily' arranges with Police Scotland to be questioned.
The Scottish Tories demanded Ms Sturgeon's successor, Humza Yousaf, suspend her from the SNP following her arrest.
Labour's shadow Scottish secretary Ian Murray said:
"For too long, a culture of secrecy and cover-up has been allowed to fester at the heart of the SNP."
She was Scotland's longest-serving first minister, before resigning in February, and the only woman to have held the position.
Loading...