---
Friend Or Foe? How BRICS Partners View China
While the leaders of Brazil, Russia, India, China and South Africa tried to demonstrate unity at the 15th BRICS summit in Johannesburg, the group is not as tightly knit as this week's event and the lofty rhetoric employed afterwards would suggest. "BRICS has embarked on a new chapter in its effort to build a world that is fair, a world that is just, a world that is also inclusive and prosperous," South Africa's president Cyril Ramaphosa said, describing the bloc as "an equal partnership of countries that have differing views but have a shared vision for a better world." Although it remains to be seen how equal the partnership will be considering the economic dominance of China within the group.
However, as Statista's Felix Richter notes, according to the Pew Research Center's latest Global Attitudes Survey, China is seen quite critically in some fellow BRICS countries, with Indians in particular having a very critical view of their powerful neighbor. 50 percent of Indian respondents claimed to have a very unfavorable opinion of China, with another 17 percent viewing China somewhat unfavorably. Relations between the two countries have been worsening for several years over tensions along their ill-defined 2,100-mile border in the Himalayan region. 48 percent of Indians claimed to have no confidence at all in Xi Jinping to do the right thing regarding world affairs, while 58 percent said that wouldn't take Indian interests into account when making international policy decisions.
Brazilians showed similar levels of suspicion with respect to cooperation with China. While 50 percent of Brazilian respondents said that China wouldn't take their country's interest into account, 67 percent expressed little to no confidence in Xi Jinping to do the right thing at the global political stage. That translates to 48 percent of Brazilian respondents having a very or somewhat negative opinion of China, up from just 27 percent in 2019.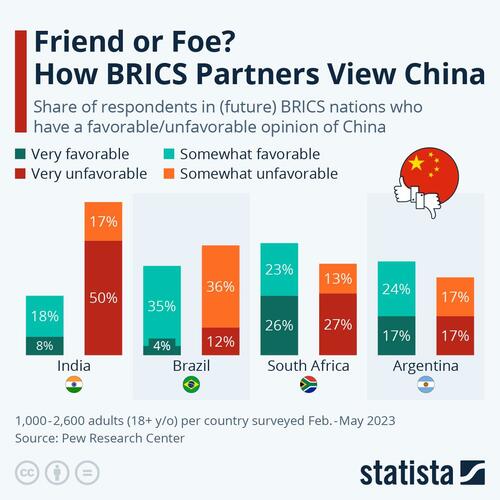 Loading...