---
Gucci? A Wig Shop? Unprosecuted Crime, Economic Woes Turn Beverly Hills Into Ghost Town
Residents of the upscale Southern California enclave of Beverly Hills are getting what they voted for, after a spate of looting has turned the liberal utopia into a virtual ghost town amid a souring economic backdrop that's seen 11 popular shops entirely shuttered - including the iconic Barneys location.
In review:
Damn they robbed the Gucci store in Beverly Hills 😭😭😭 pic.twitter.com/Tq3KBwc1Ct

— Shannonnn sharpes Burner (PARODY Account) (@shannonsharpeee) August 1, 2023
(not the first time)
Then it was wigs...
Across town in Glendale, thieves stole around $300,000 worth of merchandise from the Yves Saint Laurent store.
Now, a viral TikTok video reveals the ghost town Beverly Hills has become.
Other stores which have closed include Brooks Brothers, All Saints, and high-end women's fashion store Escada, according to the Daily Mail, which notes that both Escada and Barneys have filed for bankruptcy in recent years.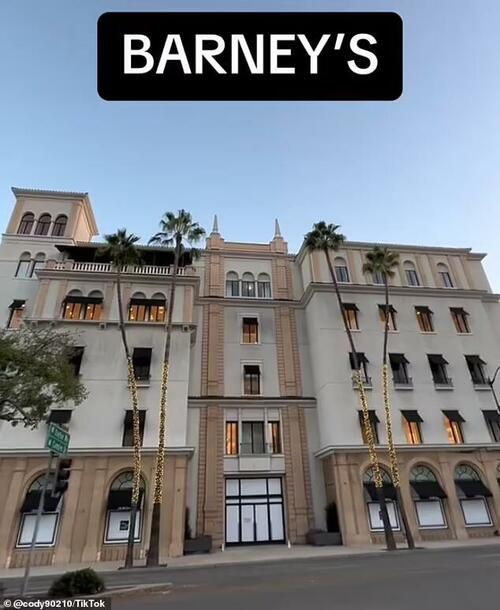 The closed shops, which also include convenience retailers like Rite Aid and Chipotle, and even popular workout class option SoulCycle, have shuttered their doors on Wilshire Boulevard, leaving the area bereft of its former appeal. Their sad decline marks a departure from the area's lengthy heyday, which even saw band Weezer pen a song with the lyrics 'Beverly Hills, that's where I want to be.'

The reasons for the ample number of closures vary, as many brands see a decrease in demand for in-person retail experiences, while others pivot business strategies following acquisitions by other brands. The downturned economy has also negatively impacted most brands, but especially those marketing luxury products. -Daily Mail
Meanwhile, retailers in California are deailing with a major crime wave and District Attorneys who refuse to prosecute criminals.
Loading...