---
Horror: Those Who Disobeyed Barricades Survived Maui Fires
A disturbing report has emerged following the Maui fires which killed at least 114 and left up to 1,100 residents - many of whom are suspected to be children - unaccounted for.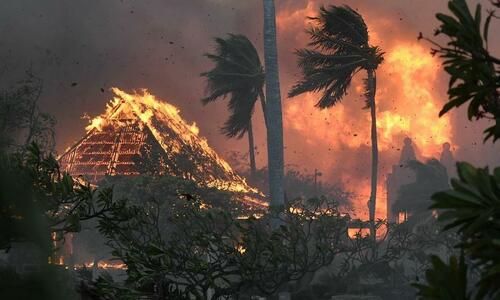 According to AP, Lahaina residents who disobeyed government road barricades survived the fires, while many who heeded orders to turn around died in their cars and homes with no way out. Now, officials are facing public outrage over why the emergency sirens weren't set off and why they prevented people from fleeing to safety.
So - no siren, no water, and barricades.
Early on as the fires spread, over 30 power poles were downed alongside the Honoapiilani Highway, located at the southern part of Lahaina. Officials then blocked the Lahaina Bypass Road, preventing law-abiding citizens from fleeing to the southern part of the island. The ones who made it disobeyed.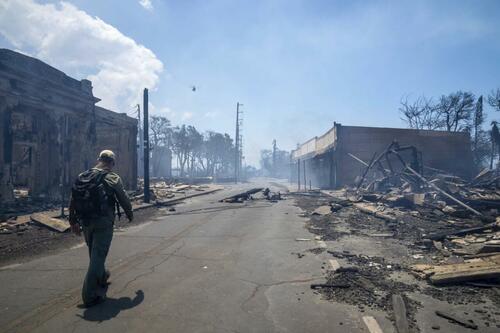 During a press conference, Maui Police Chief John Pelletier (formerly police chief in Las Vegas during the deadliest mass-shooting in US history) told reporters that officers never stopped residents from fleeing the area, however AP says that residents were turned away and discouraged from disobeying the barricade.
And car after car was turned back toward the rapidly spreading wildfire by a barricade blocking access to Highway 30.

One family swerved around the barricade and was safe in a nearby town 48 minutes later, another drove their 4-wheel-drive car down a dirt road to escape. One man took an dirt road uphill, climbing above the fire and watching as Lahaina burned. He later picked his way through the flames, smoke and rubble to pull survivors to safety.

But dozens of others found themselves caught in a hellscape, their cars jammed together on a narrow road, surrounded by flames on three sides and the rocky ocean waves on the fourth. Some died in their cars, while others tried to run for safety. -AP
Echos of Uvalde - a Lahaina mother tried to save her son and was stopped by first responders who lied to her, claiming that the area had been cleared and no one was there.

She found his body two days later, hugging his dead dog. https://t.co/EoBurnCbEX pic.twitter.com/XTbteX3qxG

— Dr. Benjamin Braddock (@GraduatedBen) August 23, 2023
One couple, Nate Baird and Courtney Stapleton, told the outlet that they had loaded up the car with their two sons, Baird's mother and a dog to escape the flames. After driving south, they swerved past cones and escaped to a neighboring town.
"Nobody realized how little time we really had," said Baird. "Like even us being from the heart of the fire, we did not comprehend. Like we literally had minutes and one wrong turn. We would all be dead right now."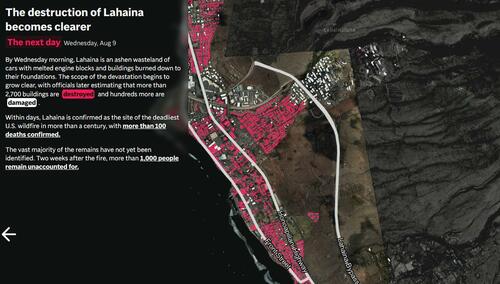 According to Baird, if they had 10 more minutes they could have saved children who were left home alone in their neighborhood.
"The kids just don't have a filter. So their son ran up and was just telling our son, you know, 'This kid is dead. This kid is dead.' And it's like, all my son's friends that they come to our house every day," he said. "And their parents were at work, and they were home alone. And nobody had a warning. Nobody, nobody, nobody knew."
Just to review, the local government in Maui didn't use the sirens to alert residents to the fire, didn't allow access to water to put out the fire, and blocked the only exits out of town.

This is one of the great scandals in American history. Many people should be in prison. https://t.co/aYihwUwoaO

— Matt Walsh (@MattWalshBlog) August 23, 2023
Meanwhile, Maui Mayor Richard Bissen has been dodging questions he knows the answers to.
Loading...