---
House Education Chair Says Groups Like Moms For Liberty Face Daunting Task
Authored by Ben Sellers via Headline USA,
Rep. Virginia Foxx, R-N.C., the chair of the House Committee on Education and the Workforce, said that despite recent victories in the clash against wokeness within the public education system, a daunting road lay ahead for grassroots groups like Moms for Liberty that have risen to combat the encroaching threats of classroom indoctrination and grooming.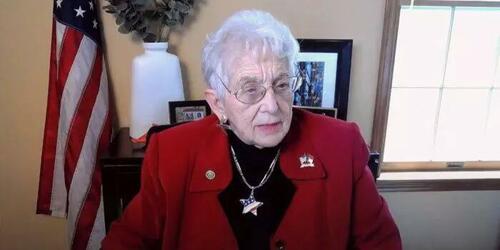 Foxx touted the House's passage in March of the Parents Bill of Rights Act, which currently sits stalled in the Senate Committee on Health, Education, Labor, and Pensions under chairman Bernie Sanders, I-Vt.
The committee, stacked with firebrand progressives and wishy-washy RINOs, leaves the bill's fate uncertain for the foreseeable future.
However, in the event that the socialist Sen. Sanders were to bring it to the floor as written, the bill would mandate a newfound level of transparency, requiring that school boards provide clear information on their curricula and materials; budget and revenues; safety concerns; enrollment and transfer options; and a litany of red-flag behaviors related to staff, counselors and contractors.
That, according to Foxx, is when the real work would begin.
"All of this is going to entail tremendous involvement at the local level," she said during an exclusive interview with Headline USA along with Brooke Weiss, the chair of the Mecklenburg County Moms for Liberty chapter. "… It's going to be a sustained and focused kind of thing."
Friends and foes alike could count on Moms for Liberty to "keep showing up because we know we are fighting for the survival of America," Weiss said in response to Foxx's call to action.
"[Y]ou can bet we aren't going anywhere," she tweeted following the interview.
"Moms for Liberty is 2½ years old, growing every day, and making major progress in restoring parental rights and improving public education," she added. "We are successful because our mission is focused on a singular issue (education) & because we are able to mobilize people into real action."
I am so grateful to have had the opportunity to meet w/ @virginiafoxx today.
You can bet we aren't going anywhere. @Moms4Liberty is 2 1/2 years old, growing every day, & making major progress. 1/ https://t.co/hghFhRvLL0

— Brooke Weiss, instapot insurrectionist (@BrookeWeiss) September 6, 2023
Although the tendency among some—even conservatives—is to look to the government for solutions to solve the mess that decades of subversive Marxist influence and dark-money coercion have wrought in the school system, Foxx pointed out that this would be counterproductive at best.
"Anytime somebody tells me 'I want a national something,' I tell them don't do it," she noted in response to a question about a national book-rating system, which Moms for Liberty has endorsed.
"It is the wrong way to go," Foxx continued. "You put power in the hands of people far away from you—it is the most dangerous thing to do."
Rather than pivot too far in either direction, though, Foxx, 80—an 18-year congressional veteran who spent time previously in the North Carolina state legislature and as a sociology professor at Appalachian State University—took a more pragmatic outlook.
She signaled that she did not, in principle, oppose the idea of abolishing the federal Department of Education, as some conservatives have called to do.
"If the Lord put me in charge, I'd get rid of everything," she mused.
Yet, she noted that when former President Ronald Reagan ran on a campaign of doing that very thing, he ultimately wound up strengthening it.
The only solution, as she saw it, was to "devolve the money back to the states" and allow each individual jurisdiction to decide how best to spend its funding.
Even so, that would not entirely addresss one of the biggest concerns facing schools, which is the influence of outside organizations seeking intentionally to politicize the local school agendas and infect them with controversial issues such as critical race theory and transgenderism.
Foxx said she remained mystified by people—including the Democratic House colleagues with whom she is sometimes forced to find common ground—who would oppose common-sense measures like transparency and accountability for schools.
"I don't know what planet they grew up on," she said. "… It's truly amazing to me."
Nonetheless, it is citizen–watchdogs like Weiss, she said, who have both the power and the responsibility to do what the most powerful government in the world cannot.
Moms for Liberty has only continued to grow in its renown following a national summit in Philadelphia over the summer that featured former President Donald Trump and other luminaries.
While the biggest storyline from the event may have been the Left's violent and destructive protests outside of it—shortly after the parent group was labeled a "hate group" by the Southern Poverty Law Center, in collusion with the Biden administration—Weiss said that exposing the true colors of left-wing extremists ultimately left M4L looking all the better.
In June, M4L co-founders Tiffany Justice and Tina Descovich offered Headline USA a defiant statement via email in reaction to the SPLC's insults.
"Empowering parents continues to be our mission today and that has fueled our organization's growth—like wildfire to now 45 states in the country," said the statement.
"Name-calling parents who want to be a part of their child's education as 'hate groups' or 'bigoted' just further exposes what this battle is all about: Who fundamentally gets to decide what is taught to our kids in school—parents or government employees?" it continued. "We believe that parental rights do not stop at the classroom door and no amount of hate from groups like this is going to stop that."
Headline USA reached out to the group for additional reaction to Foxx's recent remarks asking whether M4L was prepared for the "sustained and focused" fight ahead and will update with any response.
Ben Sellers is the editor of Headline USA. Follow him at twitter.com/realbensellers.
Loading...